I have reviewed products that made me laugh, made me recognize genius, made me squirm, but this is the first product I've reviewed that made me happy in its simplicity for grandparents who journal.
~ A gentle reminder: OMT! uses Amazon referral links. When you do your shopping through the Amazon links on this page, you support the blog at no cost to yourself. It's much appreciated!~
Stories from my Grandparent: An Heirloom Journal for Your Grandchild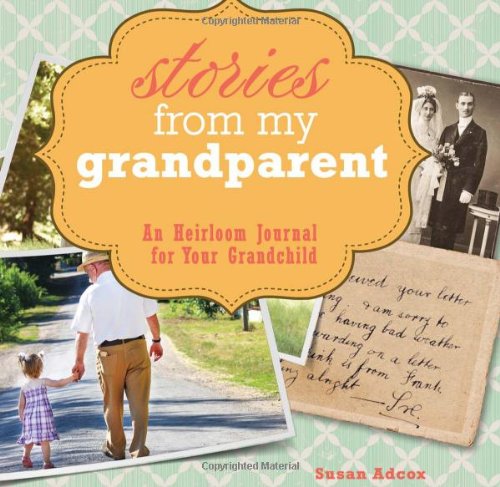 (source: Amazon)
Susan Adcox, a fellow writer and grandmama, has put together a sturdy, hard-covered journal for grandparents who want to leave a written heirloom of memories for their grandchildren.
She has written memory-provoking prompts that make it easy to fill in your story, in your own words, in your own handwriting.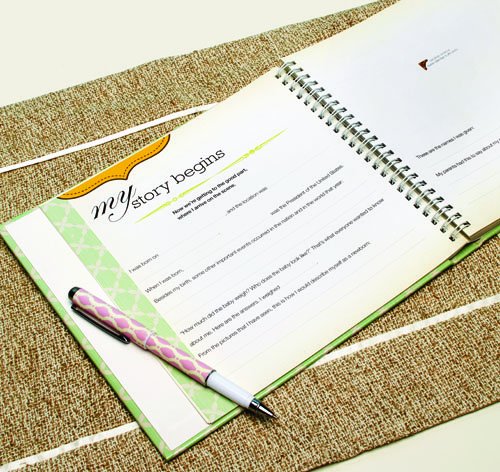 (source:Amazon)
As I looked through the pages of the journal, I thought of my own beloved grandmother; I would have cherished her memories, written in her own hand.
Susan has left places for pictures to be attached, enriching your words, as the story starts from your beginnings and ends with a reminder of love for your grandchild.
The journal takes you through early school experiences, life as a young adult, raising your family and then on to becoming a grandparent. There are pages to reminisce about your grand's entry into this world (makes me tear up thinking about that blessed day of Sweet E's arrival), what you love about them and what your dreams are for them.
The last chapter is entitled Just About Me. This is your place to share things that your grandchild might not ever know, might not think to ask. What's your favorite painting? (I never thought to ask my grandmother that) What's an invention you never wished happened, or what's your favorite invention? What's your favorite quote? What are your political beliefs? (Sweet E is growing up in a politically passionate and diverse family…he wouldn't have to ask this one!)
There are about 109 pages of questions to be answered; it's a lifetime of memories. While the volume may seem daunting, it's completely doable. As I pass this book along to Boy's grandparents, I'll tell them to approach it as a labor of love for those they love so much: their grandchildren. It's not about speed or perfection. It's about sharing your stories, silliness and all.
The book can be filled in over time and in small bits. It can be done out of order. It can be done in ink or marker or pencil. All I know is it would be a treasured gift for any grandkiddo.
If you are a young mom or dad reading this, hand this journal to one of your kiddos, then steer them in grandma's/grandpa's direction. Sneaky? Sure. Totally worth the kiddie-bribe!
If you're a grandparent…what are you waiting for? Share you life, your loves, your pains, your wisdom, your laughter, your YOU with your grandchildren.
Happy Journaling!