I'm a water-bottle lovin' fool, but I'm wondering has Black + Blum gone too far in our quest for pure tasting and filtered H2O?!
~ A gentle reminder: OMT! uses Amazon referral links. When you do your shopping through the Amazon links on this page, you support the blog at no cost to yourself. It's much appreciated!~
Check it: The water bottle has the charcoal filter in the water.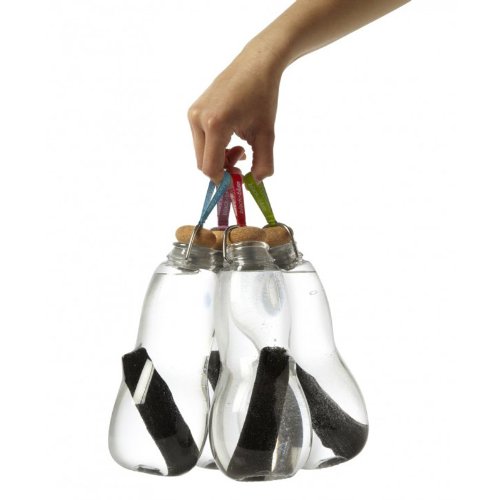 (source: Amazon)
Hmmmm….
Product Description:
It makes tap water taste great! Binchotan active charcoal has been used in Japan as a water purifier since the 17th century. It reduces chlorine, mineralises the water and balances the pH. The binchotan active charcoal can be used for up to 6 months and amazingly recycles for many different uses after this. Over 22 billion plastic water bottles are discarded around the world every year. We want to reduce this by making tap water taste better and encourage people to stop buying bottled water. BPA free tritan, cork, stainless steel, silicon includes x1 binchotan active charcoal filter (6 months life) 8.5 x 24cm – 800 ml / 27 floz What is the history of Binchotan charcoal? The origins are not completely clear, but it is believed that a form of Binchotan charcoal (sometimes referred to as 'white charcoal') was introduced to Japan by a Japanese monk and scholar called Kukai 1,200 years ago. It was during the Edo Period (17th century) that a man called Binchuya Chozaemon made it popular.
Product Deets:
The reviews are definitely in the product's favor, but I'm curious: What do you think about the filter in the water? Is it a "you'd try it" or "you'd pass" on it?
I'm still undetermined.
Happy Deciding, Y'all!