Ohmeohmyoh! Y'all know how much I love my outdoor fire pit (see HERE and HERE), well now I have found a handy fire starter that doesn't cost an arm and a leg (although, the Bison Airlighter is still calling my name).
~ A gentle reminder: OMT! uses Amazon referral links. When you do your shopping through the Amazon links on this page, you support the blog at no cost to yourself. It's much appreciated!~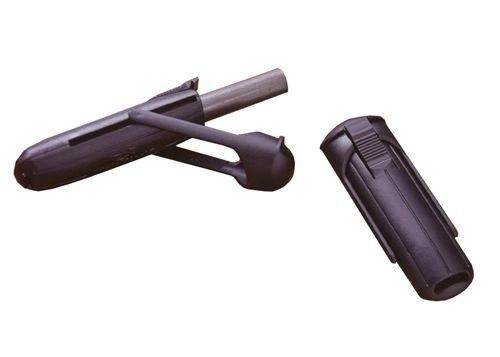 (source: AMAZON)
This little gadget is easy on the wallet (apprx. $14-20 depending on color) and from the reviews, easy to use.
Product Deets:
One handed operation, bar rotates 360 degrees for even wear

Generates 3 times the heat of ordinary matches

Built in carbide striker and spring loaded flint based bar will last up to 4,000 strikes

Will ignite a wide range of tinders, sparks can be generated in rain or other adverse weather conditions

Made in the USA
Made in the USA always makes my heart go pitter-pat!
Product Description:
The patented BlastMatch generates a stream of super heated sparks literally three times the heat of a standard match. You can easily light any material (wood, paper, bark, cloth, or man-made fire starting tinder) that a match will ignite. Best of all, you can accurately aim the sparks to ignite a roaring fire in all weather conditions and the BlastMatch will last a thousand strikes. If your BlastMatch becomes wet, simply wipe it off and it is ready for use. In combination with Ultimate Survival Technologies' WetFire Tinder, an all weather starting tinder, you can start a fire even in the rain. At the heart of the BlastMatch is a custom bar of high performance flint material. Spring loaded for compactness, the flint bar also rotates 360 degrees to help prevent uneven wear. A carbide striker built into the striker button is set at the perfect angle for maximum sparking-making it easy for you to start a fire. The BlastMatch is also perfectly safe. To prevent accidental ignition the unique design requires you to press the thumb button in order to engage the striker mechanism. Specifications: Material/Flint Unit:7/16 inch diameter spring-loaded flint bar in ABS case Closed length: 4-Inch (10.2 cm) Weight: 2.2 oz (65g) Colors: Black, Orange US. Patent No. 5,919,037
What a great gift! Right? Folks have fires to start, y'all. Fireplaces sans matches. Fire pit fires started easily. Imagine that for a moment. Nice.
If you live in an area that is prone to disasters (hurricanes, tornadoes, blizzards) this would be a handy and valuable asset to have in your survival kit. It's compact, easy to operate and has a safety mechanism that prevents accidental ignition. Pretty snazzy!
Happy Shopping!