It's officially summer and the perfect time for kiddos to read more books, especially since there's more time to enjoy what they love.
Even better? You get to enjoy these books as much as they do.
~ A gentle reminder: OMT! uses Amazon referral links. When you do your shopping through the Amazon links on this page, you support the blog at no cost to yourself. It's much appreciated!~
One of Boy's favorite authors was Shel Silverstein.
While Silverstein was well-known for his book The Giving Tree, the ones that follow were our personal favorites.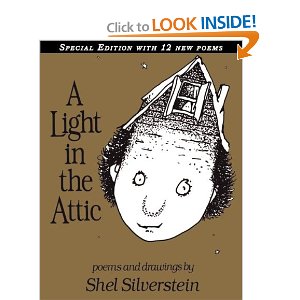 image source
A Light in the Attic-Publisher's Book Description:
Last night, while I lay thinking here,
Some Whatifs crawled inside my ear
And pranced and partied all night long
And sang their same old Whatif song:
Whatif I flunk that test?
Whatif green hair grows on my chest?
Whatif nobody likes me?
Whatif a bolt of lightning strikes me? . . .
Here in the attic of Shel Silverstein you will find Backward Bill, Sour Face Ann, the Meehoo With an Exactlywatt, and the Polar Bear in the Frigidaire. You will talk with the Broiled Face, and find out what happens when someone steals your knees, you get caught by the Quick-Digesting Gink, a mountain snores, and they've put a brassiere on the camel.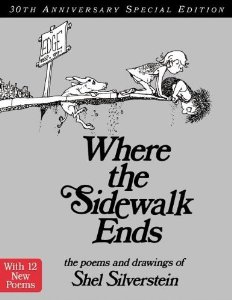 image source
Where the Sidewalk Ends-Publisher's Book Description:
If you are a dreamer, come in,
If you are a dreamer,
A wisher, a liar,
A hope-er, a pray-er,
A magic bean buyer . . .
Come in . . . for where the sidewalk ends, Shel Silverstein's world begins. You'll meet a boy who turns into a TV set, and a girl who eats a whale. The Unicorn and the Bloath live there, and so does Sarah Cynthia Sylvia Stout who will not take the garbage out. It is a place where you wash your shadow and plant diamond gardens, a place where shoes fly, sisters are auctioned off, and crocodiles go to the dentist.
And finally…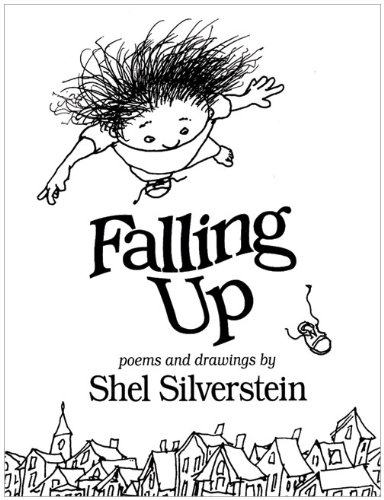 image source
Falling Up-Publisher's Book Description:
Millie McDeevit screamed a scream
So loud it made her eyebrows steam.
She screamed so loud
Her jawbone broke,
Her tongue caught fire,
Her nostrils smoked…
Poor Screamin' Millie is just one of the unforgettable characters in this wondrous new book of poems and drawings by the creator of Where the Sidewalk Ends and A Light in the Attic. Here you will also meet Allison Beals and her twenty-five eels; Danny O'Dare, the dancin' bear; the Human Balloon; and Headphone Harold.
The recommended age group for these books, set by the publisher, is the 6-8 years range which I think is Crazytown talk! I love them, teenagers love them, itty-bitties love them…all ages love them! Not only do most age groups "get" these books, they are timeless and keepers to pass down through the generations. You can't beat good writing.
If you've read them or own them already, you know the goodness that is Silverstein. If you'd like to add any of them to your library, click the links that follow.
Happy Summer reading!