Raising a reader = reading to baby…and toddler…and all the stages after.
I asked a question on Facebook: If you had to give just one book, what book would it be?
This post will focus on ages 3 to 8-years-old.
From Wendy: Richard Scarry's Busy Busy Town for ages 3 and up.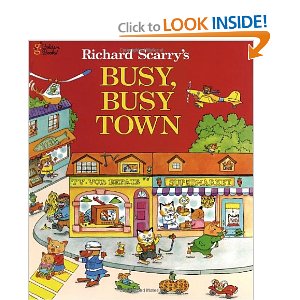 [source: Amazon]
Amazon says: Huckle Cat and Lowly Worm provide a fun introduction to Richard Scarry's Busytown, the setting of Busytown Mysteries on TV. Each oversized spread features a different place from the Post Office, to the Supermarket, to the farm. And for each place is a complete, simple story describing the activities, sights and friendly folk who can be found there. Familiar faces like Sargeant Murphy and Miss Honey will welcome readers to this colorful, fun, and very busy town.
From Michelle: Audrey Penn's The Kissing Hand ages 3-8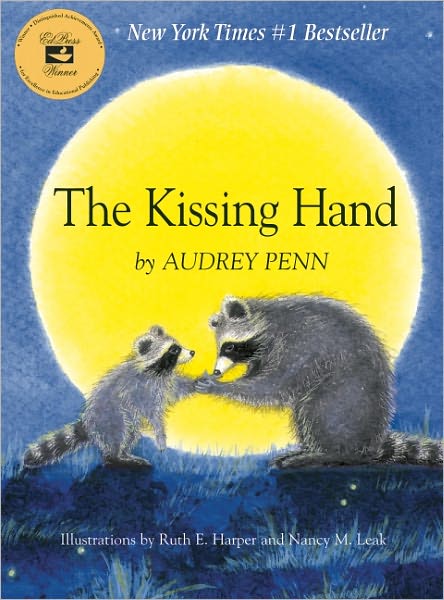 [source:Amazon]
Amazon says: School is starting in the forest, but Chester Raccoon does not want to go. To help ease Chester's fears, Mrs. Raccoon shares a family secret called the Kissing Hand to give him the reassurance of her love any time his world feels a little scary.
From Jessica: Richard Scarry's The Lowly Worm ages 4 and up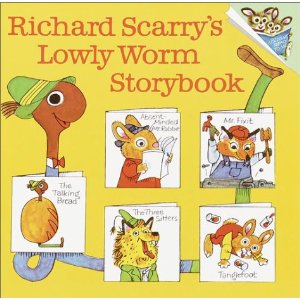 [source:Amazon]
Amazon says:Young children will happily follow Lowly as he takes an unexpected ride on a hot-air balloon; helps Huckle find just the right gift for Mother Cat; and gets lost on a subway during a visit to the city.
With everything from bike crashes to a big birthday surprise, these stories show exactly why Lowly is one special worm!
Another from Jess: The Jesus Storybook Bible ages 4 and up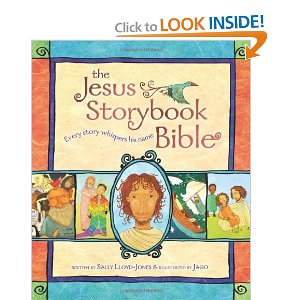 [source: Amazon]
Amazon says: The Moonbeam Award Gold Medal Winner in the religion category, The Jesus Storybook Bible tells the Story beneath all the stories in the Bible. At the center of the Story is a baby, the child upon whom everything will depend. Every story whispers his name. From Noah to Moses to the great King David—every story points to him. He is like the missing piece in a puzzle—the piece that makes all the other pieces fit together. From the Old Testament through the New Testament, as the Story unfolds, children will pick up the clues and piece together the puzzle. A Bible like no other, The Jesus Storybook Bible invites children to join in the greatest of all adventures, to discover for themselves that Jesus is at the center of God's great story of salvation—and at the center of their Story too.
From Mrs. Tucker: Bruce Degen's Jamberry ages 4 and up (although, I can testify younger kiddos love this book as well)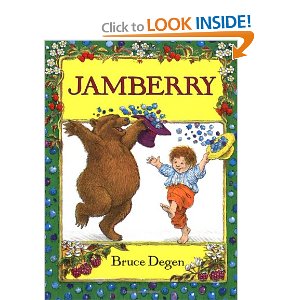 [source: Amazon]
Amazon says: "One berry, Two berry, Pick me a blueberry," and working up to "Raspberry, Jazzberry, Razzmatazzberry, Berryband, Merryband, Jamming in Berryland."
Omgosh, I love that book!
Do you have a favorite that you love to read or give as gifts?
Share in the comment section!