Hey, Turkey!
What's that you say?
You've never brined a turkey?
Well, today is your lucky day cause I'm gonna show you how incredibly easy it is to get a succulent, mouth-watering, tender bird every time by brining that badboy.
As many of you know this is a post that pops up once a year around the holidays, because I'm on a mission to encourage everyone to brine a turkey at least once in their lives…just so they can tell the tale of how stinkin' easy it is.
Once you brine a holiday bird, you may never go back.
Easy and delicious.
What more do you want?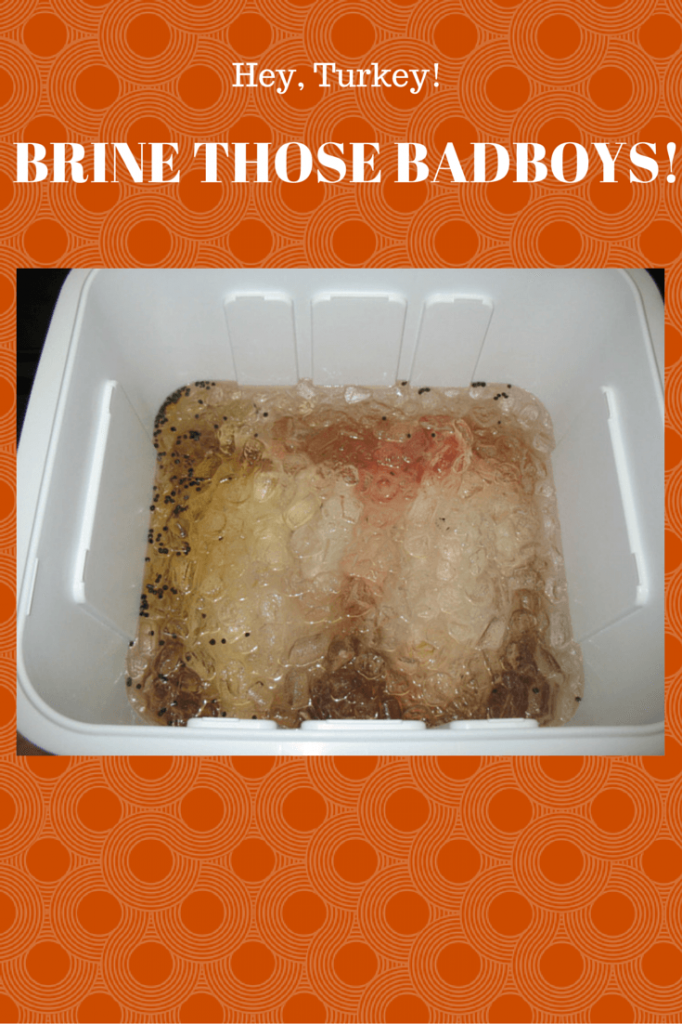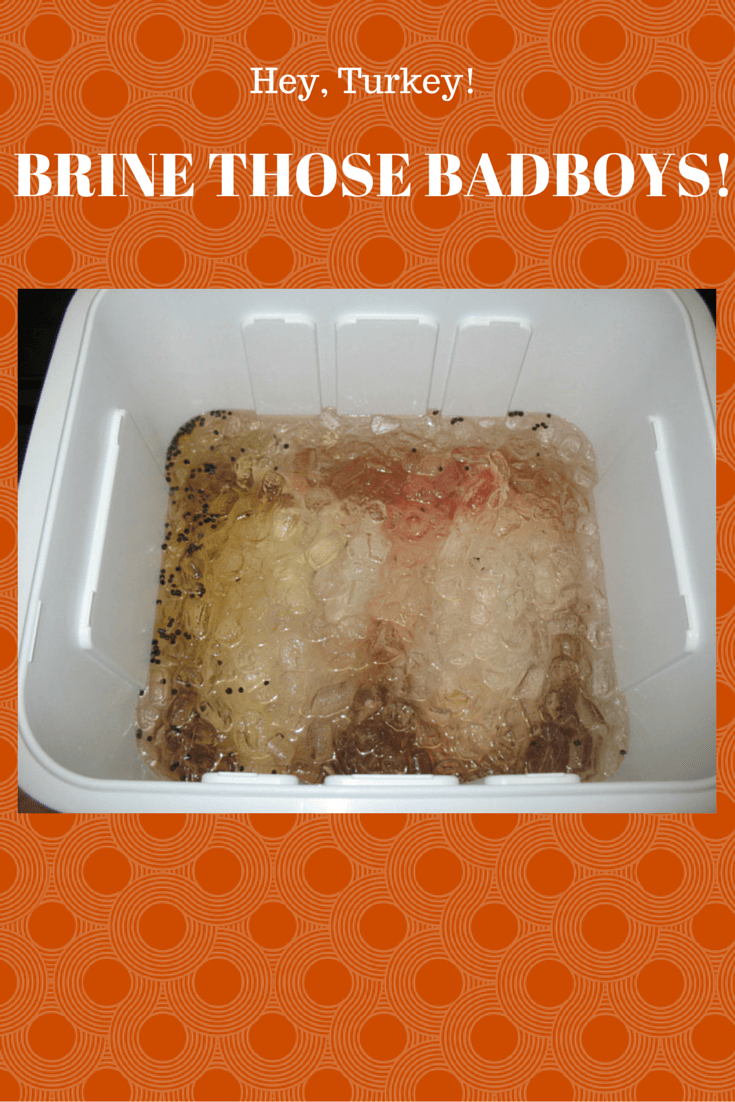 Let's get down to the how-to, shall we?  WE SHALL!
TURKEY BRINING 101
The Internets is full of the info.
Ratio of salt to water varies wildly depending on your source.
I'll tell you how we did it and leave you to do some research on your own to determine what will work for your tastes.
* We use a ratio of 1 gallon of water to 1/2-1 cup of kosher salt. (salt makes the meat juicy by allowing the muscles to take in and retain water)
* We use a ratio of 1 gallon of water to 1/2-1 cup of sugar. (sugar acts as a browning agent)
* Herbs and other ingredient added to taste. (herbs and other spices act as the yum factor)
~ A gentle reminder: OMT! uses Amazon referral links. When you do your shopping through the Amazon links on this page, you support the blog at no cost to yourself. It's much appreciated!~
* A cube cooler to immerse the turkey.
* Ice
That's it.
Nope, not kidding.
Seriously…that's it!
Step-by-step for two 12-13 pound turkeys. (use half the amounts for one bird):
1) Thaw the turkey and remove bagged giblets.
2) Give the turkey a good rinse.
3) Pour 4 gallons of water into cooler (MAKE SURE COOLER STOPPER IS IN POSITION TO PREVENT DRAINING!).
4) Add 2 cups of salt. Stir well.
5) Add two cups of sugar. Stir Well.
6) Add 1/2-1 cup uncrushed peppercorns and any other seasonings you want to try.
7) Submerge turkeys. Make sure they are fully covered by the brine: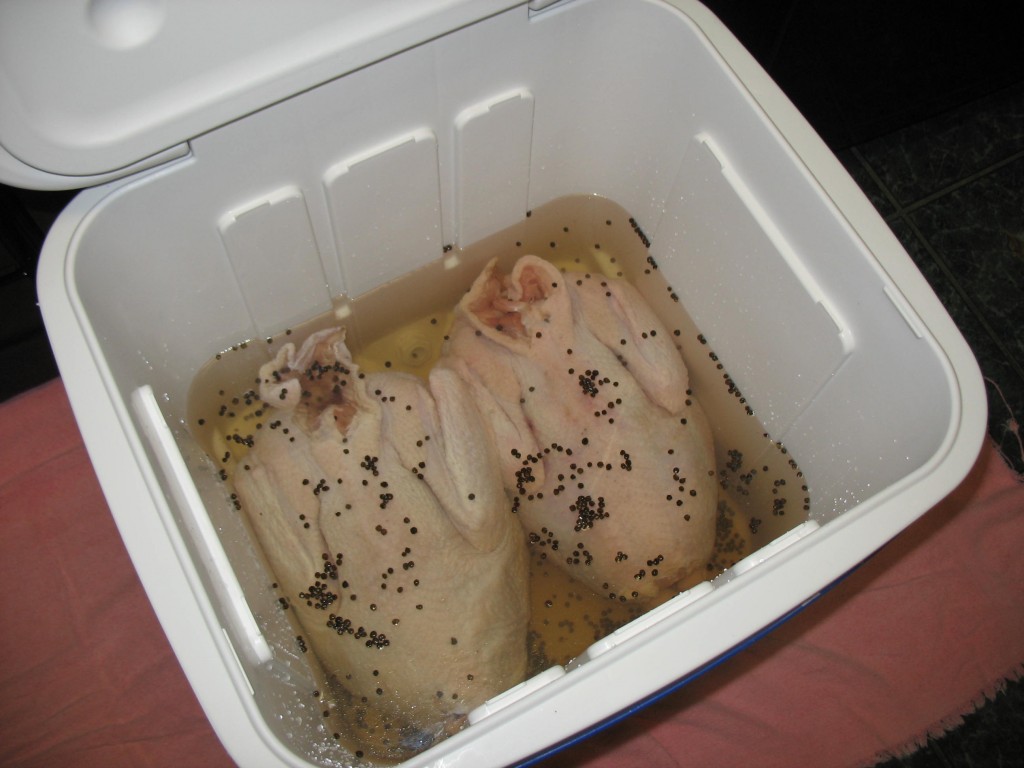 8) Add enough ice to cover turkeys: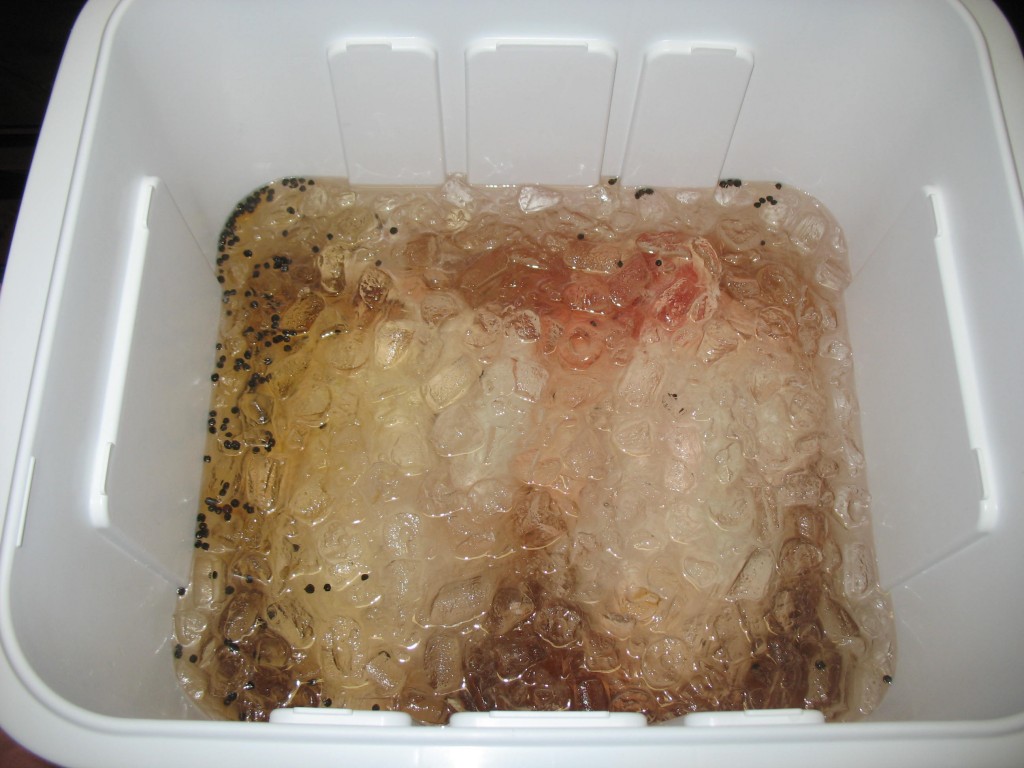 9) Securely close lid on cooler and leave for 24 hours. The ice will keep everything safe and cool.
10) Take out turkeys. Rinse thoroughly, especially the inside cavity. Smoke. Cook. Grill. Whatever rocks your socks.
When we're preparing a brined turkey to share with others, we tend to use a very basic recipe like the one above.
When we brine for ourselves, we get more creative.
We've used lemons and herbs and anything that speaks to us from our spice pantry.
You can also add other liquids like white wine or hot sauces.
CALIENTE!
You really can't go wrong. Especially if you stick with the general ratios.
Turkey Brining Bonus Tips:
~ I know the cooler idea may seem odd to many, but over the years we have discovered that this method works best. If you use a flimsy brining bag, prepare to clean up spills.
Remember my one caveat earlier about NOT using a brining bag for a turkey?
One year we literally had 2-4 gallons that broke free from the bag, causing a mighty river to flow through our garage, down the driveway and into the street.
Sure, now we can laugh… Trust me, a cooler works best.
You just need to remember to clean it thoroughly after using it to brine raw poultry.
You don't want to invite Sal Mo Nella to your next event.
~ Use Kosher salt. There is a significant weight difference between table salt and Kosher salt and the two are not interchangeable here. When you see the brine measurements of salt versus water, you can safely assume kosher salt is used.
~ Do not be afraid of the amount of salt in the brine. In order to transfer the magic brine into the turkey, you need these amounts, otherwise your turkey is just bathing in salt water and that's totally weird.
~ Humbly accept the praise heaped upon your head after all partake of your masterpiece.
Isn't that easy?
Now's the time to start planning to blow the minds of your holiday guests this year.
Happy Brining, Y'all!
If you're interested in having the Top 10 OMT! Recipes in one place (no searching!), click anywhere on the image below ▼