I don't usually highlight a product that I can't post an affiliate link to (cause you know, OMT gots to make bank, yo!), but this product is so life-changing, so life-affirming, I had to tell y'all about it.
Garlic butter. ~yawn~ What's so special about garlic butter? If it's this garlic butter…everything!
I'm pleased to introduce you to Chef Shamy Garlic Butter: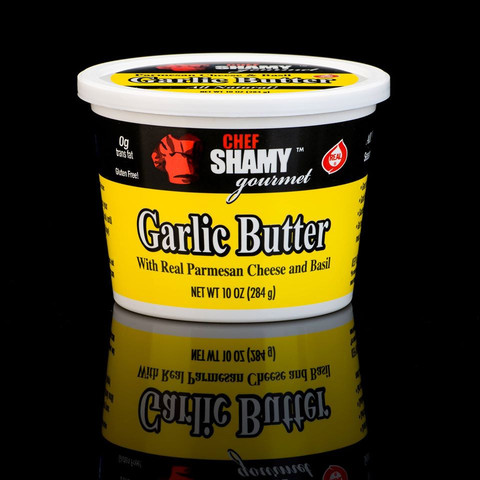 (source: chef shammy)
Y'all know I've been around for a few years. Y'all know I'll try ALL THE THINGS (hello, escargot…~hurk~). Y'all know I'll tell you about every good thang I find.
FOUND IT!
As a gal who likes to make most of her stuff homemade, this is the best garlic butter I have ever had in all my years on this earth. IN ALL MY YEARS! (so many years).
Chef Shamy gets it right. Check it:
* All Natural Ingredients
* No Preservatives
* No MSG
* Gluten Free
* Non GMO
* 0 Trans Fats
* No rbST (growth hormone)
* Made with 100% real butter
While the above is great, I bet you wanna know how it tastes. Like the angels came down and buttered your bread for you. Like heaven…it tastes like heaven! You take a bite and all is well with the world again.
To find a retailer who sells this deliciousness, AKA my new addiction, CLICK HERE and check out their site for more info.
We bought ours at Costco (you get two of the 10 oz tubs for a little over $10…a steal!) and have already used it on veggies, bread, to make eggs, and of course, licked it right off the knife like the barbarians we are.
Best garlic butter, ever!
Happy New Addiction, mah babies!