Has anyone else seen this version of an outdoor highchair?!
~ A gentle reminder: OMT! uses Amazon referral links. When you do your shopping through the Amazon links on this page, you support the blog at no cost to yourself. It's much appreciated!~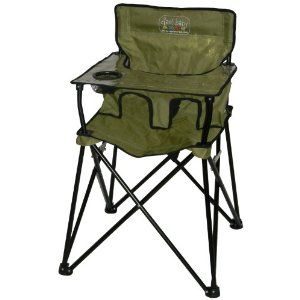 [source: Amazon]
It's just like your soccer game chair but ohso much better, right?!
It's called the Ciao! Baby Portable Highchair and comes in many colors, even a camo version, for when the grandbaby wants to go all invisible!
While, I'm totally digging this highchair, I'm wondering if it's all that safe. The baby looks comfortable, but would you trust it?
The few reviews say they're great and I could see using it with strict supervision (like we're gonna let our grandchildren out of our sight). The pluses would be the portability and being so lightweight.
What say you? Would you buy this or not?