A dear friend stopped by last week to drop off a shower gift for FB* and then pulled out a delightful surprise written by her grandnieces and grandnephews: The Adventures of Nuzzle & Luigi vs Evil Feline Fritzapaw (ages 7-13)
~ A gentle reminder: OMT! uses Amazon referral links. When you do your shopping through the Amazon links on this page, you support the blog at no cost to yourself. It's much appreciated!~
Just inside the jacket, an inscription: "A comic coloring book for kids written by four kids"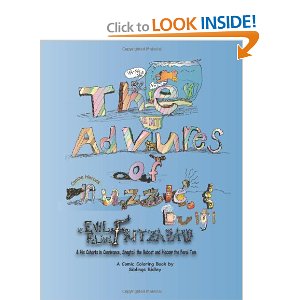 [source: Amazon]
A taste of what's to come: THE FISH CAPER or THE NET RESULTS is the title of this nail-biting episode of the comic coloring book adventures from the precocious graphic talents of the Siblings Ridley. Follow the tracks of hero paladin dog, Nuzzle, and his donut-addicted sidekick, Luigi, as they pursue from page to page their villainous cat nemesis, Fritzapaw, and his insidious minions, Snagtail and Hacow, in a perilously hilarious quest to thwart the criminal genius Fritzapaw's latest nefarious plot to drain the ocean and harvest all the fish as cat food, while simultaneously demolishing the dog treat vending machines, which are the main source of nourishment for the dauntless hero hounds.
Donut-addicted?  I'm totally in.
What exactly is a comic coloring book?!  It's a new twist on an old classic.  Not only is there adventure and extreme silliness, but as your grandchildren read ( or you read to them) they can stop along the way to color in the tale (or tails, as there are plenty of those).  GENIUS!
Go take a look at the inside pages of the book by clicking the above link. It's 54 pages of interactive fun for only $7.99.
My only caveat, but one that should be heeded: it will be extremely difficult to resist the urge to hog the book, so you can color too.  To save on tears, yours not theirs, buy two.
Click here to order: The Adventures of Nuzzle & Luigi vs Evil Feline Fritzapaw
* Future Baby