I'm a cook; I'm a baker. With each of these endeavors, I like to take the time to craft together a meal or a dessert that will leave a lasting impression. I want my family and guests to know that I put something of myself into what I'm serving (this has nothing to do with that tiny part of my finger that went missing…).
You too? Yep. That's what I thought.
The concept of crafting flavors and elements that compliment, that surprise and delight, has extended far beyond food and into the craft cocktail movement.
You know OMT! loves a thoughtful cocktail.
There are many guides on the subject, but when I came across this book, conceived from a well-loved and respected bar in New York, well, I knew I was on to something.
~ A gentle reminder: OMT! uses Amazon referral links. When you do your shopping through the Amazon links on this page, you support the blog at no cost to yourself. It's much appreciated!~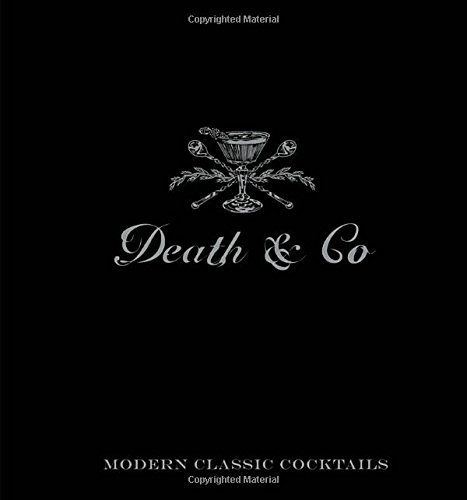 (source: AMAZON)
The Deets:
Death & Co is the most important, influential, and oft-imitated bar to emerge from the contemporary craft cocktail movement. Since its opening in 2006, Death & Co has been a must-visit destination for serious drinkers and cocktail enthusiasts, and the winner of every major industry award—including America's Best Cocktail Bar and Best Cocktail Menu at the Tales of the Cocktail convention. Boasting a supremely talented and creative bar staff—the best in the industry—Death & Co is also the birthplace of some of the modern era's most iconic drinks, such as the Oaxaca Old-Fashioned, Naked and Famous, and the Conference.
Destined to become a definitive reference on craft cocktails, Death & Co features more than 500 of the bar's most innovative and sought-after cocktails. But more than just a collection of recipes, Death & Co is also a complete cocktail education, with information on the theory and philosophy of drink making, a complete guide to buying and using spirits, and step-by-step instructions for mastering key bartending techniques. Filled with beautiful, evocative photography; illustrative charts and infographics; and colorful essays about the characters who fill the bar each night; Death & Co—like its namesake bar—is bold, elegant, and setting the pace for mixologists around the world.
For those of us who enjoy the craft of a great meal or of an elegant dessert, why not the crafted cocktail?
WHY NOT?
Sorry. Just a tad excited.
While there is a place and time for the less extravagant, for the simple glass of aged whiskey or ice cold brew by a roaring fire, I argue there is also the place and time for refined extravagance, for something that takes more time and patience before enjoying.
If you agree, this may be one of the books you want on hand to extend your love of all things crafted. Or, maybe you'll just want to gift it to one who delights in sharing their craft with you. Either way: it's a win!
SALUD!
Happy cocktail crafting, my friends!