Wait. Are you in the right place? Breast feeding? Bottles? Isn't this a granny-driven site? WHAT IS HAPPENING?!
Calm down, my babies.
Yes, this is a grandmama-driven vehicle (WIDE TURNS, Y'ALL!), but isn't our duty as mothers first to pass along AMAZING products that can help younger generations of moms or moms-to-be? I see you agreeing. We're all together in this, right? Right!
~ A gentle reminder: OMT! uses Amazon referral links. When you do your shopping through the Amazon links on this page, you support the blog at no cost to yourself. It's much appreciated!~
Take a look at the Mimijumi Baby Bottle: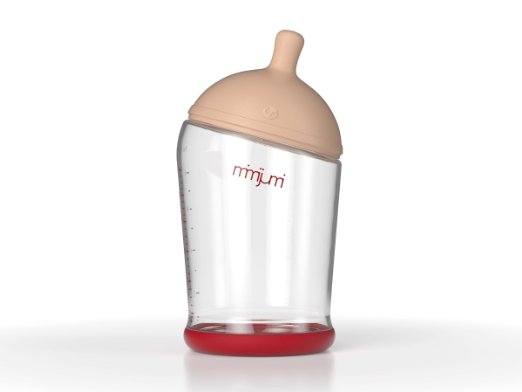 (photo credit: amazon)
Product blurb:
With natural colors, textures and forms, the mimijumi baby bottle provides the perfect complement to breastfeeding and the best possible transition to bottle feeding. The innovative nipple design replicates a mother's breast, creating a natural feeding and latching experience for a happier and healthier bottle fed baby. Bold colors and soft textures are combined to give the Very Hungry bottle a distinctive, eye-catching appearance. Our bottles are produced with the highest quality standards to protect your baby. All mimijumi bottles are BPA and latex free, and exceed US safety standards. Features include: open and close with one hand, easy to clean, integrated venting to prevent colic, screw on one-piece nipple, skid-free base, top rack dishwasher-safe, BPA- and latex- free and exceeds US safety standards.
Breast feeding is a marvel, but some mommas find for various reasons they can't continue; this bottle softens the edges of transition.
I love the design. I love that the company has baby's wellness in mind. I love that they consulted so many advisers (moms, nurses, docs, lactation experts) when creating this baby bottle.
Love it? Need It? Gotta have it (or at least pass the info on)?
CLICK HERE for ordering details.