This is a NON-compensated product review post. Again, I just love this product so much I don't care if I'm getting paid, yo!
Last week, Husband and I headed to Sweet E's house for a weekend visit (yesh, Boy and Girl were also there.) and while we were there, Girl and I headed to a cloth diaper store (a whole 'nuther post) so she could spend her birfday money on baby stuff. Yes, I told her to spend it on herself. No, she didn't listen!
While we were there, I had the opportunity to check out new mommy stuff and I discovered a toy company I had never heard of before: HABA.
Before I fill you in on HABA's philosophy, I'll tell you mine: When I'm looking for toys for Sweet E, I want them to be made of safe materials, I want them to last and be sturdy, and I want Sweet E to think they're fun. I would prefer Made-in-the-USA, but will definitely support other companies that offer quality and peace of mind.
Enter HABA, a German toy company.
~ A gentle reminder: OMT! uses Amazon referral links. When you do your shopping through the Amazon links on this page, you support the blog at no cost to yourself. It's much appreciated!~
HABA says:
For over 70 years, we at Haba have known what you, as demanding parents, expect: a durable toy of a special, safe and lasting design. A toy that is fun and that encourages your child's development through play as well as stimulating his or her perception. Naturally, it must fulfill all the applicable safety standards.
Years ago HABA was the very first toy manufacturer in Germany to voluntarily bring our toys to a third party laboratory to have them tested. We proactively achieved the acclaimed ISO 9001 Certification in the 1990's and then in 2005 the Habermaaß company successfully passed the re-certification of DIN EN ISO 9001 and the new certificate ISO 14001. These certificates guarantee a high quality environmental management system, as well as consistent product standards, the compliance with all prevailing safety requirements and the rigorous abidance of all environmental guidelines.
At HABA, the safety of our items is our utmost priority. Our toys meet and often exceed the ASTM mechanical specifications required by the CPSIA in the USA. In addition, our items are additionally tested to meet the stringent European requirements for toy safety. We are very careful in the selection of our producers across the world. We regularly visit all production sites and have rigorous quality controls.
Be still my toy-loving heart.
What about the materials they use and get gnawed on by itty-bitties? You can go to THIS PAGE to review their standards for timber, stain, fabric, plastics and sustainability. It's an impressive read.
But what of the actual products? Do kids love them as much as we love the amazing thoughtfulness that goes into making them?
Based on Sweet E's obsession with his new rattle, I'd say YES!
Here's what he now sticks in his mouth regularly: Flapsi Rattling Figure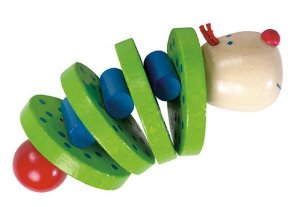 image source: Amazon
It is indeed a rattle, but Sweet E was more fixated on the red ball on the end. Nom Nom Nom!
I would say this got a resounding baby GOO! of approval.
Expect to pay a bit more for these toys, but also expect that you won't be replacing them. My guess is you'll be handing them down to kiddo after kiddo.
If you're interested, go check it out HERE.
HABA has made my early Christmas shopping a bit easier. (yes, i'm that annoying person who shops early) They have toys of all sizes, so you can stick one under the tree or put one in a stocking.
WIN WIN, baby!
Anyone else have any HABA toys? We'd love to hear from you.