After this post, about considering jumping rope again after a 40+ year layoff, I asked myself, "Self – why not?"
I am officially jumping rope again – in my 50s, y'all!
~ A gentle reminder: OMT! uses Amazon referral links. When you do your shopping through the Amazon links on this page, you support the blog at no cost to yourself. It's much appreciated!~
While I didn't buy the rope in the above linked post, I did get me an adjustable jump rope.
This one appealed to me because of the kiddo aspect!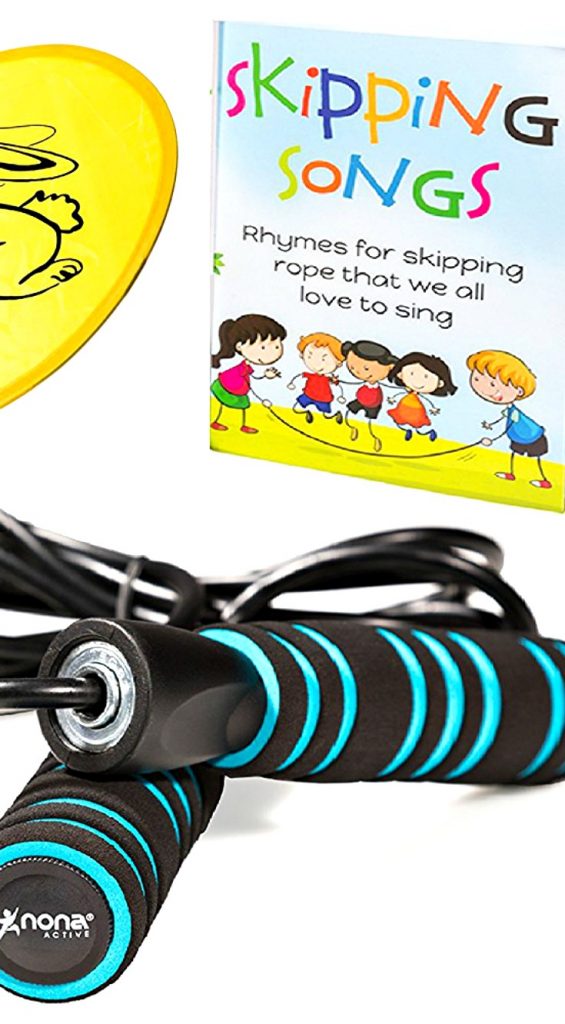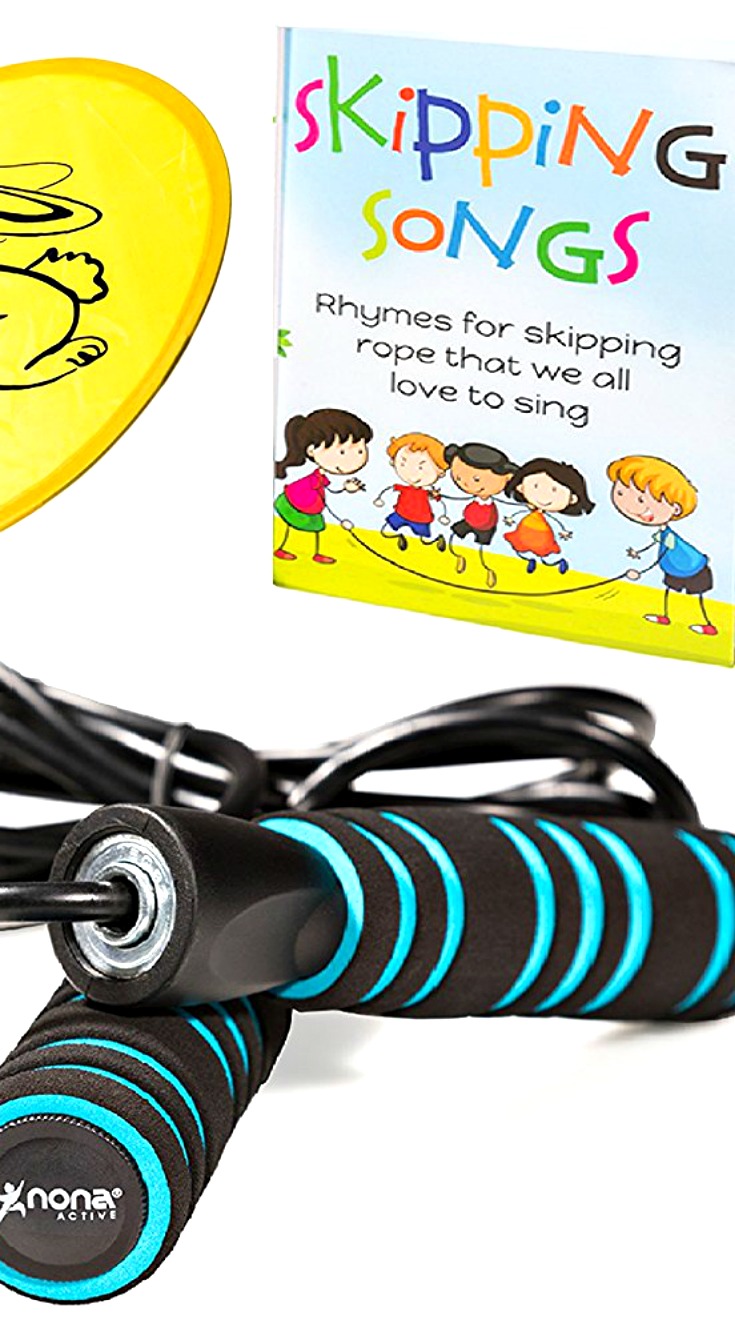 (source: AMAZON)
Product Deets:
COMFORTABLE AND EASY JUMPING – Your kid's jumping practice routine will be easier and more fun with this lightweight adjustable rope. Alter rope length to your kid's height in only 4 easy steps. The rope is designed for long jumping: the cord does not tangle or twist, the foam handles are soft and comfortable for non-slip grip. For beginners, your free access to our VIP CLUB provides simple tricks for teaching your kids how to jump, and tips for correct jumping.
THE PERFECT ACTIVITY FOR BORED KIDS! – This complete jumping kit provides your kids hours of fun with high energy, making long weekends much easier. You can join them for some quality time, or sit back and relax for for quiet time. With over 80 traditional skipping songs in the colorful book, your kid will not get tired of singing and jumping! The flying disc makes this kit a complete fun package. Your free access to our VIP CLUB provides 19 jumping games that kids love to play over and over.
THE IDEAL GIFT FOR A BIRTHDAY, CHRISTMAS OR EASTER – the colorful package filled with high-quality items makes it a perfect gift for any occasion. The adjustable lightweight rope is designed for all ages, and for all levels. The colorful 34-page song book is enjoyed by young and old. The flying disc adds another fun game that everyone loves to play. Easily store the jump rope and flying disc with the included mesh bag and small case.
GET IN SHAPE AND BURN CALORIES FASTER – the 9.8 ft rope is perfect for adult fitness and cardio exercise, and designed for both beginners and pros. Say goodbye to expensive gym memberships and hours of sweaty workouts. You will see results with just 5 mins a day of jumping. The sturdy handles with stylish aqua blue notches are designed for firm and non-slip grip, making jumping easy and comfortable. Your FREE access to our VIP CLUB provides a step-by-step fitness program for beginners, and more.
100% MONEY BACK GUARANTEE – NO QUESTIONS ASKED – AT ANY TIME – we strive to provide you with the highest quality product and the best customer experience possible. Our Jump Rope Set comes fully backed with a replacement or 100% refund guarantee. If you're not entirely satisfied, please contact us AT ANY TIME after your purchase, and you will get your money back.
Product Description:
Why buy the Jump Rope Set by Nona Active?
"Highly impressed by the quality. Really loved the whole package…"
"Awesome jump rope!… My daughter loves this, makes jumping rope much easier for her. Would recommend to others."
"Perfect jump rope for my 8 year old granddaughter. She loves it!"
"Bought this for our daughter, she loves it! Easy to shorten for easier jumping."
Looking for a Fun Weekend with the Kids?
Kids just love this complete package of fun.
The jump rope, with the song book and flying disc, will keep them laughing and active for hours.
You can join them for a joy-filled family time, or watch them and have some quiet time.
19 fun jumping games for all ages are included.
Getting in Shape and Losing Weight Has Never Been Easier (and More Fun)
This comfortable rope is perfect for cardio and fitness exercise, and it is designed for beginners or jumping pros.
The 9.8 feet cord is long enough to fit any adult's height.
No need for gym memberships or technical equipment.
You can see results even when jumping only 5 mins a day.
A Step-by-Step fitness program for beginners is included.
Enjoy a Free Access to Our VIP Club:
– 19 Jumping Games – for all ages
– Step-By-Step Fitness Program for Beginners
– Simple Tricks for Teaching Your Kids How to Jump
100% Risk Free – We Guarantee Hours of Fun and Easy Jumping or You Get Your Money Back!
This set comes with everything in the pic below: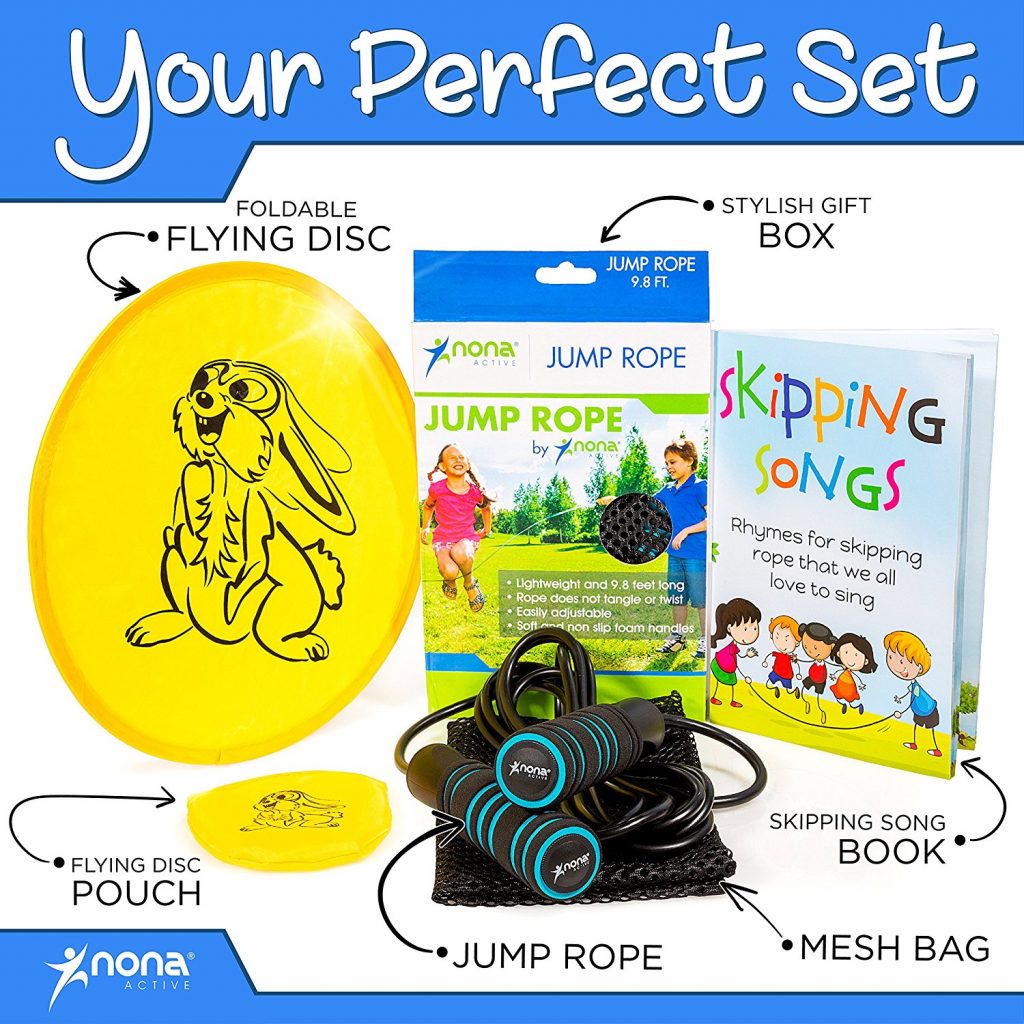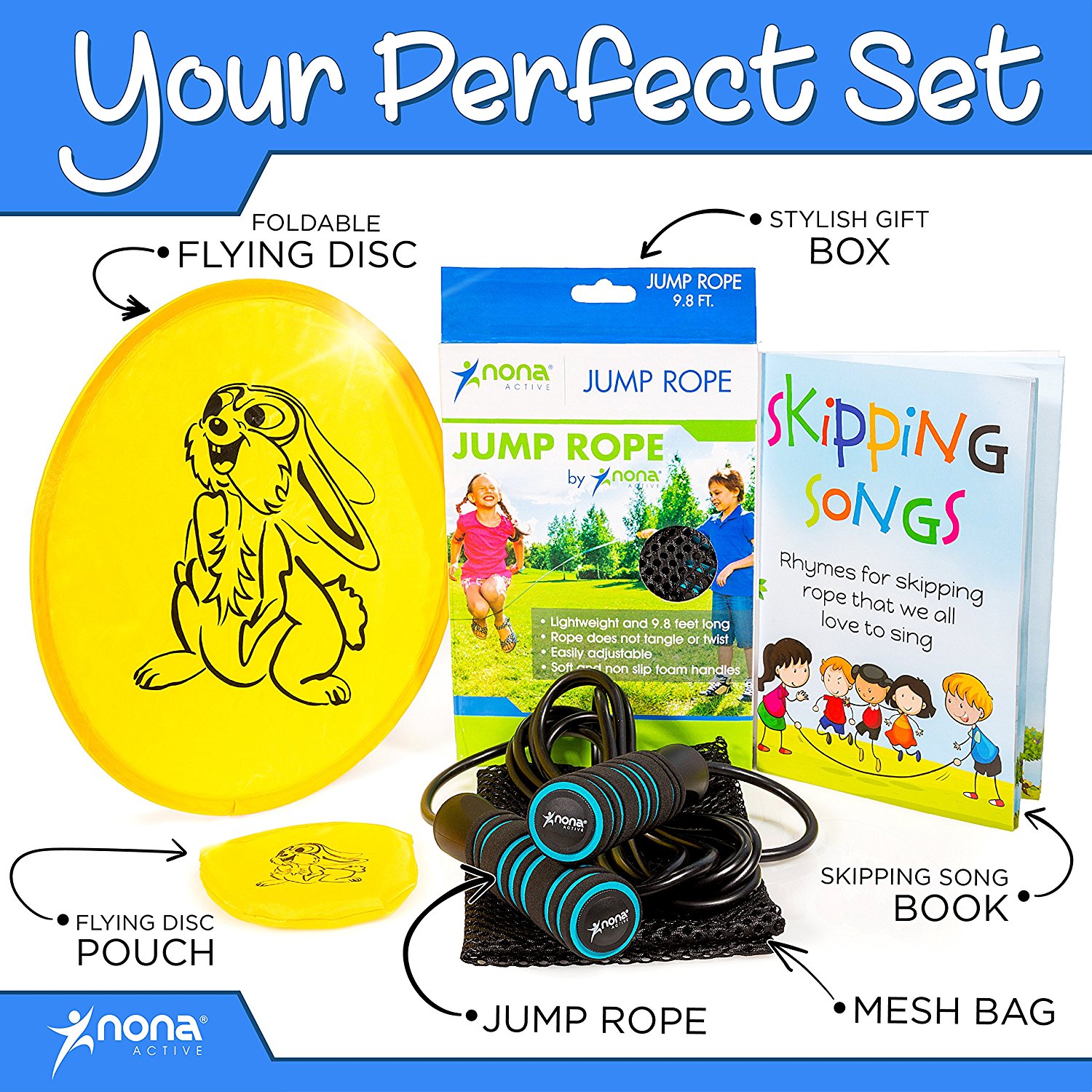 I'm so happy I started jumping rope again for couple of reasons:
~ It's so stinkin' fun! (or is that just me?!)
~ It is a HARD CORE workout.
~ It has improved my balance and overall strength.
~ I can get a great workout when traveling without schlepping loads of gear.
~ It's one of the fastest ways to get you heart pumping.
~ It burns a boatload of calories in a short amount of time.
CAVEAT: Play it safe and always check with a doc before beginning any rigorous exercise program.
Are you looking to up your workout game?
You might want to consider jumping rope again!
~Please share on the social media of your choice. Thank you!~