I seem to run out of phone/tablet/pad juice at all the wrong moments (is there a good time?!).
You?
~ A gentle reminder: OMT! uses Amazon referral links. When you do your shopping through the Amazon links on this page, you support the blog at no cost to yourself. It's much appreciated!~
Recharging can take more time than I have, so I invested in a lightning cable kit.
Behold the ubiolabs Led Lightning Cable Kit: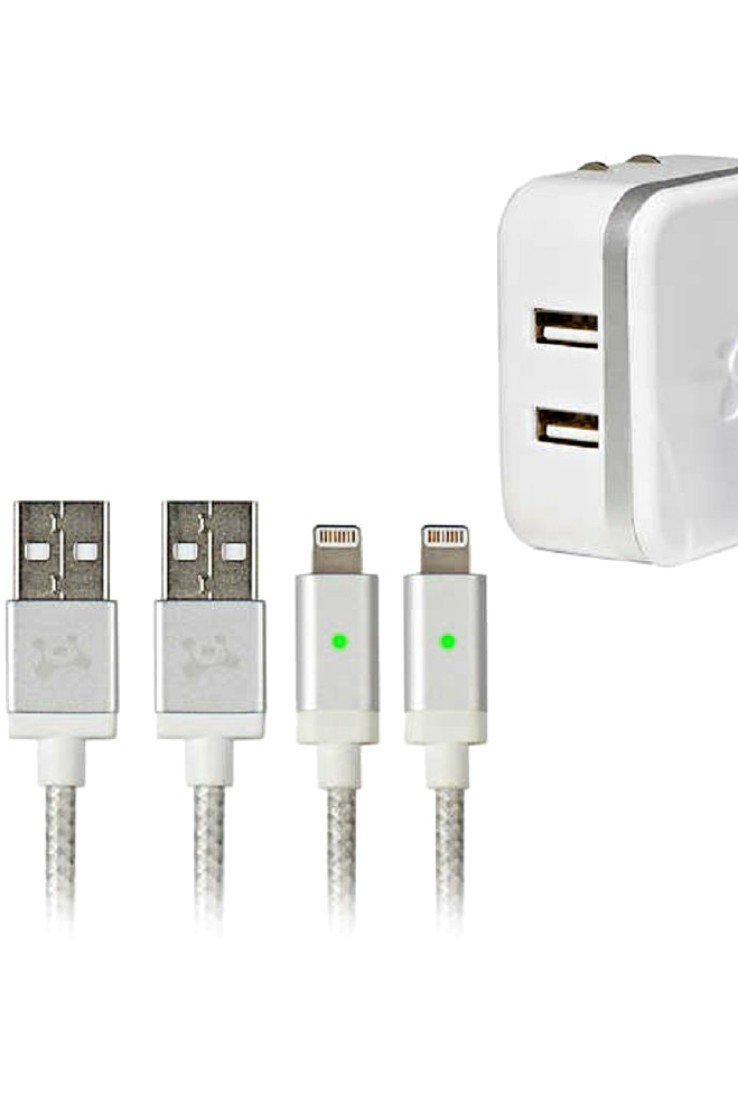 (source: AMAZON)
What's Included:
~ Two 6′ Apple Certified Lightning Cables
~ LED Charge Indicators
~ 4.8A Dual USB Wall Charger, 4.8A Dual USB Car Charger
~ LED charge indicator glows orange when charging and green when your phone is charged up
~ Nylon braided cables are durable and tangle-free
Cable Features: Ubio Labs high performance certified Lighting™ cables ensure maximum performance while charging and syncing Apple devices. The intelligent built-in LED charge indicator shows the charge status of your device – orange when charging and green when fully charged. Our 6′ cables are built for performance and durability with nylon braided exterior and rubber and aluminum fray-resistant connectors. Apple® Certified for performance and compatibility. LED charge indicator glows orange when charging and green when your phone is charged up. Versatile 6' length. Nylon braided cables are durable and tangle-free. Fray proof rubber and aluminum connectors Supports maximum 2.4A charge speeds for high speed charge and sync performance.
Wall Charger Features: Charge multiple devices at once with our ultra-compact yet powerful wall charger. Compact and lightweight wall charger measures 2" square and weighs in at under 3oz., finished in high gloss white and aluminum. This new flush-mount design lays flat against the wall when plugged in and easily fits in the palm of your hand, or in any travel bag. Our charging powerhouse provides a total of 4.8A/24 watts to rapidly charge two mobile phones or tablets simultaneously at full speed. Each USB output is capable of max charge speeds of 2.4A and compatible with most mobile devices. Constructed from high impact materials that are scratch, ding and dent resistant for incredible durability. Reduce your charge times with our safe, intelligent, and versatile charging solutions. Dual USB outputs with 2.4A each and 4.8A (24W) of total power Charge two devices simultaneously at full speed Universally compatible with most mobile devices Safe, reliable charging Flush-mount design lays flat on wall Car Charger Features: Power up on-the-go with the Ubio Labs dual USB car charger. This compact charger outputs a 4.8A (24W) to charge two devices at top speed simultaneously.
What I Think:
We had a lightning cable fray beyond repair, so we had one brick, but no cables. WAAAA!
This set has been perfect for multiple-person use. I snagged one of the cables to use with my old brick and Garry took the new brick and cable.
We each have lightening capabilities that suit our needs.
I LOVE the cords.
Since I tend to be hard on anything I use, these strong devils can hold up to my abuses.
We haven't used the car charger to date, but it's on the list to try out.
Caveat: The green LED light, indicating a complete charge, typically turns green at around 88% for us. I have no idea if that is typical.
I'm ready for the day when our devices charge themselves (DREAMER!), but until then, a lightning cable kit is worth having.
Happy Charging, Y'all!