2-years ago, I shared a tutorial on how to make drop cloth privacy curtains for your patio; it regularly falls in OMT's top five posts!
In the two years that we have had these in place, not one week has gone by that I don't mention how happy they make me.
NOT ONE!
Pretty good for a simple project.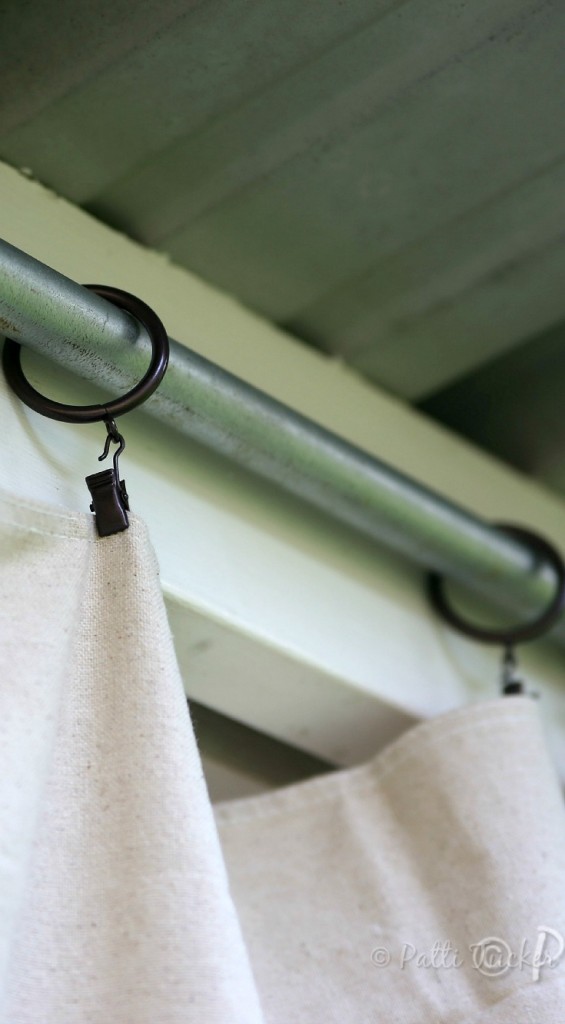 Last year, I had plans to make a slight adjustment to the curtains (we were a little side-tracked because of THIS): I planned on using darker drop cloths (is there such a thing?), or dying a set in a darker hue, because when it rains, the runoff from the roof tends to splatter and stain the cloth.
I figured on a darker set, I wouldn't notice as much.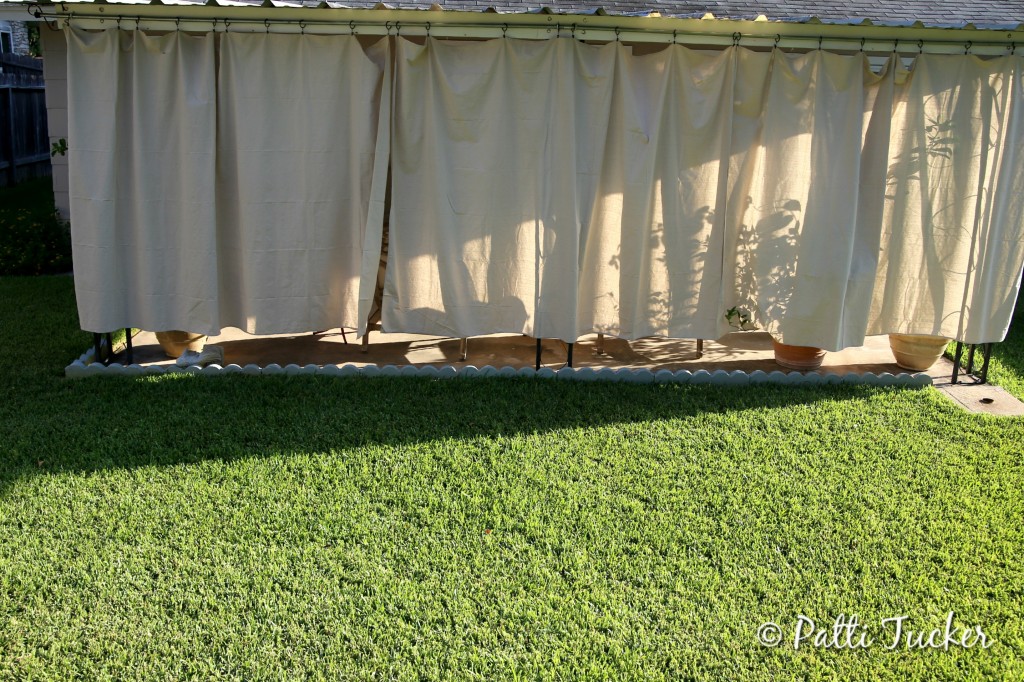 It's currently on my project list for the fall.
A few years back, we had a neighbor whom I nicknamed Cletus.
His creep factor from 1-10: 253. Our yard sits a bit below his and he'd stand on his porch and stare into our backyard or worse, our house.
I often let him know I didn't appreciate his creepiness, Texas-style.
He got the message.
BACK OFF, CLETUS!
Back then, we installed pull-up shades on our porch to block us from him and him from us.
The shades where of the plastic variety, made for the outdoors, yet never lasted more than a year or two. When we took down the shades last winter, I decided ENOUGH!
We were gonna get some drop cloths and have us a DIY session, OMT-style, IE the simplest way anyone could ever DIY outdoor curtains.
Cletus has since moved (jiggity jig) and a family with itty-bitties has moved in: oh, happy day!
Even though we are happy with the new neighbors (I have no idea how they feel about us), our yard still sits below theirs and well, OMT likes her privacy, y'all.
Time for some curtains.
We started with two galvanized pipes as a curtain rod. Considerably cheaper and I like the look.
We thought about painting it, but I really dig the raw look.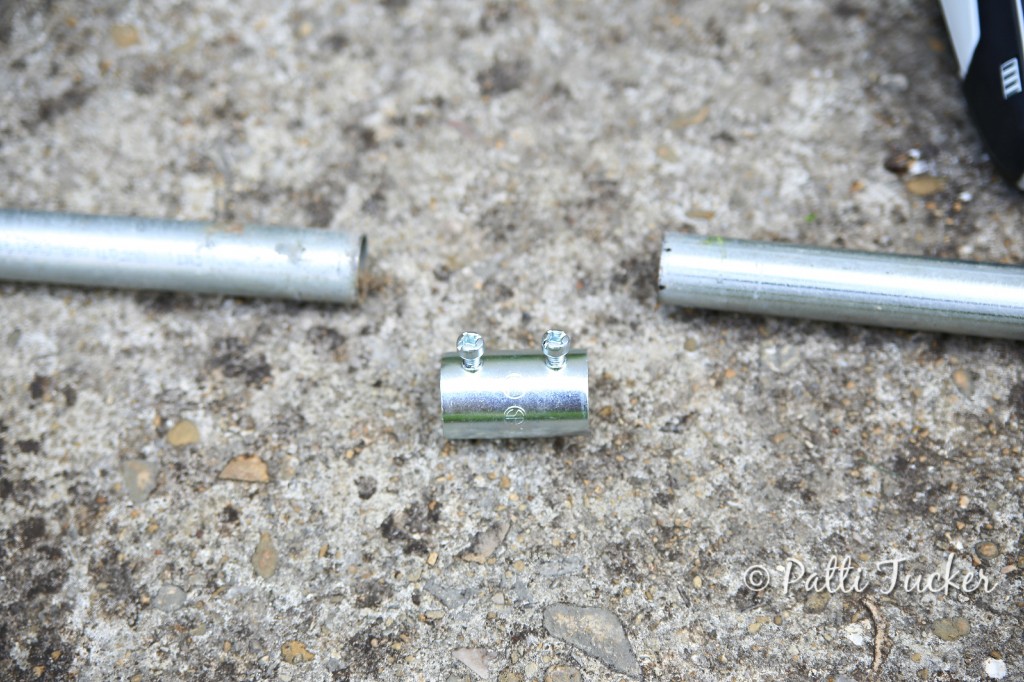 We didn't get one pipe, but two and used a connector.
Easy peasy!
Garry did all the measuring and leveling, while I stayed below telling him how good looking he was on a ladder.
So good-looking, baby.
Truth.
We knew we'd have to install the pole on the outside of the beam, as opposed to underneath because of the metal supports.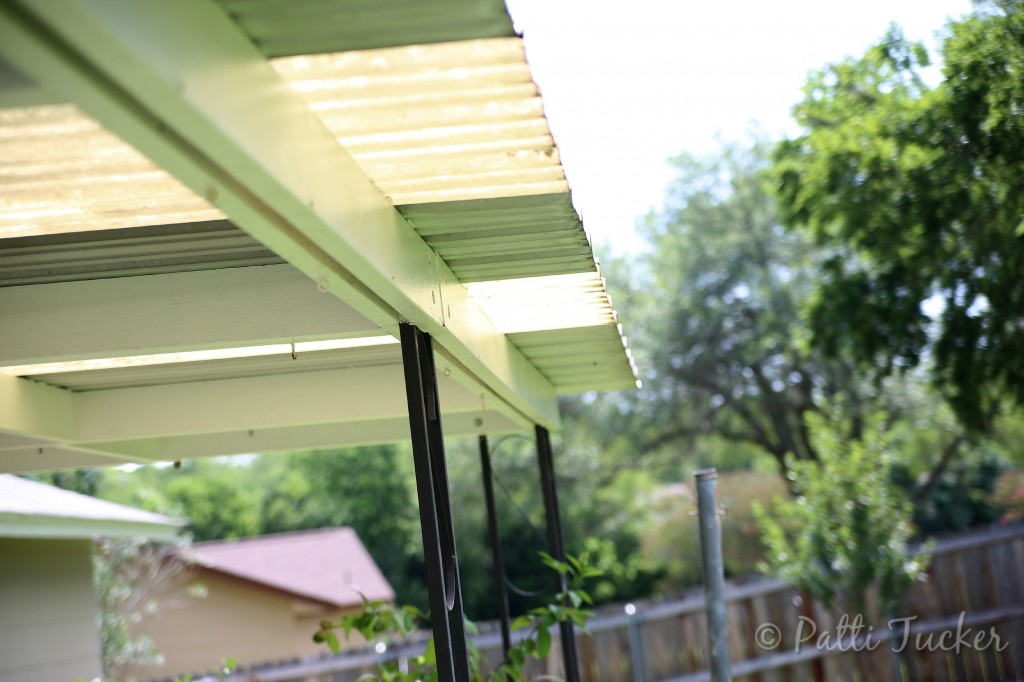 He be a pro.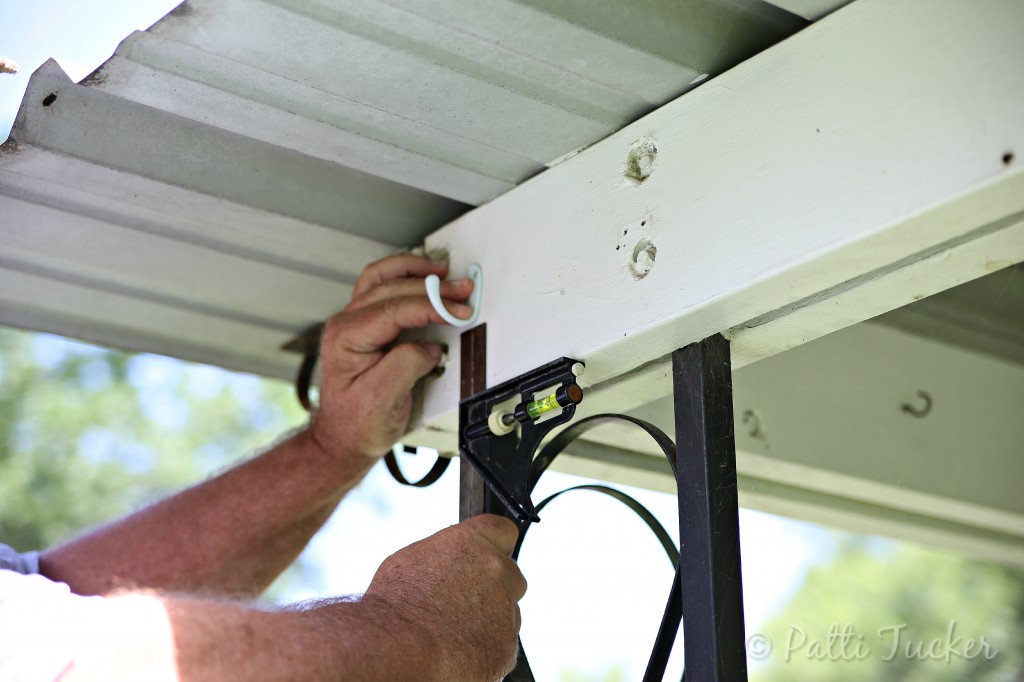 One thing that we realized after the job was done was that the rings really don't have the room to just hang and since we don't want the paint to be worn thin as we open and close the curtains, our solution will be to back each hook with a piece of wood.
You won't see that in the pics, because we only realized it after we "finished" the project.
It's on our to-do and I'll update this post once we get 'er done.
We'll take each hook off, screw in a smaller piece of wood, then reattach the hook.
Here's the hook as it is now: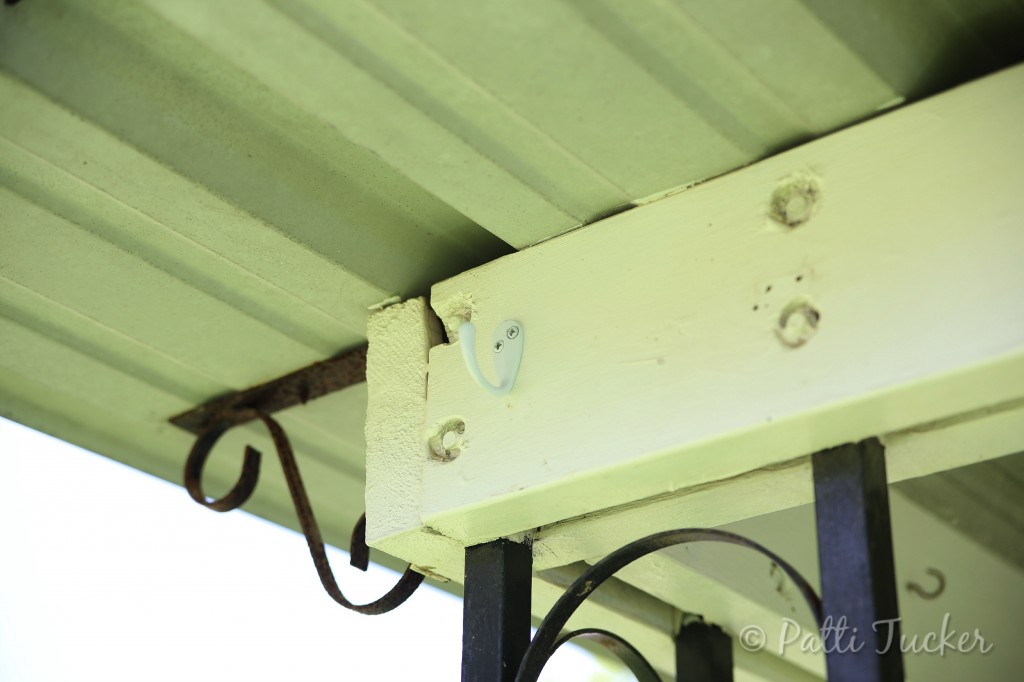 We got the hooks up, then placed the pole. Bammo!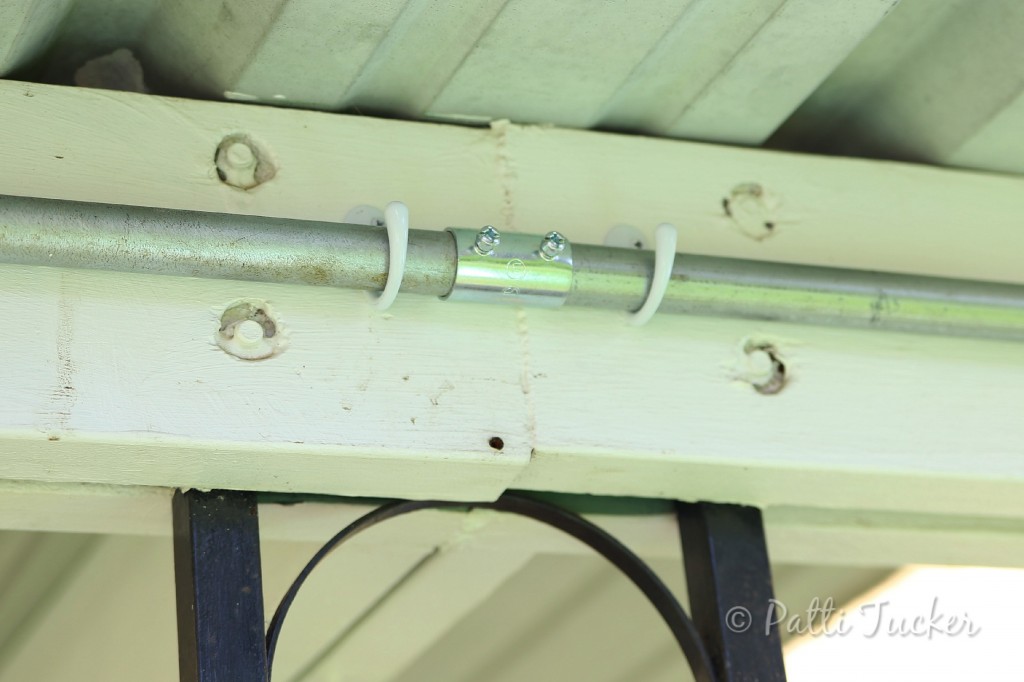 ~ A gentle reminder: OMT! uses Amazon referral links. When you do your shopping through the Amazon links on this page, you support the blog at no cost to yourself. It's much appreciated! ~
We used three (very similar to these >) 6 x 9 drop cloths, because:
#1) I don't know how to sew a straight line and knew if we went too long, it would mean one more project that would never ever get done.
Turns out I like that the curtains don't go all the way to the ground. Seeing that bit of grass gives me a summer happy.
#2) Makes weed-eating easier for Garry.
#3) If I'm happy, Garry's happy, which in this case means everyone is happy!
We used simple curtain clips to attach the drop cloths.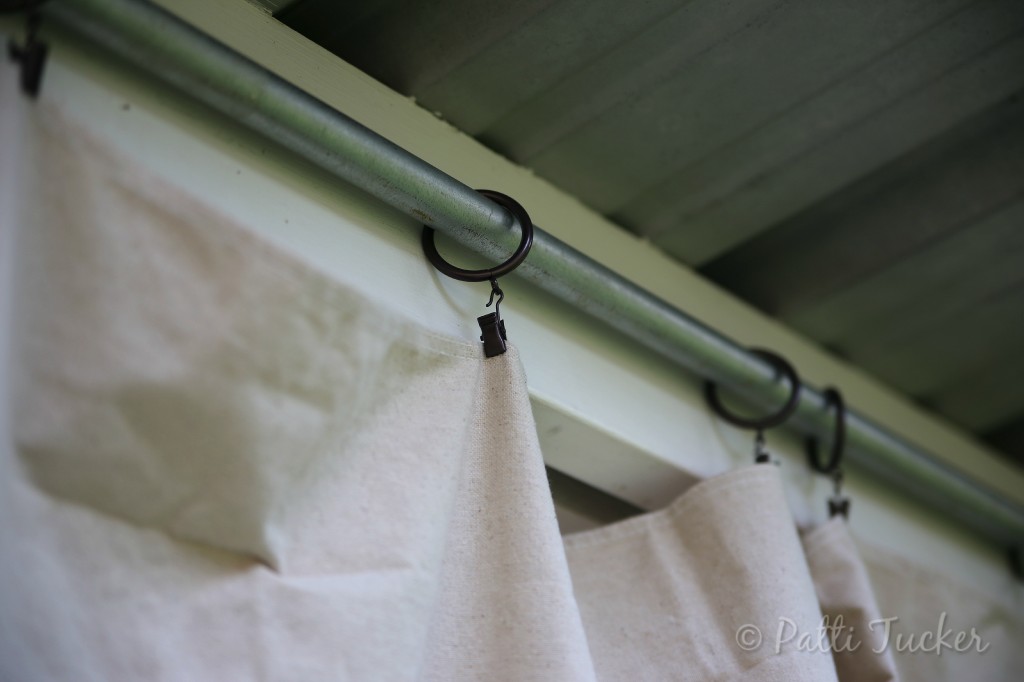 I'm thinking I'd like to get one more package of the rings to even out the middle section, but overall they work great.
Garry thought the heavy duty drop cloths might be too heavy for the clips, but I haven't witnessed any proof of that, especially since we've had a windy rain storm since and those curtains were flapping horizontally, yet remained in place.
Cletus would have been so disappointed.
We used three drop cloths. One on each end and then one for the middle section.
We'll use tie-backs for all three sections during storms that are particularly brutal. Other than that, the curtains slide open easily enough whenever I need to be seen! Which is like never.
STOP LOOKING AT ME!
In this pic you can see the slope of our yard. The neighbor's patio is located behind the middle section.
If I had opened that one, you would have been able to see whomever was standing out there on their porch.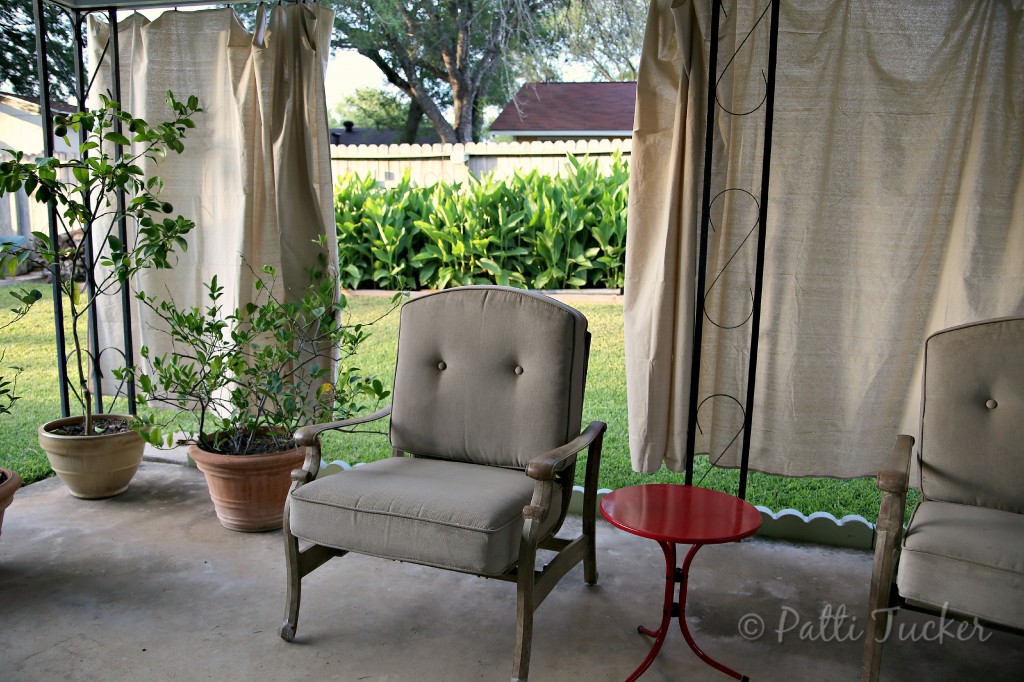 Here's our view from the patio when the curtains are closed.
Private party, baby!
We have bottle service for our VIPs, doncha know.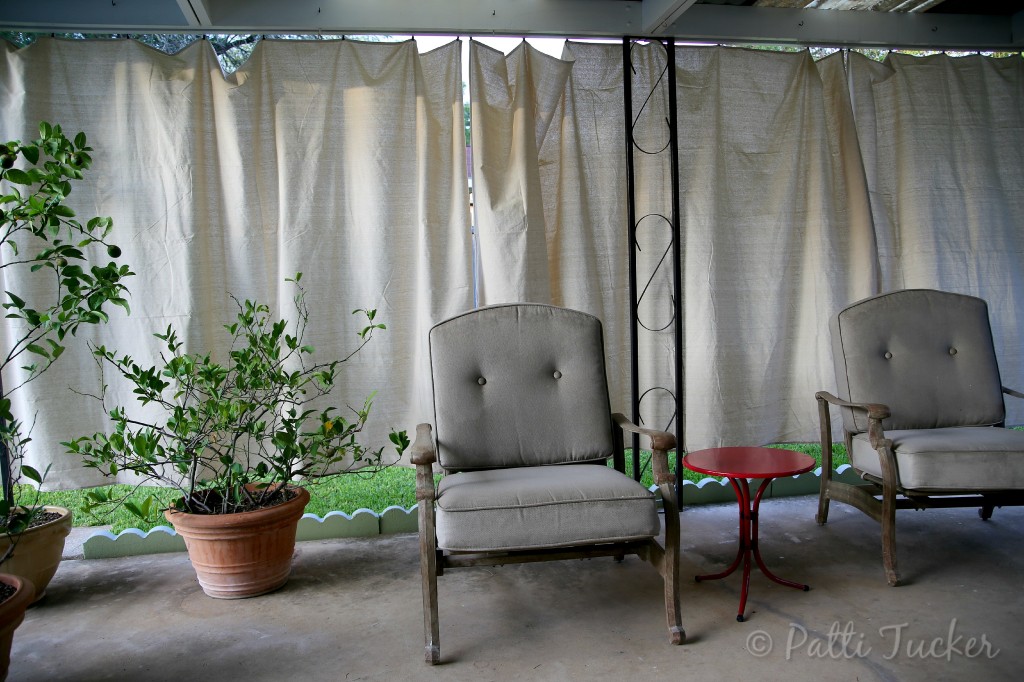 Here's our neighbor's view.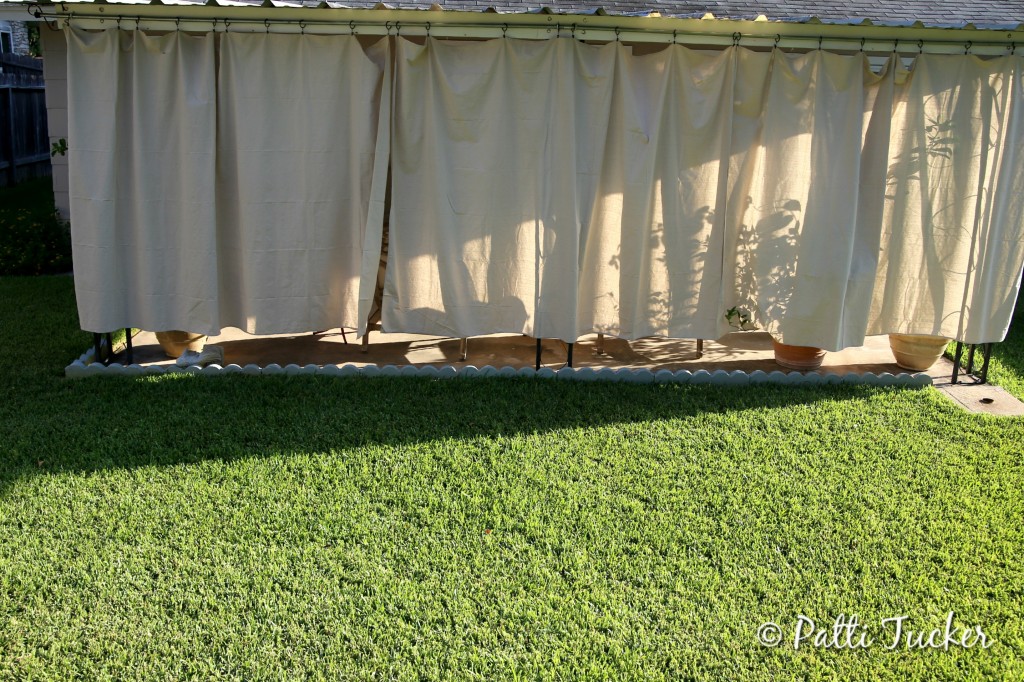 While many of you might fancy-up the drop cloths, I'm loving them as is.
We have thought about letting Sweet E walk all over them with painted feet, but other than that, their natural-toned cottony simplicity speaks to my simple heart.
Even though we have a small modification to make in order to let the rings hang freely, it's a DIY win.
The cloths are easy to tie back if it's windy or if you prefer a section or two open. Even though it's rare that I tie them back, I like having the option.
Once I get my darker curtains up, I'll come update this post.
Until then, get to DIYing a set of drop cloth privacy curtains for your patio, y'all!
Please Share on Your Favorite Social Media! ~ OMT thanks you! ~