Show of hands: who ever used first generation whitening strips?
So. Many. Hands.
How many of you HATED them?
Huh – all the hands.
I am right there with you.
I shudder when I remember trying to get the strips positioned on my teeth correctly, only to have them slip and slide like a soaped-up otter trying to open a clam shell once they were on.
FRUSTRATING!
I loved the results, yet hated the process.
Matter-of-fact, I never bought them again.
Not any more.
~ A gentle reminder: OMT! uses Amazon referral links. When you do your shopping through the Amazon links on this page, you support the blog at no cost to yourself. It's much appreciated!~
I've been considering the new and improved strips for some time and thought I'd go one more round with them.
Introducing: Crest 3D White Whitestrips Classic Vivid
(source: AMAZON)
~ Removes 5 years of tough coffee, wine, and smoking related teeth stains for a whiter smile
~ Visibly whiter teeth with full results in 10 days. The strips mold to the shape of your teeth and come off cleanly
~ Advanced Seal Technology's no slip grip stays put so you can talk and drink water while whitening teeth
~ A comfortable at home teeth whitening experience using the same enamel-safe teeth whitening ingredients dentists use
~ 10 teeth whitening strip treatments, each with 1 upper and 1 lower strip, Apply once a day for 30 minutes
Get visibly whiter teeth in just 30 minutes a day with Crest 3D White Classic Vivid Whitening Strips. With just 30 minutes a day for 10 days you can reverse years of staining. Crest 3D White Whitestrips Classic Vivid make it easy to whiten teeth and reveal a brighter smile. Using the same enamel-safe whitening agent as dentists use, your smile will be restored to its former glory in just 10 days.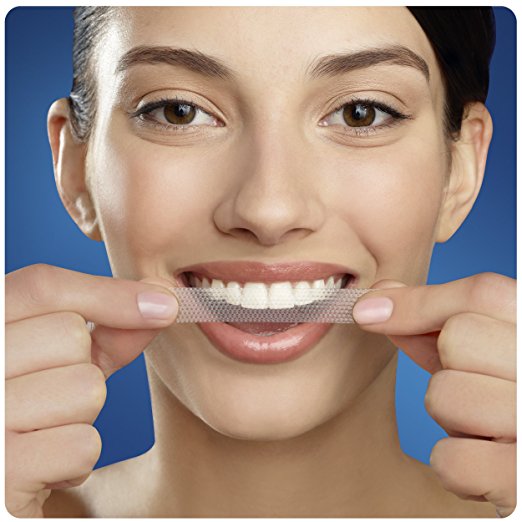 (source: AMAZON)
PROS:
~ These new strips stick like magic. You position them, stick them and forget about them for the 30-minutes their working.
~ My teeth are visibly whiter (just like their copy states repeatedly!).
~ I am actually, as I write this article, wearing them. You can go about your daily (at home) activities and not worry they shift or sag.
~ My teeth/gums were not sensitive throughout the process.
CONS:
~ They STICK to your teeth and can be a bit tough to get off. Like wrestlin' a toddler for the remote: you'll get it eventually, but you're gonna have to work for it.
~ There is a bit of clean-up afterwards. Because they stick so well, there is some residue that needs attention.
~ The classic vivid kit (10 treatments) didn't seem to get my teeth POPPIN' white like the old strips, but they removed old coffee stains and I was happy with the results.
~ I forgot to take before and afters. Boooooo.
Worth the cost? Yes. The Classic Vivid is extremely affordable, even without a coupon (if you can find one).
Worth the trouble and time? Yes.
Favorite feature: the no-slip design.
Running a close second: my gums weren't sore from the treatment.
If you're looking to try an at-home, easy to use, whitening system, this one may be just what you're looking for – especially if you ever used/hated the first generation strips.
Go. Upgrade. Whiten!