I have maintained a home for over 34 years and I JUST LEARNED there are two different plungers for two different jobs: sink/drain or toilet.
WHAT THE WHAT?!
Color me embarrassed.
~ A gentle reminder: OMT! uses Amazon referral links. When you do your shopping through the Amazon links on this page, you support the blog at no cost to yourself. It's much appreciated!~
There's the flat bottomed plunger for sinks and drains:

(source: AMAZON)
Product Deets:
~ 16″ wood handle – 5 1/2″ rubber force cup
~ Great for residential and commercial use
~ Clears clogged toilets & drains
~ Long wooden handle and red color cup
~ Generates high capacity force to clear out clogs
Product Description:
A plunger has to form a tight seal to work efficiently. This superior force cup plunger is great for flat surfaces such as the kitchen sink or shower pan and for most household toilets and drains. With a strong wood handle and high capacity force cup, it is perfect for home and business use.
I know lots of folks who use a flat bottomed plunger for the toilet (hello, me!), but the reason they may not work as well, is because you need a tight seal. The flat bottom is intended to, um, lay flat and not on a rounded surface.
WHO KNEW?!
A toilet-specific plunger has the little doo-hickey that juts out the end (I know, the technical jargon is impressive at OMT!)
Like this one: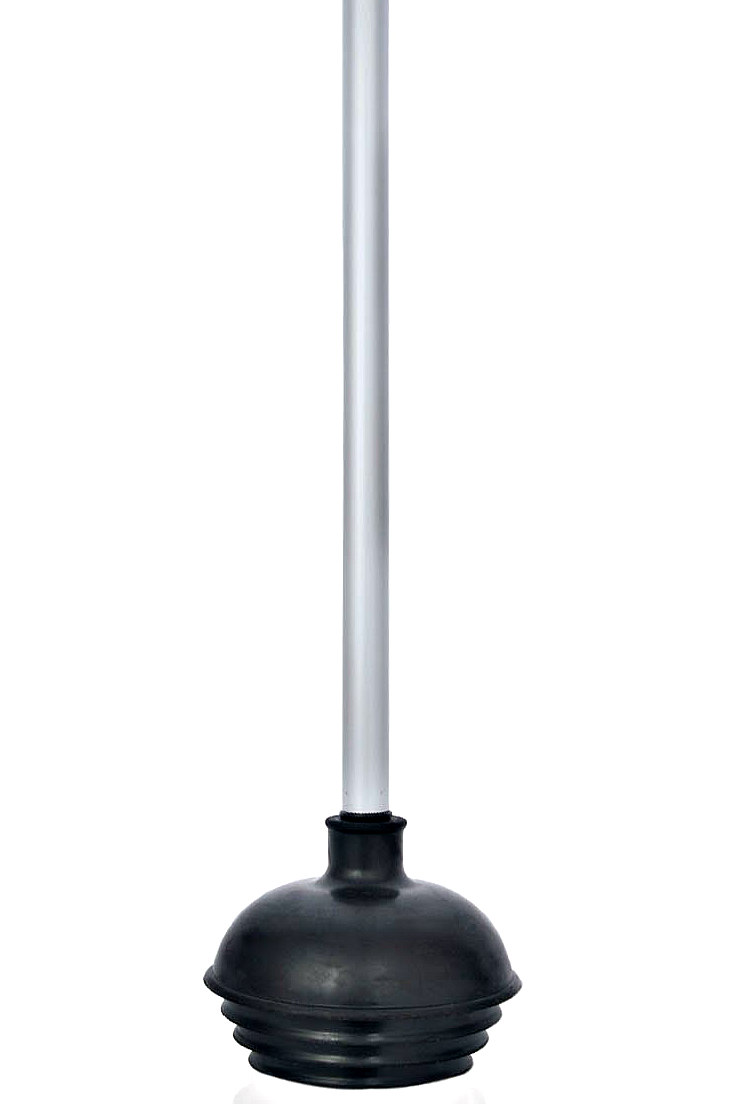 (source: AMAZON)
Product Deets:
~ Unique 4-step heavy duty graduated suction cup fits securely in all different types and sizes of toilet drain openings.
~ Light weight, rustproof, and mold resistant aluminum handle with peg hole for convenient hanging.
~ Super pliable and durable rubber cup creates an ultra tight seal around the drain from all angles for commercial or residential use.
~ Special cup design never flips back and gets stuck like other comparative plungers.
~ Smooth edge and bottom design without interior ridges prevents toilet water from remaining inside cup.
Product Description:
Four different sized, graduated opening allows this specially designed suction cup to fit securely in all different types of drain openings. Great for both commercial and home use.
My world just got all kinds of better.
No longer do I have to sanitize the toilet plunger to use in a sink and then sanitize again and again and again (wait. you do that too, right?!) to annihilate the imagined colony of ick I left behind as I plunged.
Two jobs – two plungers.
Life-changing.
At least it was for me, and now for you, if you fell in my camp.
Happy Plunging, People!