Women of the Internets: If your feet are cold – ever'thang is cold, right?
RIGHT!
I hate that feeling and I'm guessing you do too.
What's a warm weather loving gal to do?
Luckily for you, I have just the Merino wool socks to warm your feet for winter.
The bonus is that they're amazing trail socks to boot!
OMT! Fun Fact: I. Hate. The. Cold.
I seek out socks that not only are good to wear day-to-day, but I gravitate towards wool socks that will also keep me warm and dry.
Double duty socks are the only kind for me (and YOU!).
~ A gentle reminder: OMT! uses Amazon referral links.~
Kirkland's Women's Merino Wool Trail Socks: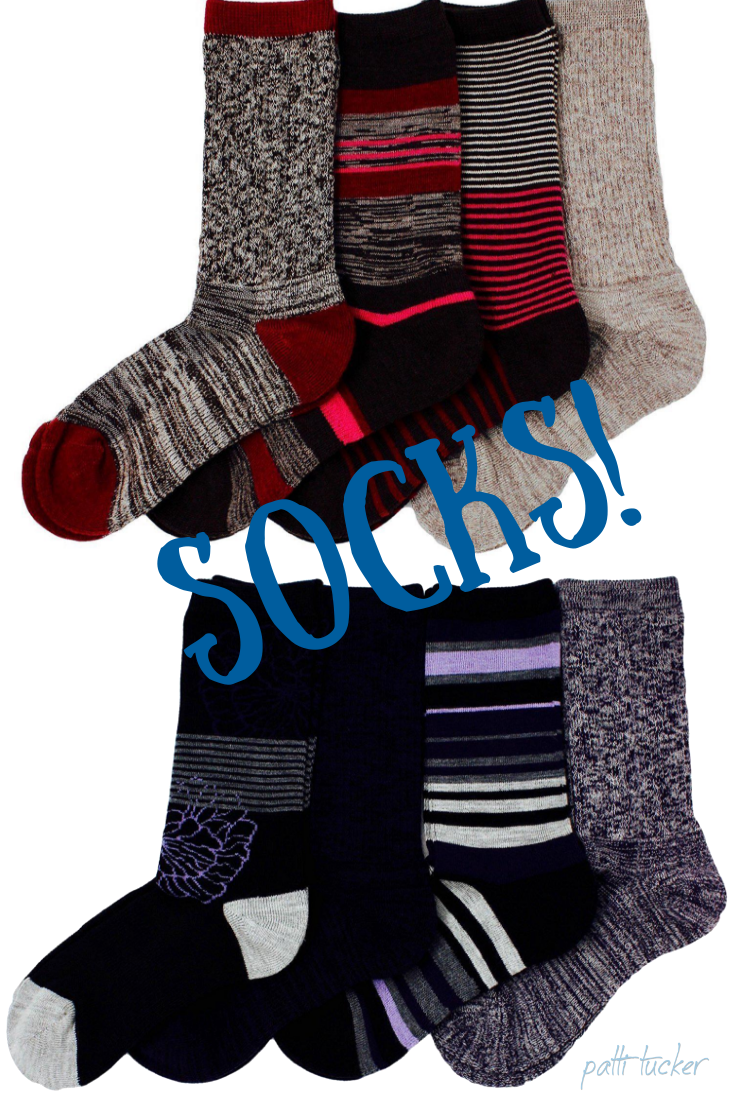 (comes in a 4-pack…not in an 8-pack!)
~ Machine washable
~ 81-86% Merino Wool, 12-15% Polyester, 2-4% Spandex
~ Made in the USA from Imported Yarns
~ Machine wash – cold
~ Tumble dry – low
~ Fits Ladies Shoe Sizes 4-10
~ Smooth toe seam for added comfort
Products Description:
Kirkland Signature women's trail socks in a 4-pack fits shoe sizes 4-10 for women.
Socks are ideal for walking and hiking, trekking or climbing.
Perfect for working outdoors.
Breathable and moisture wicking.
Not too thick for tennis shoes or boots.
Crew sock height.
Not only do I own EIGHT pairs of these socks (I ain't even kidding), but I have given them as Christmas/winter gifts.
I wear them when I'm outside running errands, I wear them watching T.V., and I wear them to bed, so I don't accidentally freeze Garry out with a cold footsie!
OMT! Fun Fact: Since installing our BedJet, I no longer have the need to wear any socks to bed! That thang is amazing!
For cold days (you know – any day that dips below 70° for this thin-blooded Texas gal), these are my absolute favs and I will be adding the new styles to my stash this year as well.
My original 4-pack has been put through their paces and are still holding up in color and shape…not to mention keeping me as cozy as I can be in the oh-so-not-so cold Texas winters.
THEY'RE COLD TO ME!
Years ago, I bought a couple of pair of wool socks and they were ready to be tossed (holes and all). I lamented that I couldn't find new ones that were affordable and adorable.
For the uninitiated:
~ Wool socks are worth the investment.
~ They are lightweight powerhouses of warmth.
~ After I bought my first pair, I've never looked back. Wool or nothing, for the cold months.
~ Wool socks are expensive, y'all.
Um, HELLO, COSTCO!
Costco carries these remarkable socks every year and I'm a happy gal when I see them hit the shelves.
Yep – they keep my toesies toasty.
Yep – they hold up to every day wear – lounging, walking or hiking (or keeping up with Sweet E!).
So, either get thyself to your local Costco – OR – grab the link here.
Worth their weight, I tells ya!
How do I keep my feet warm in the winter?
Happy Shopping!