I'm gonna come right out and say it: I have a calendar problem.
I have two physical ones on my desk (one for the personal day-to-day and one for work).
I have one on my phone.
I have one more on my computer.
And none of them are connected. None of them give me a quick overview of all the parts of my life.
See? Calendar problem.
HALP!
~ A gentle reminder: OMT! uses Amazon referral links at no cost to you.~
While I'm seriously considering making my own, I came across this behemoth and was instantly in love: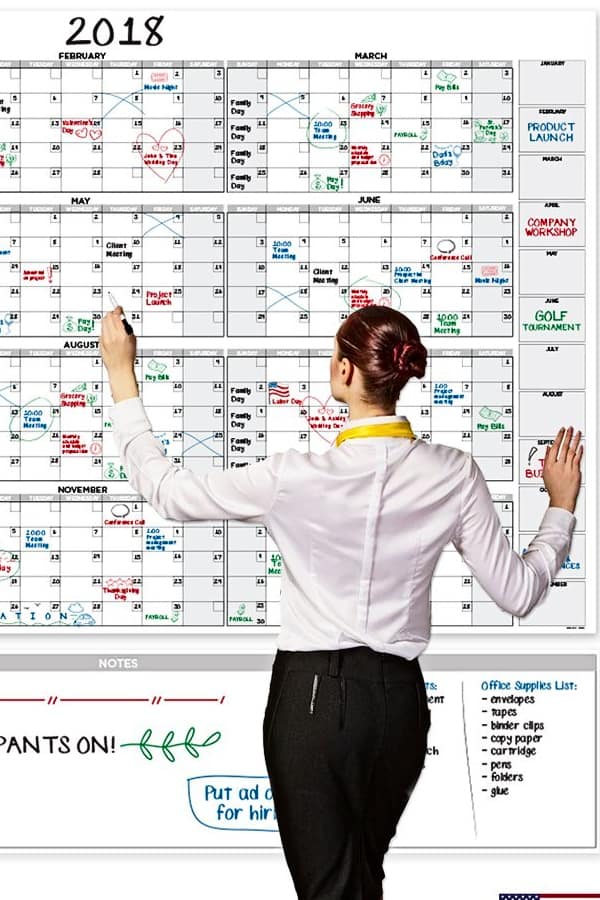 (source: AMAZON)
In case you're not impressed with the size, here ya go: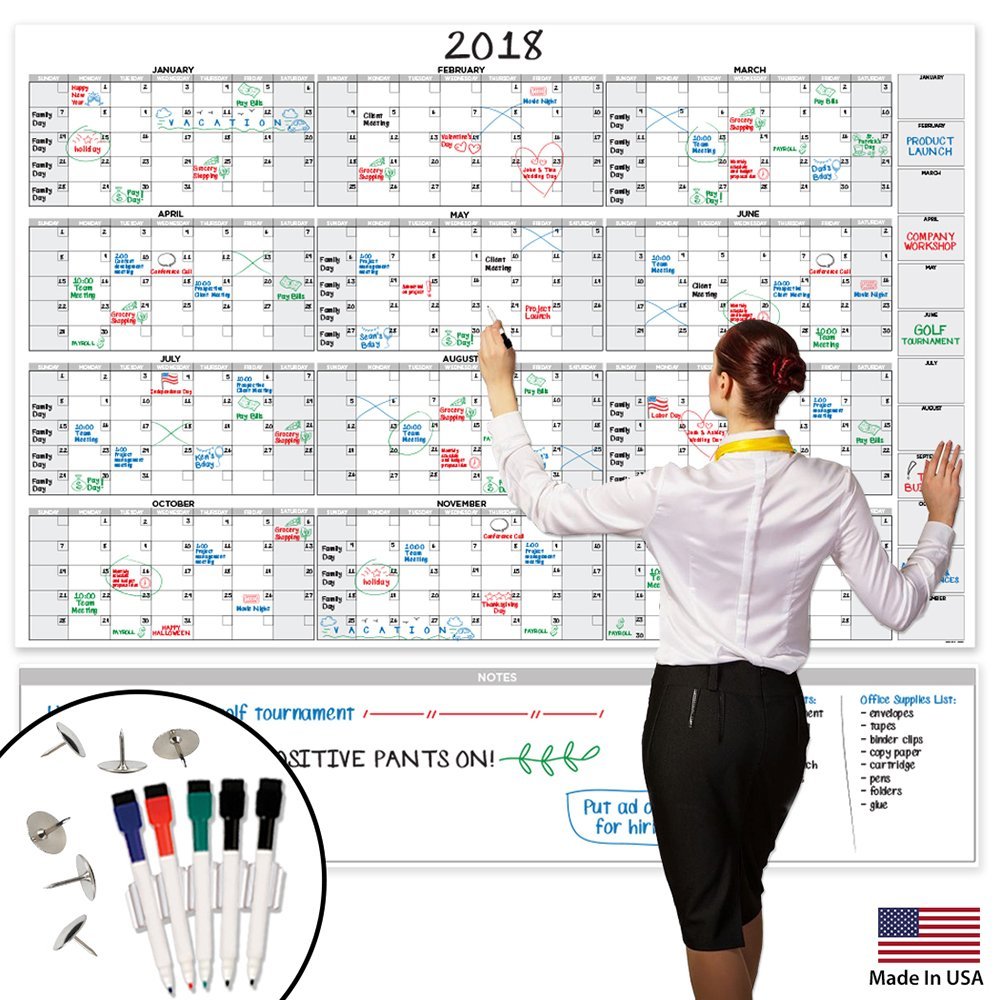 (source: AMAZON)
It's a MONSTER!
Of course, there's the whole issue of finding a wall for that mammoth.
I'm not even kidding, y'all.
I. Want. This. Calendar.
~ Need to know when a doctor appointment is? Just glance up.
~ Need to know which post is up next? Just a glance will do me.
~ Need to know how many miles I've run this week? Side-eye and I know!
Product Deets:
✓ START PLANNING NOW! – ORGANIZE, PLAN AHEAD & NEVER MISS ANY DEADLINES
Do you find yourself cramming last minute to reach due dates or missed events because you simply forgot?
That can end now with this over sized custom 2017-2018 year calendar with 8 BONUS thumbtacks and 5 multi color markers.
Our calendars are perfect for tracking goals, appointments, schedules, travel, holidays, projects, etc.
The only calendar for your company to build team coordination, management and event planning.
✓ MADE WITH THE HIGHEST QUALITY
Do not sacrifice our superior quality posters for flimsy thin replicas of other brands.
We use the highest grade poster and add a finishing coat of lamination to create a thick durable and high end finish.
Unlike the competition, our charts are rollable, portable, blank, undated and reusable for every year.
Our at-a-glance calendars easily erases with a touch of water without ghosting or staining.
The calendar planners works with dry erase or wet erase markers.
✓ POPULAR & UNIQUE GIFT FOR ANYONE
What better way to surprise your colleagues than to provide a tool for organization and planning by gifting our extra large wall calendars.
Make your unique gift the topic of conversation because it is a great gift idea for offices, students, teachers, professors, colleges, company fiscal year, corporations, business, presentations, conferences, team meetings, attendance, organizer, etc!
✓ PERFORMANCE & SATISFACTION GUARANTEE
At Lushleaf Designs, we are dedicated to your satisfaction.
That is why we can offer a manufacturers 90 day money back guarantee. If you are unsatisfied with the performance of your product, simply let us know and we will give you a 100% refund, no questions asked.
✓ USA-BASED COMPANY, DESIGNED IN USA
Lushleaf Designs is proudly designed and printed in USA.
Get your dry erase jumbo wall calendar now!
Simply click "ADD TO CART" and "CHECKOUT". To hang your calendar, carefully use tacks or pins to mount your giant dry erase wall calendar and start planning your year.
It is a small investment that will deliver tremendous benefits!
Product Description:
This calendar was created to help you fully visualize your year to achieve better planning and organization habits.
Seeing the whole year in front of you helps you better visualize your plans and remember all your important dates.
We hope you reach your goals!
To Recap: It's laminate card stock – NOT a dry erase board.
Because I'm a bit OCD about thumbtacks in mah walls, I'd like a way to frame it out without the use of a heavy frame.
What say you?
Is this a freakin' WIN! or a saddy sad NONONO!
I gotta get a handle on my calendars for this up coming year.
Four is three too many.
If you have any suggestions, I am all eyes.
Share in the comments!
Let's get organized and decluttered for 2019.