I love a fun gift. Giving or getting, either works for me. When I come across something that would be fun for all ages, well, I feel as if I've hit the gifting jackpot.
~ A gentle reminder: OMT! uses Amazon referral links. When you do your shopping through the Amazon links on this page, you support the blog at no cost to yourself. It's much appreciated!~
Enter, Emergency Money Box: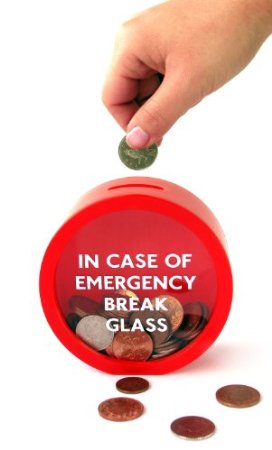 (photo credit: amazon)
Kiddos would definitely like this one, but I could see OMT! hanging one in the kitchen (next to the fire extinguisher for an authentic feel?) for her emergency Slushie Fund.
Here's the product info blurb: Add coins at your own risk: only by smashing the glass can they be retrieved. As you watch your money literally build up, you will be torn between the desire to save more or cash in. With money rapidly disappearing into plastic cards and online transactions, the physical presence of the 'In Case of Emergency' money box will make you think more carefully before you decide to splash out. What will be your moment of need.
A customer review advises that the back twists off easily and the front is made of durable plastic, not actual glass, so there is no need to break anything in order to use the money. PUT DOWN THAT HAMMER!
I'm thinking ahead for stocking stuffers (seriously, smack me) or high school grads that are college bound this fall. Or maybe their parents who are footing the bill….
Love it? Need it? Gotta have it? Click HERE for the details.