Social media abounds. I know y'all tweet and facebook and Instagram the heck outta your posts and pics, but do you Stumble? (not the middle of the night, finding your way to the bathroom, kinda stumble)
Are you guys on StumbleUpon? I am and you can follow me here: Oh Mrs Tucker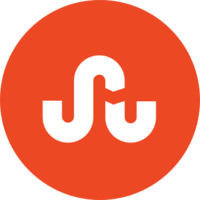 (image source: stumbleupon)
No? What if I told you that some of my biggest stat hits come from StumbleUpon? Would you stumble then?
Heck yeah, you would.
As an example of how effective StumbleUpon (SU) can be for getting eyes on your site, I posted How To Peel Peaches like a Peach-Peelin' Pro and eight days later it had over 2431 views just in SU. And in two days time, this Buttermilk Cupcake post took off with over 3000 views in SU. BAM!
OMT likey!
While I don't know everything there is to know about SU, I know enough to get you started.
StumbleUpon Basics:
* SU is a tricky media in the fact that they want you to be a part of the SU community and if don't follow the rules, you can be banned, or worse, ghost-banned!
* There are people who will tell you that you shouldn't add your own pages, or posts, to SU because you risk being banned. I spoke with SU about this and they advised that it is perfectly acceptable as long as you are also adding other pages and are not just highlighting your own. Knowing the guidelines, I absolutely stumble my own posts at a 1:15 ratio and I am a member in good standing (I checked with SU to make sure).
When I add and stumble one of my posts: I add or stumble at least 15 others that same day. Remember this is about community and not focusing on your posts or self-promotion. Here's a post from the SU blog: see what they say.
* Once you have filled out your profile page, find the "follow" tab (you'll need to go to the drop-down arrow on the top righthand part of the page next to your profile pic and click "your likes"). The tab is directly under the big orange STUMBLE button and it takes you to an "interests" tab (all interests in SU are alphabetically listed here), which allows you to tell SU what it is you'd like to see and stumble. You can search interests through the search bar, or click "all" to find what you like.
Next to each interest, you'll see the number of followers for that interest. That's a handy tool if you're looking to plug into an interest with lots of followers.
To follow an interest, simply click the dark grey "follow" tab on the bottom of an interest. After you've spent some time stumbling and find you don't like something you've already followed, simply go back to this page and click the "unfollow" under the interest.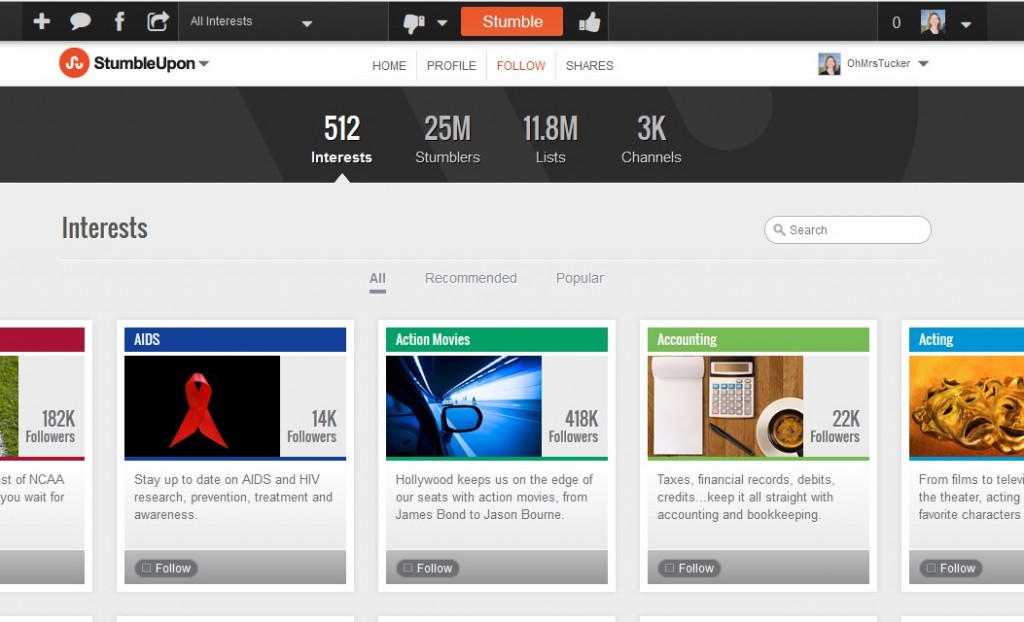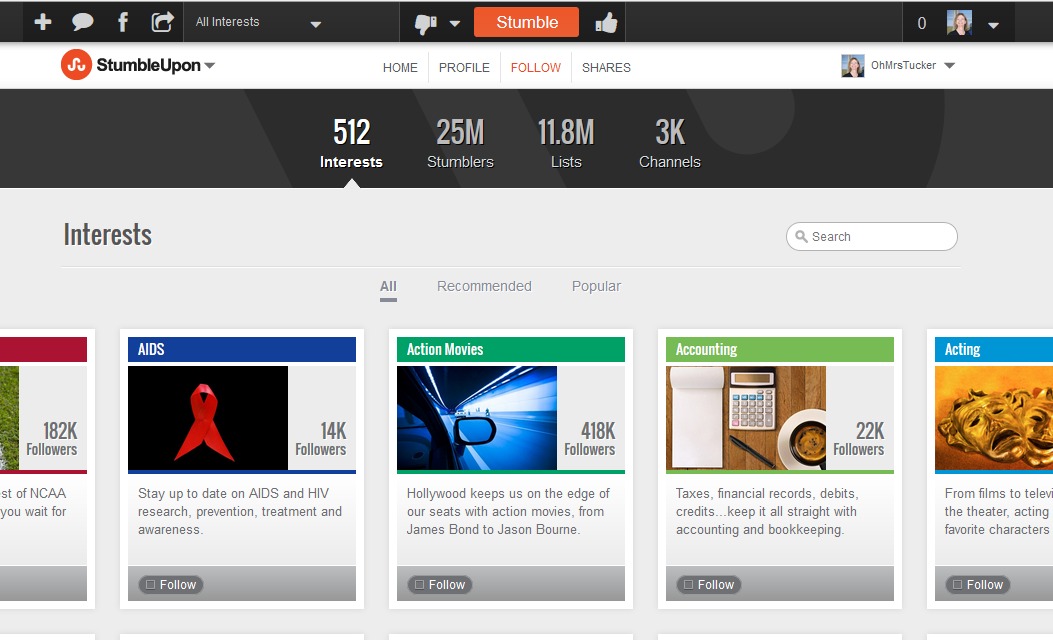 You decide your interests and SU takes care of the rest.
* Once you have set-up your SU page for interests (BIG SU RULE: ONLY ONE SU site/page PER PERSON regardless of how many websites you run), you will see a tab for "lists" and this is where you create a list for the stuff you like and stumble. You don't have to add everything you stumble to a list; I add only the best stuff. Think of lists like pinterest boards. Each with a name and interest.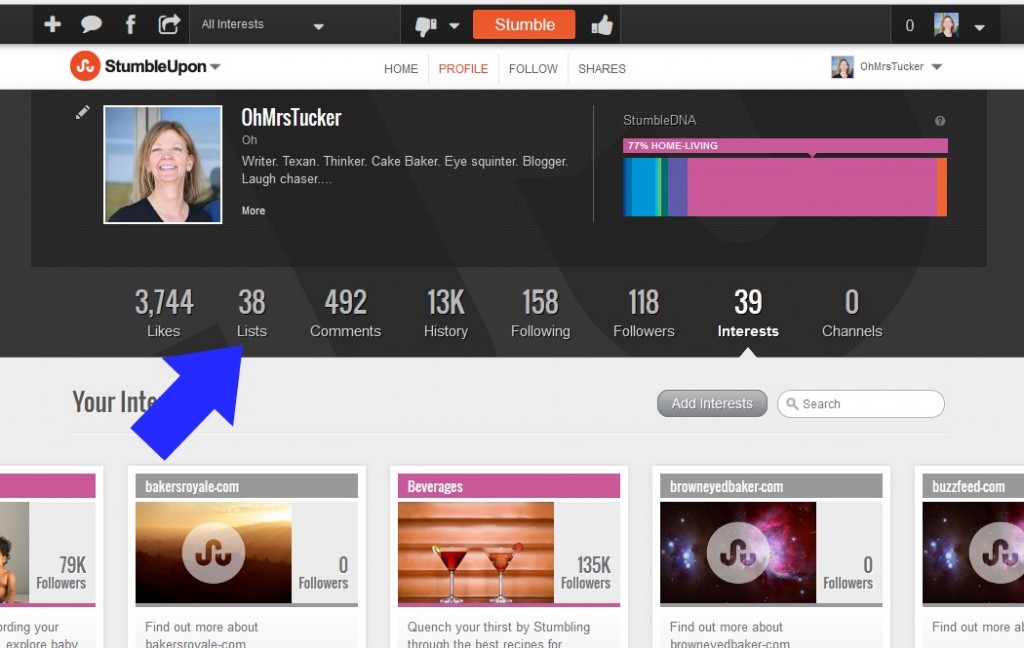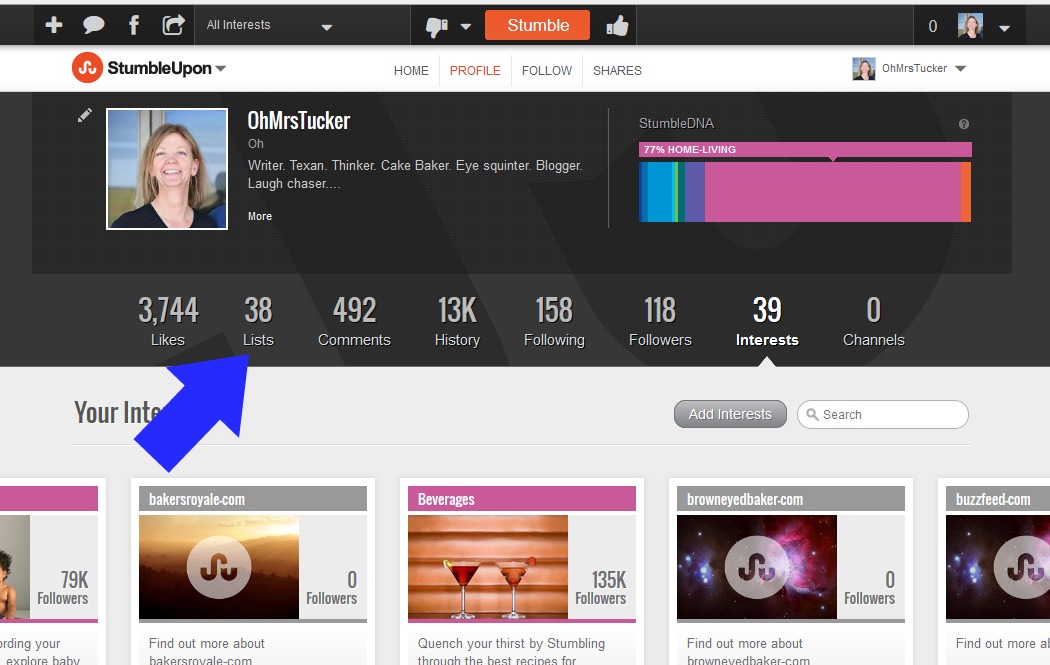 My most popular list is "Food of Queens" with over 600 followers.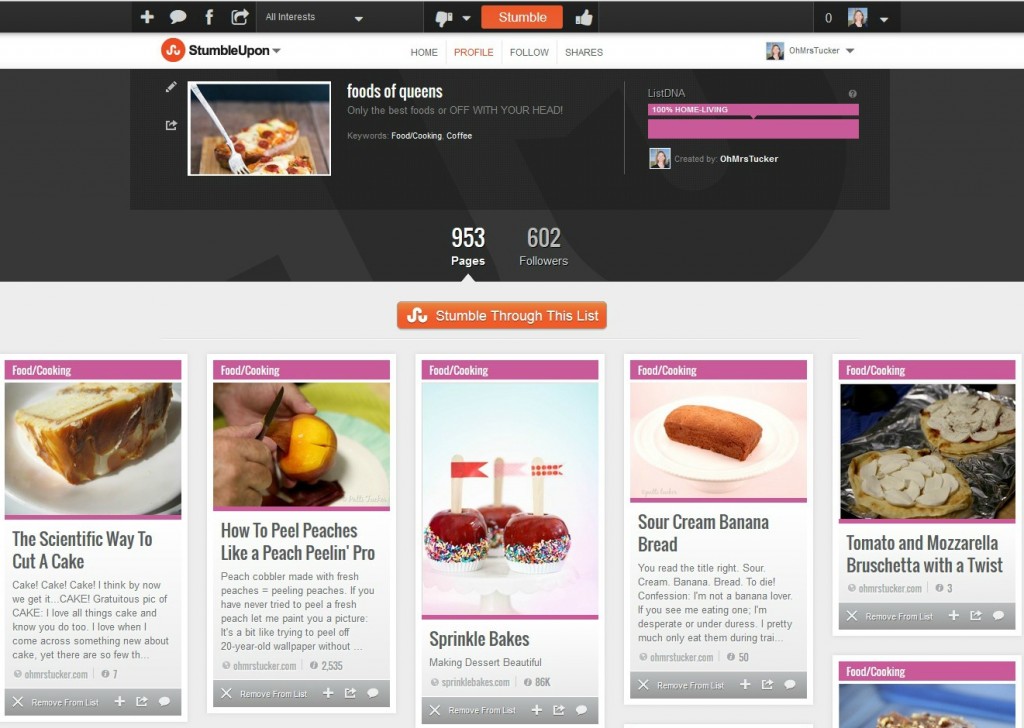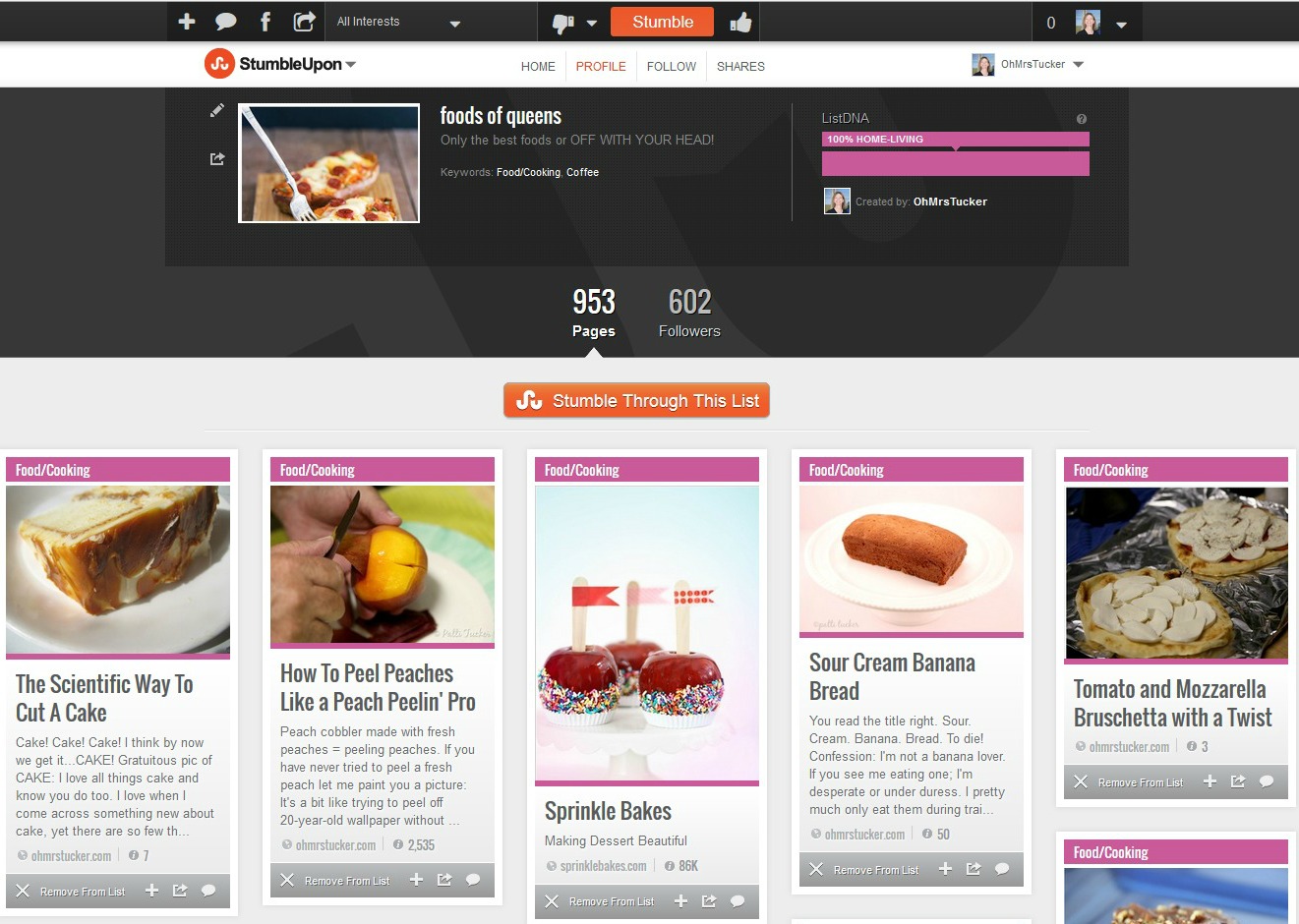 In my Food of Queens list I post the best of the best food posts I come across in SU. Some of the lists you create will remain at zero followers. Don't worry about that. The lists you create serve two purposes: 1) so you can find the stuff you love and stumbled and placed in the list and 2) so others can follow along if it suits them.
* At the top of your SU profile page, on the left hand side, you will see a + sign and a comment bubble. These are both important steps for stumbling as a good community member. We'll take one at a time.
~ The + sign is to create your lists or to add a page you stumble to an existing list. Click on the sign and it will open a window and you can either click on a list you've already created or you can create a new list by typing a name in the blank field. So easy.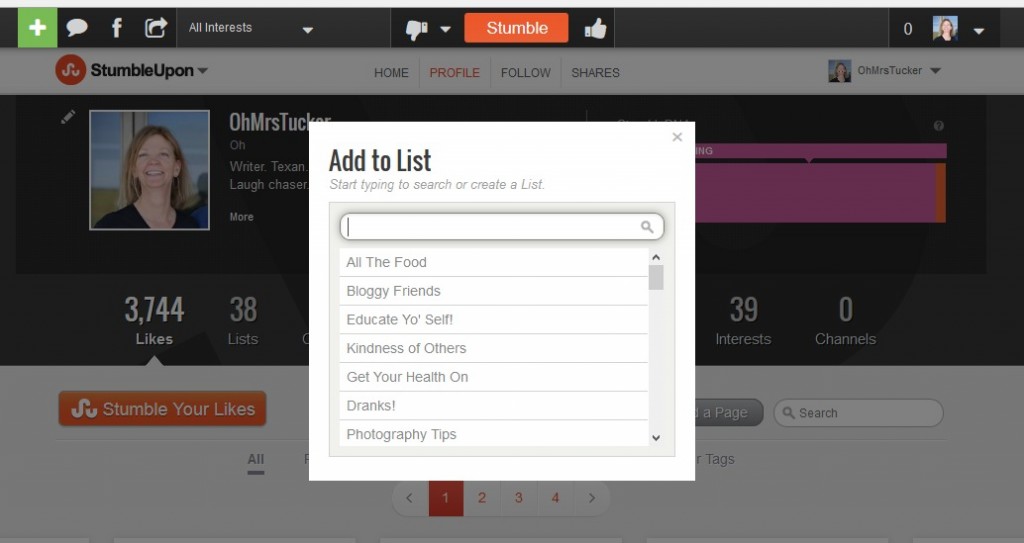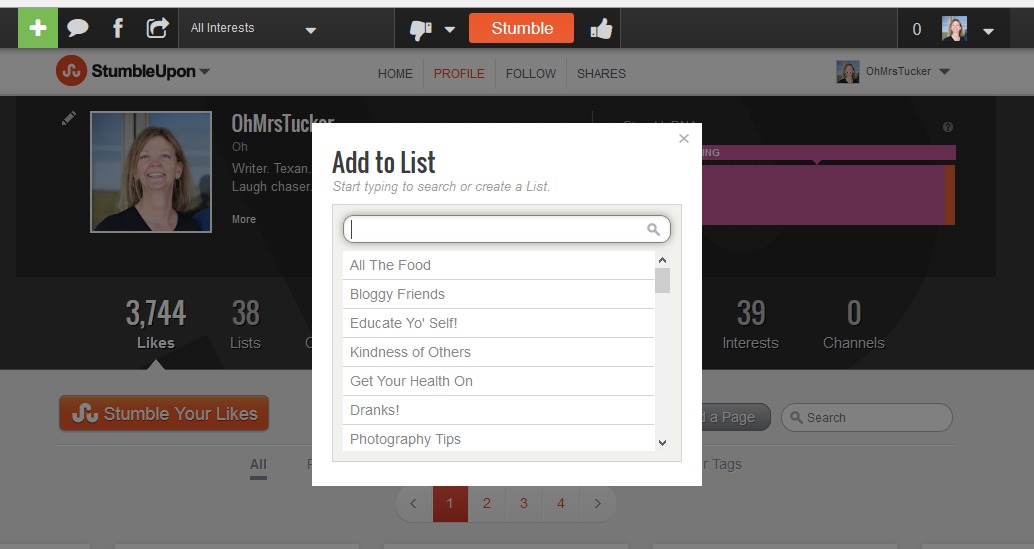 ~ The comment bubble is when you want to leave a comment on one of the posts you're stumbling. This is important: SU LOVES, encourages and favors those in the community who leave comments. You basically click the bubble, fill in the comment section and the tags section. When you're done, click the "save" button.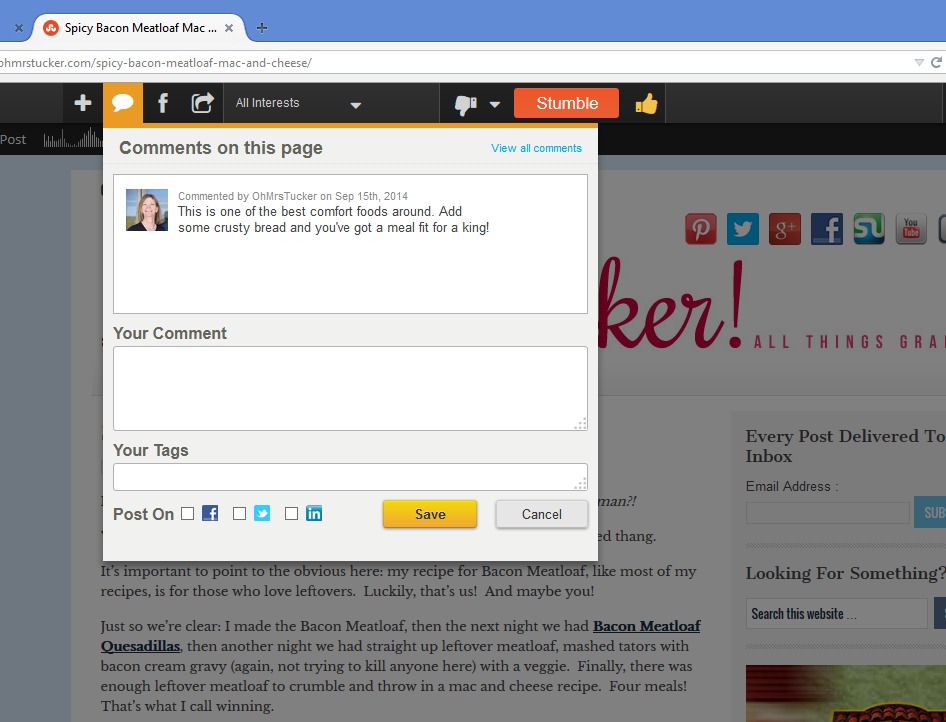 ~ Tags: When you leave a comment it is ALSO important to tag the post. Use tags appropriate to the post. These can actually be the tags that the post itself has used (look at the end of the post for the author's "tags.").
* Now you're ready to start stumbling! Hit the big orange "STUMBLE" tab at the top of your page and it will take you to a page within your interests. You then click the thumbs up or thumbs down icons, then hit stumble, or simply hit the STUMBLE tab again for your next post.
Whenever you thumbs up a page, SU notes that and keeps those types of posts coming to your feed. When you thumbs down a post, they note that too. There is no harm in a thumbs down, in fact you should when you feel you no longer want to see some types of posts. There are lots of pages I simply click STUMBLE, without thumbing up or down, because I neither like nor dislike the page.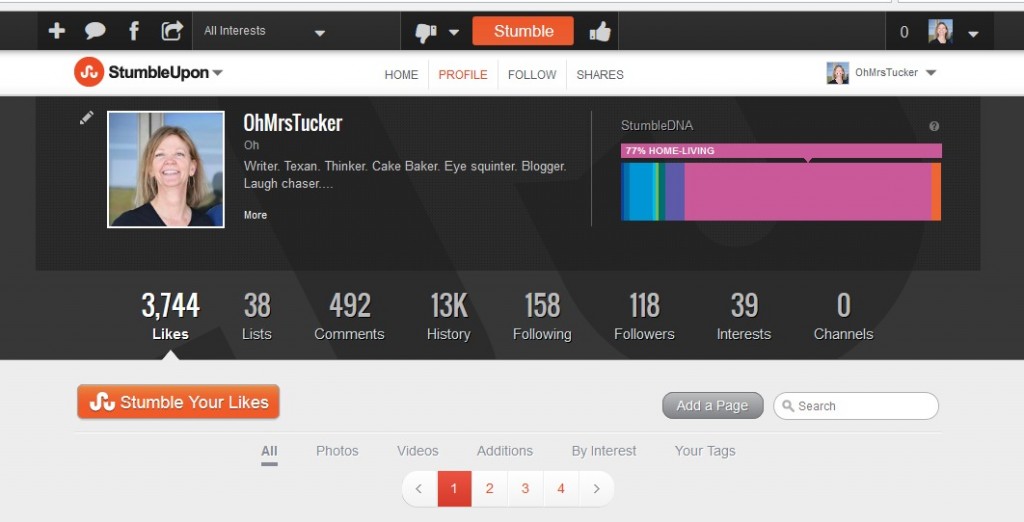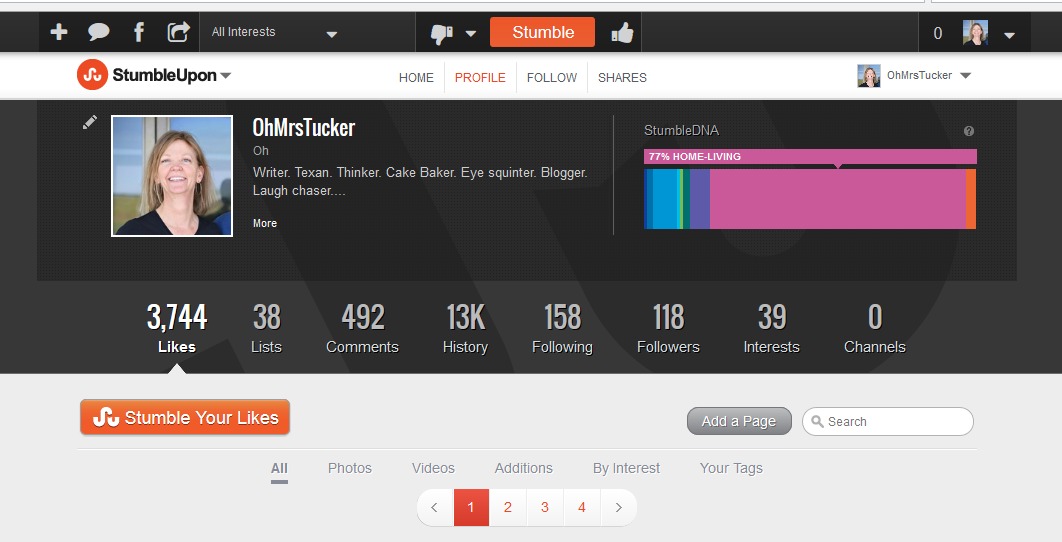 * When you thumbs up a page, also leave a comment and tags. That alerts SU that you are a good community member and to be valued. The more you participate in this way, the more YOUR posts will be shown, which translates into MORE TRAFFIC to your site. Oh hai, player by the rules! Here is your reward!
* Many stumblers have installed the SU toolbar. I had it at one time, but found it gitchy for my computer, so I removed it. The upside to having the bar is that it is seamless in adding content. It's always there, waiting for you to use it. As it is, I have to log on to SU and then manually add content.
As an example, this is how you add content without the SU tool bar.
Go to any website post you wish to add. Scroll to bottom of the post's page to find their social share buttons and then locate the SU button (looks just like the SU button at the beginning of this post).
For the purposes of this tutorial, I'm stumbling my friend Ronda's Banana Bread post over at The Domestic Curator. Hey, Ronda!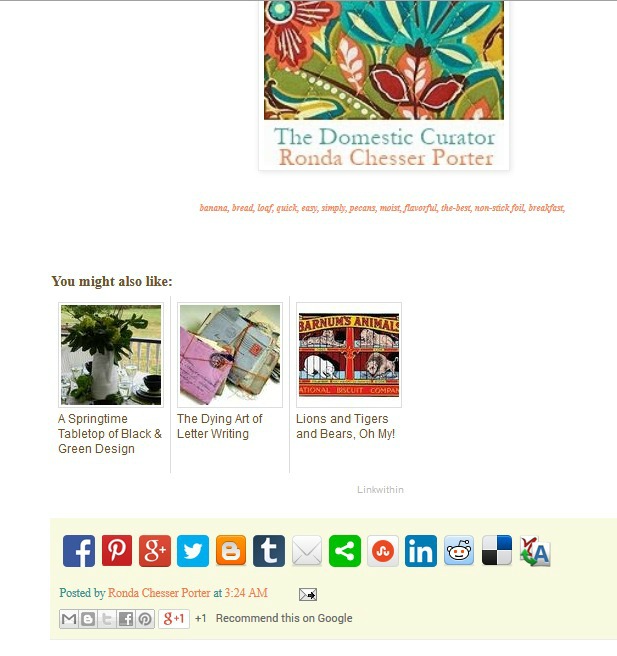 Click it. It will ask if the site is safe for work. In this case, yes. If it's not, make sure and hit no.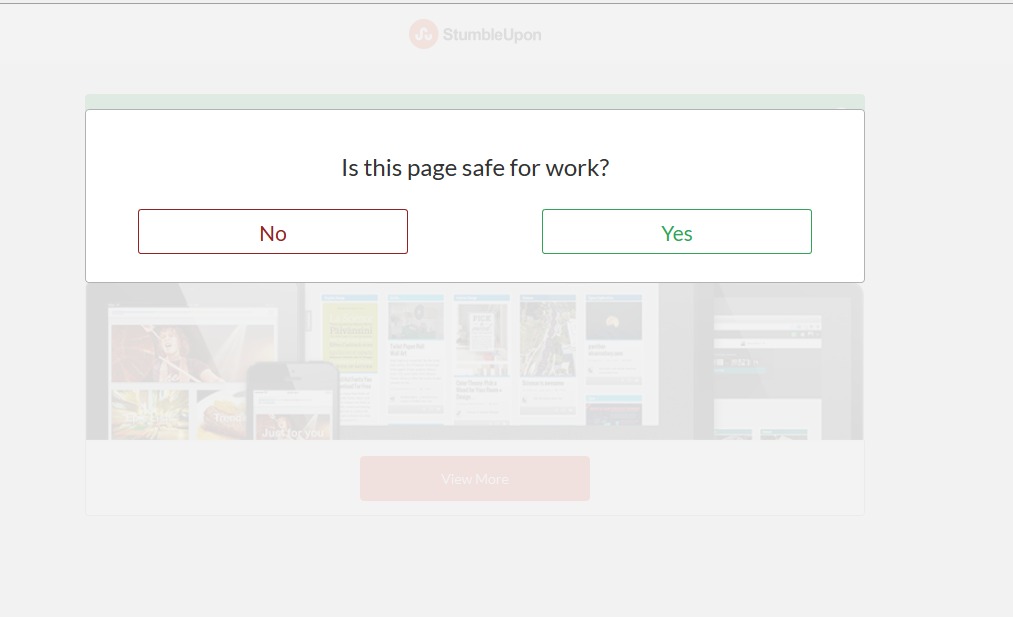 It's now added.
IMPORTANT NOTE: Sometimes an entirely different window for SU will open, unlike the one above. DON'T FREAK OUT! Just fill out the fields, such as comment, tags, safe for work, and the category the post falls under (a drop down will appear making this decision easy).
I then go to my SU profile "likes" page (drop-down arrow by your profile pic) to find the post. It should be the newest added, top row, far left…there it is!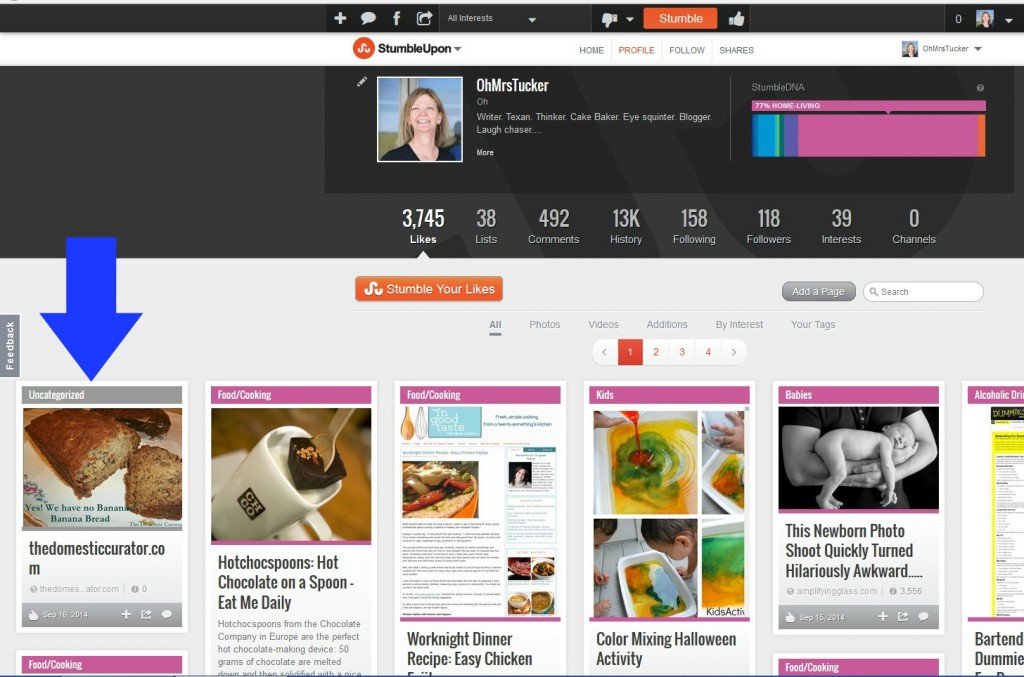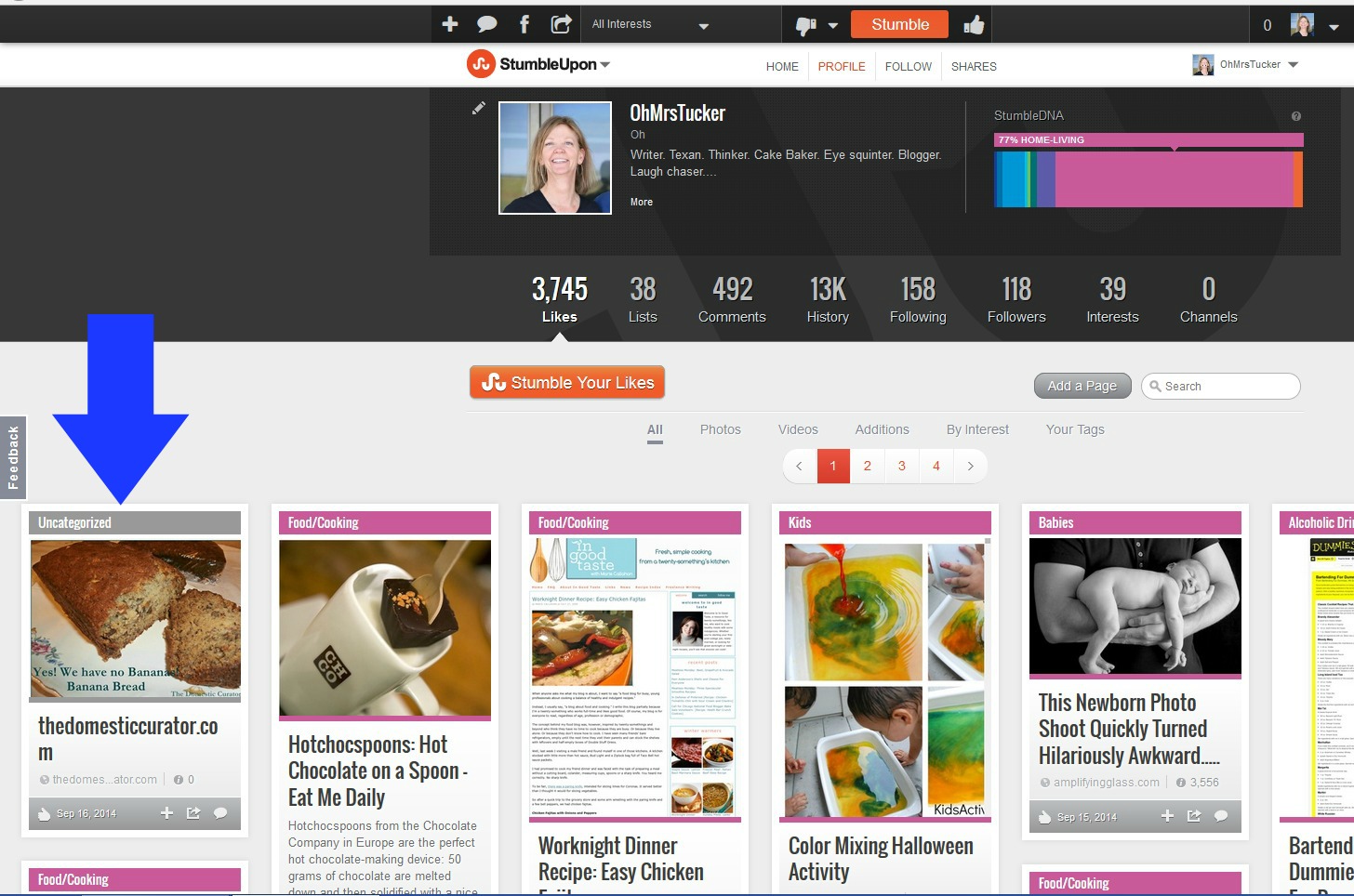 I click on my newly added post, wait for that post to appear fully, then click on the highlighted green "+" tab at the top of the page to add it to one of my lists: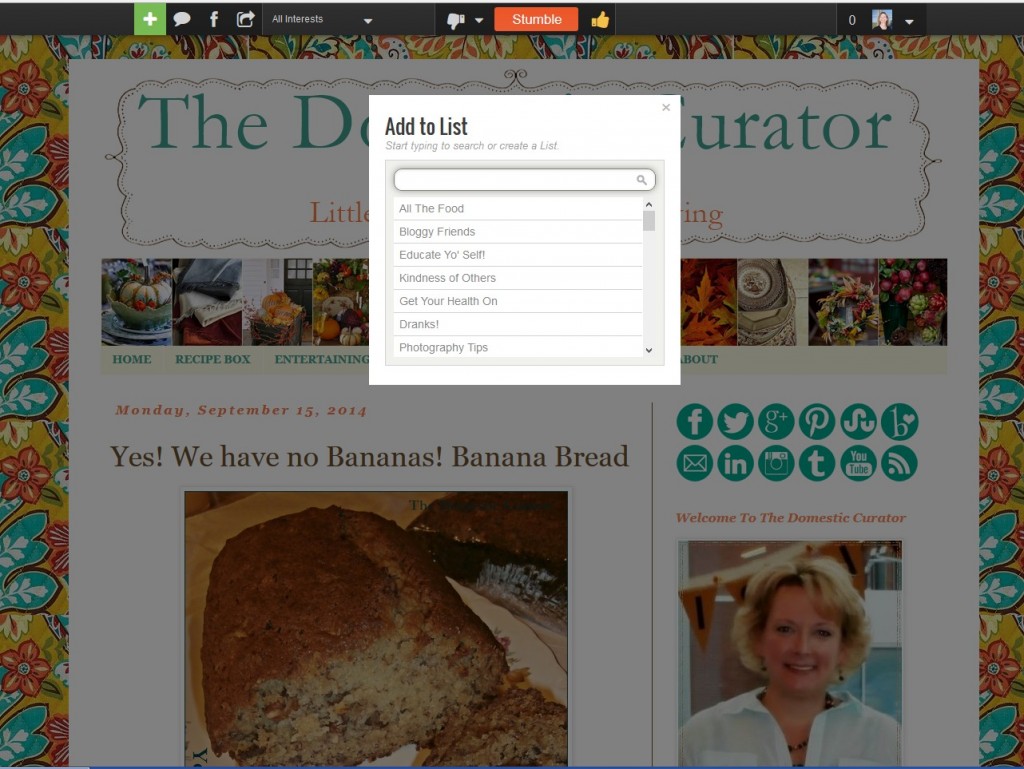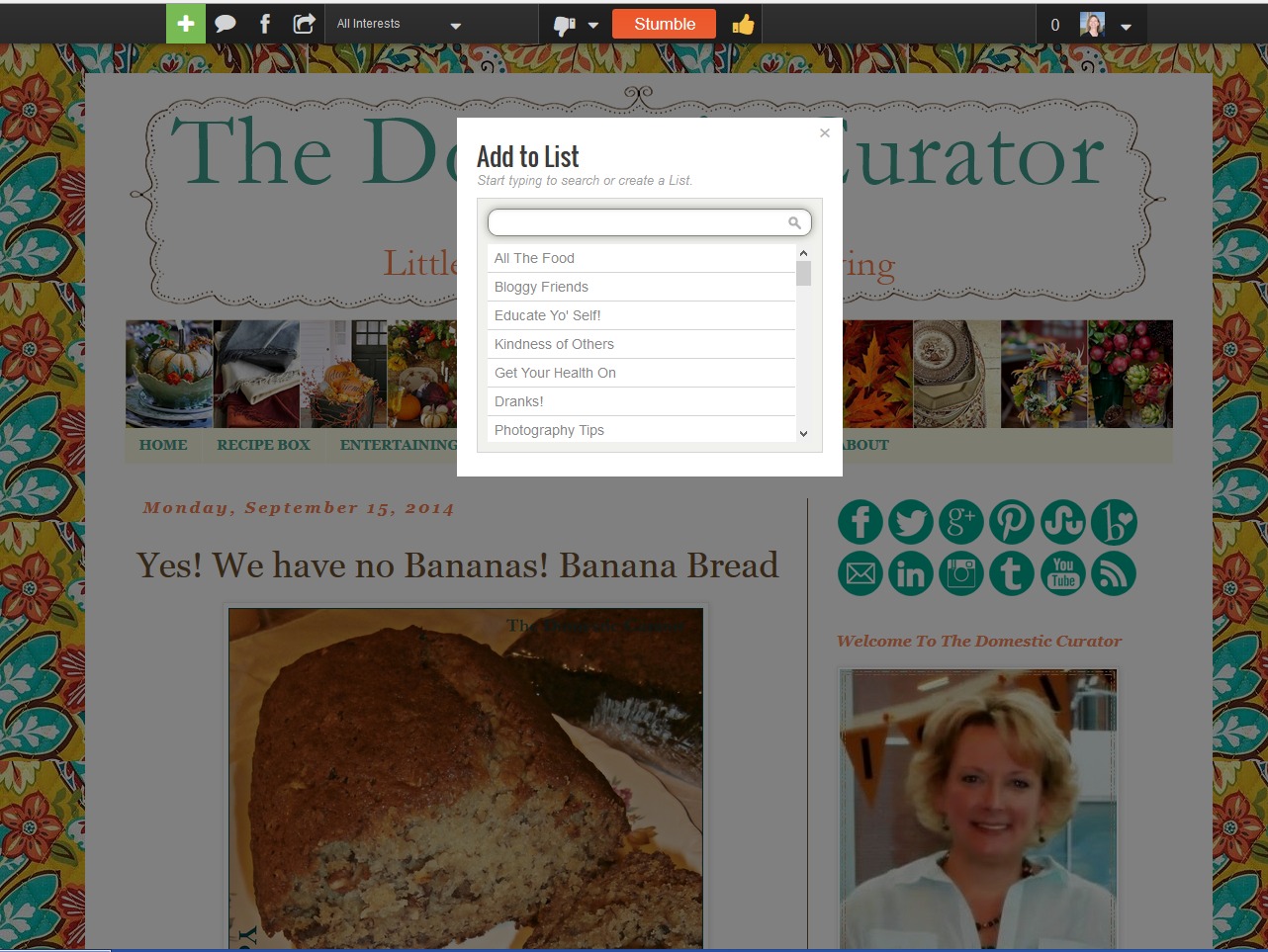 After it's added to a list, click on the "comment bubble" to leave a comment and tags, then BOOM, done.
You can also see what the activity is on any post by clicking the "see activity" tab on any stumbled post. If there is no "see activity" tab there will be a small "i" –where the arrow is pointed– and you can simply click on that: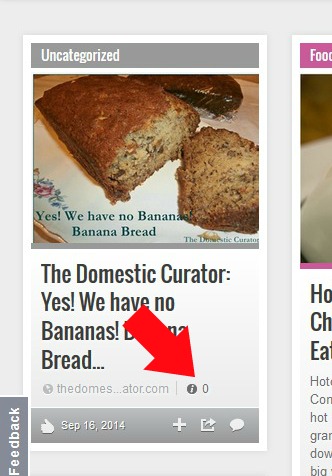 This shows that I stumbled and commented and added to a list.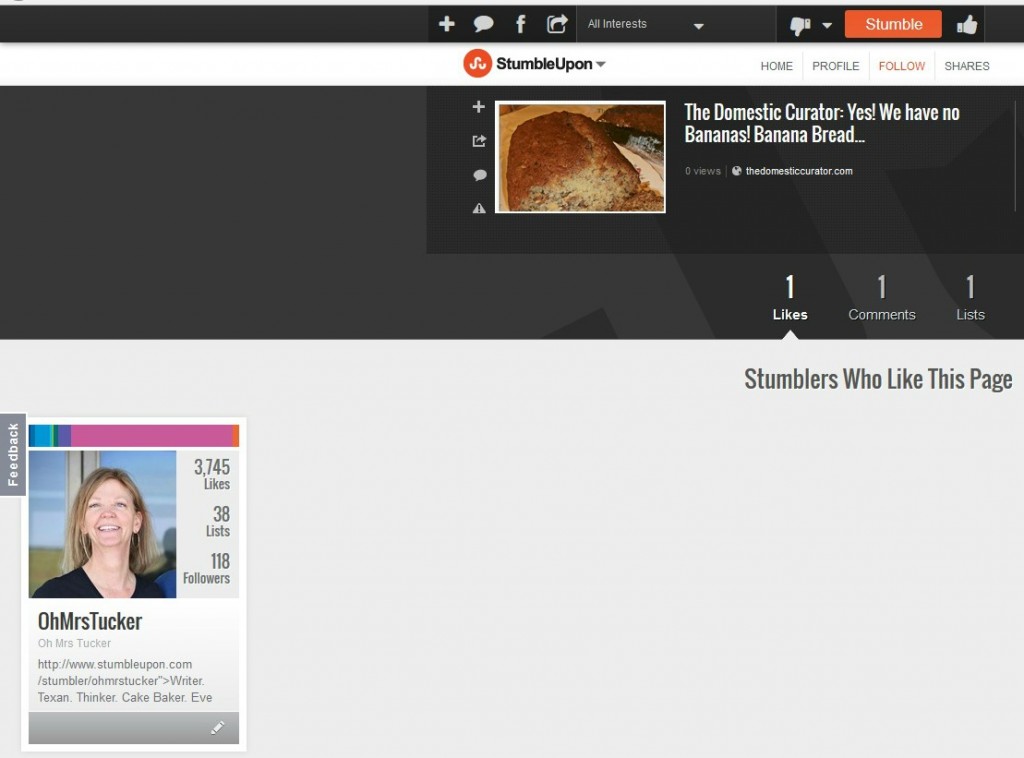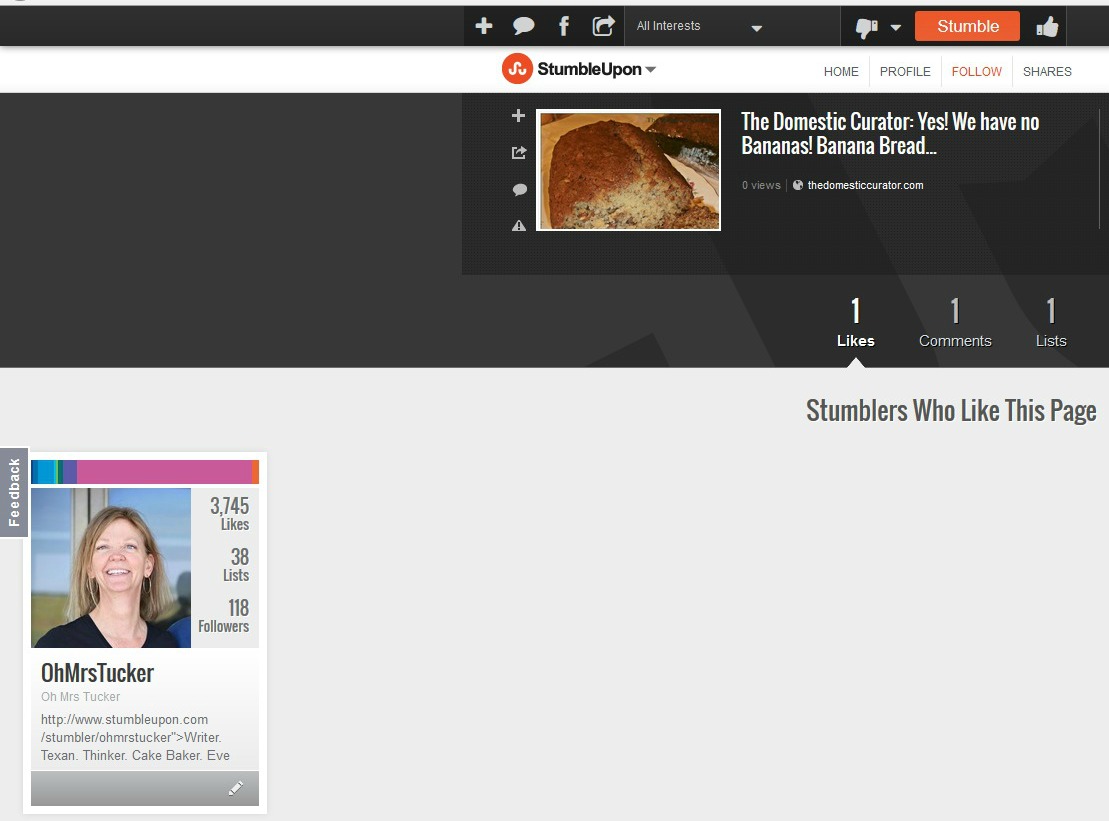 Good community member!
I know this seems like a lot of work, but once you've done it a few times it's easy. SU will reward you with interesting sites that you may have never found on your own and new eyes on your site.
CAVEAT: It may take a few weeks to a month of you diligently stumbling to see any results. Hang in there. Once you get a post that catches fire, you're hooked!
While the steps in this tutorial are by no means exhaustive, it will get you started. I hope I have demystified the process a little and wish you lots of new traffic and new readers.
Happy Stumbling, y'all!