Father's Day seems like yesterday and while I offered a few fun thangs for dear old dad, I hadn't come across this WHAT-WHAT?! gadget yet, so I'm telling you about it now.
~ A gentle reminder: OMT! uses Amazon referral links. When you do your shopping through the Amazon links on this page, you support the blog at no cost to yourself. It's much appreciated!~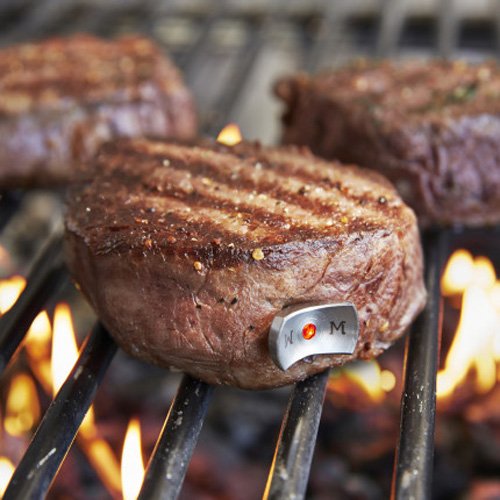 (source: Amazon)
Yuuuuuum.
This is how it works:
* Insert the spike thermometer horizontally into your raw steak.
* Start grillin' that badboy.
* Keep an eye on the LED light at the end of the probe.
* When light starts rapidly flashing, it's time to take your steak off for it's rest period. (each probe is for a specific time cooked, IE: rare, medium rare, medium…)
* Once LED stops flashing, it's TIME TO EAT!
That's it. No complicated touching and guessing. No poking a meat thermometer in and then taking it out. No eyeballing.
No matter what your skill level, SteakChamp is here to help. Experienced cook? Spend your time somewhere else while the steaks cook. The SteakChamp has you covered. You're a newbie griller? SteakChamp will have you grilling like an expert the very first time you use it!
The SteakChamp is made from high quality stainless steel, made in Germany, and made with the cook in mind, so you can rest assured this gadget will be #1) well used and #2) will last.
Happy Shopping, y'all!