Consider this your reminder that things don't need to be complicated right now; there will be plenty of time for that.  Right now it's summertime, a time for keeping things simple, a time for letting things ride, baby. Let's hang on to that for a bit longer.
A Few Of My Simple Summer Favs:
The kids screaming in joy while outside having fun.
The dog barking at and chasing squirrels.
Company making a house a home.
The fridge packed with fresh chilled fruit.
Ice cream for lunch.
Couch potatoes growing roots.
Books being dog-eared (although, maybe just the inexpensive ones).
Popsicle juice worn proudly on shirts.
Money for the ice cream/snow cone truck on the dresser.
Arcade tickets waiting to be won.
A slow float down a lazy river.
Camping in the backyard.
Sand between your toes, calling to you.
Pools to beat the heat.
Coolers filled with ice-cold watermelon.
Shoes?  No.  Flip-flops and bare feet  Yes.
Sangria. Umbrellies optional.
I'm bored!
Dinner with friends outside with party lights and fans to shoo the 'skeeters.
Lazy cookouts with burnt hotdogs.
The smell of freshly cut grass.
Lemonade, spiked or virgin.
Super Soaker wars.
Garden tomatoes, plain or made into pico de gallo.
Feeling 12 with an old school pb & raisin samwich: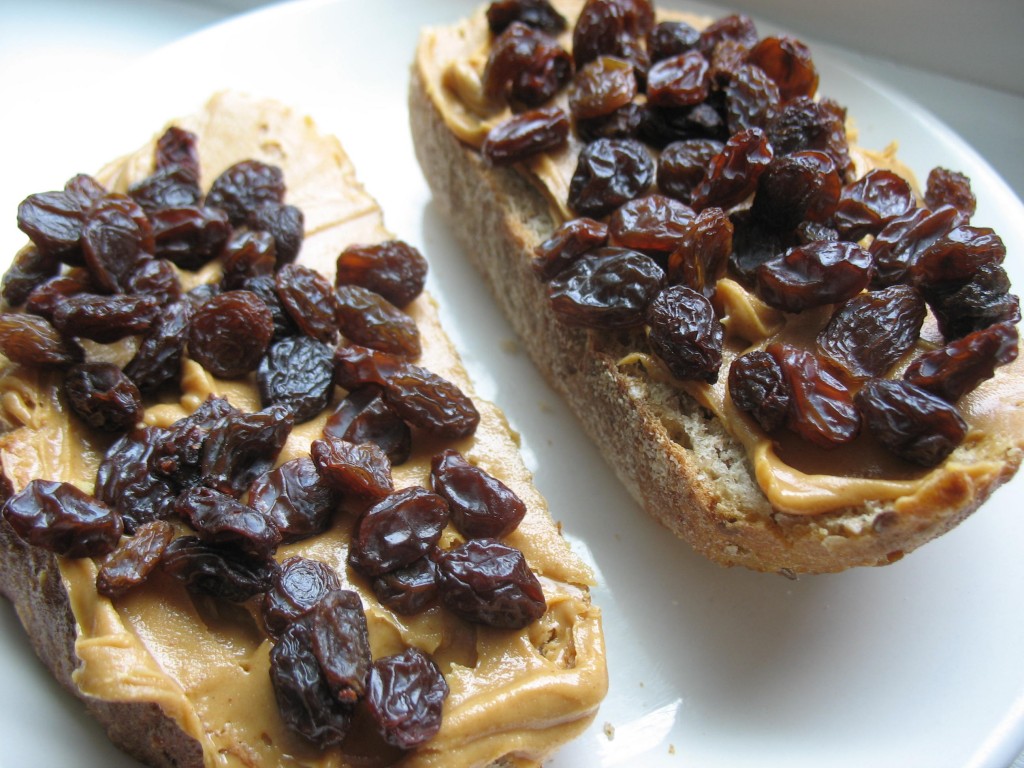 Coconut-scented sunscreen.
Porch sitting while watching the neighborhood.
Smoothies.  Oh, the fresh fruit smoothies.
Ice cold beer on a hot as hell day.
Late night slumber parties.
Slamming screen doors.
Sleeping in.
Summer thunderstorms.
Freckles.
Grilled corn.
What about you guys?
Relaxed?  Keeping it simple?  Letting it ride?
Give us your summer fav.
Please Share on Your Favorite Social Media! ~ OMT thanks you! ~