I have taken my fair share of fun-time jabs at the mason jar mania culture. Pies in a jar. Cakes in a jar. Garden in a jar. Lasagna in a jar. Texas breeze in a jar. Jars in a jar. But now I'm wondering if the culture is jumping the shark with Mason Jar Shot Glasses.
~ A gentle reminder: OMT! uses Amazon referral links. When you do your shopping through the Amazon links on this page, you support the blog at no cost to yourself. It's much appreciated!~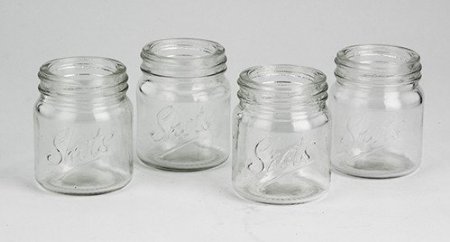 image source: Amazon
Oh, Fonzie!
I'm unsure what to think about this, but the product info is giving me a bad case of the side-eyes:
Take your drinking back to the good ol' days with the Mason Jar Moonshine Shot Glasses. Each set includes four (4) mason jar shaped shot glasses. The shot glasses are made of glass and should only be washed by hand to avoid damage. A great gift for "Old Timers" and shot glass collectors alike.
#1: I should have never ever given away the for-the-realz moonshine from my true-blue South Carolinian neighbor to my BIL (that I should mention was in a bona fide mason jar).
#2: Um, the "good ol' days?!" Today's as good as any, baby.
#3: Are we technically classified as an "Old Timer" if we drink moonshine/whiskey/Dr. Pepper from a mason jar shot glass?!
I think it's safe to say the mason jar culture is not dying off anytime soon (nor my loving pokes). But, I swear, the gloves will be off if I come home to find a Husband has redone the bathroom with a mason jar toilet.
There are some things, as hard as it may seem to this over-the-top culture, that just do not belong in a mason jar.