Minecraft Think Geek Wall Torch fun!
~ A gentle reminder: OMT! uses Amazon referral links. When you do your shopping through the Amazon links on this page, you support the blog at no cost to yourself. It's much appreciated!~
Um, what is Minecraft, you ask?
Someone get the lights; let's watch and learn and become the hippest in the land!
Kiddos (of all ages) are playing Minecraft. It's the thang to do, yo. If you have a kiddo (of the younger variety) chances are this wall torch would make a squeal-inducing gift. It's what I hear; it's what I know.
Product Deets:
ThinkGeek Officially licensed Minecraft collectible

Battery Requirement: 3 AAA batteries (Not Included), Dimensions: 11″ x 2 1/4″ x 2 1/4″

Hangs on your wall or sits on a table

For Ages 6 and up

Wall Mounting Details: Corner folds down exposing two keyhole mounting slots (mounting hardware not included)
Cutesy Product Description:
Sometimes it's just easier to buy the Torch instead of crafting it, especially IRL. So, when you've run out of charcoal and wood or just can't seem to make enough to stop hostile mobs from spawning, get yourself the Minecraft Wall Torch. Place one every 12 blo-feet in your home along the walls and it'll stop any hostiles from popping up.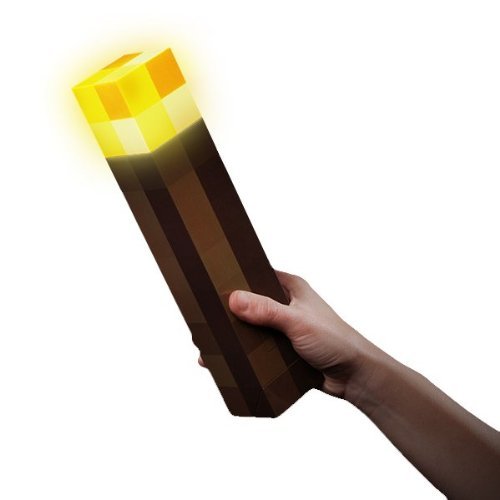 (source: Amazon)
Didn't I say this was fun? FUN!
CLICKABLE LINK < Happy Gifting, Y'all!
~If this post lights up your life (or the life of someone you love), please consider sharing on social media. Smooches!~