Over the years, I've been asked where I learned about yard care. I always say everything I learned, I learned from Neil Sperry and his book Complete Guide To Texas Gardening.
~ A gentle reminder: OMT! uses Amazon referral links. When you do your shopping through the Amazon links on this page, you support the blog at no cost to yourself. It's much appreciated!~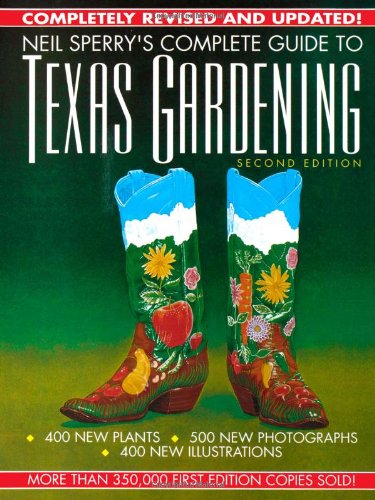 (source:Amazon)
This book has been my go-to for over 20 years. The info and the guidance has stood the test of time and when there's something I can't remember or something I think I'm missing, I refer back to the book and BAM! there's just the thing I was looking for.
It's packed with photographs to help dentify unknown-to-you plants. It covers zones and lawns and shrubs and trees. It even has botanical drawings to help identify the stuff growing around you. The book is worth every bit of the money you'll pay for it.
You don't have to take my word for it. Check out these reviews:
…Neil Sperry is the undisputed dean of of Texas gardening….Neil has established himself as Texas' most prominent expert on gardening. (Liberty Press)
One of the more comprehensive nooks containing plants for Oklahoma is Neil Sperry's Complete Guide to Texas Gardening . This excellent reference has colored pictures of trees… (Bill Geer Oklahoman)
Highly rated by all our experts for its completeness, photos, drawings and wide variety of topics… (The Dallas Morning News)
Serious gardeners pluck Neil Sperry's Complete Guid to Texas Gardening off the shelves at local bookstores almost as soon as the books are put there. (Christi Mayes Waco Tribune-Herald)
Neil Sperry is regarded as Texas' foremost gardening authority. The book will be an indispensable guide for every gardener. (Canyon Texas News)
If you only have one basic gardening book Neil Sperry's Texas Gardening is the one to have. (Dr. Calvin finch Austin American Statesman)
The best, maybe the only book for beginners and newcomers to Texas. This book is the place to start. (Fort Worth Star-Telegram)
Covers everything you need to know about making things around you grow in your area of the state. (Austin Homes and Gardens)
Comprehensive, thorough, well-written and thoughtfully organized…beautifully illustrated…I would recommend this book heartily to any serious gardener. (Corpus Christi Caller Times)
Neil Sperry is the man to trust for all your gardening needs. The section on Texas lawn is enough to start your fantasies dancing. (Louise Gregg Times Record News)
…everything you need to know about regional gardening is here… (Gilbert Onderdonk Fort Worth Star-Telegram)
The beginning horticulturist will be illuminated by the abundance of helful visual aids provided…The visuals coupled with the straightforward and easy-to-understand text provide an encyclopedic guide to lawn that will make your neighbors turn green.This book has plenty of heart.For anyone who is determined to create a suburban oasis Neil Sperry's Guide to Texasw Gardening will be as valuable a tool as a weed whacker. (Bruce Felps Weekender)
…the updated version of Sperry's first book is a must-buy for gardeners who care about their landscaping. (Valerie Ullman Avery Lubbock Avalanche Journal)
He covers trees, shrubs and vines and tells you everything you need to know about flowers—both annuals and perennials. (Longview News-Journal)
This volume, often called the bible of Texas gardening, is an ideal choice for neophyte gardeners and for those new to growing in the Lone Star state. (San Antonio Express-News)
Long referred to as "the bible of Texas gardening," Neil Sperry's volume is an essential for gardeners in our area. (The Arboretum News)
… it is difficult to imagine anything not covered in what is Texas' most comprehensive garden guide … (The North San Antonio Times)
Yes, the green thumb of Dallas has done it again …. (D Magazine)
The basic advice [Sperry] gives his Texas audience is sound guidance for the rest of the nation …. (C The Christian Science Monitor)
I know that offering a book on Texas gardening is a bit limiting for some of you guys, but my bigger point is I'm sure there is a book for every state. Go find it. Talk to the master gardeners at your local nurseries. They'll know.
Sure, you can look online and find websites for your area, but I can't tell you how many times I've taken this book outside to match his pics or drawings with my plants. Invaluable!
If you live in Texas and are new to gardening or caring for a lawn, this is the book to own.
Happy Gardening, mah babies!