Over the years, we've made popcorn ala Jiffy Pop's ballooning foil bowl, with microwave packets, on the stove via a pan and lid, in a paper bag in the microwave and in an air-popper. What we haven't made is popcorn in a microwave popcorn bowl…yet!
~ A gentle reminder: OMT! uses Amazon referral links. When you do your shopping through the Amazon links on this page, you support the blog at no cost to yourself. It's much appreciated!~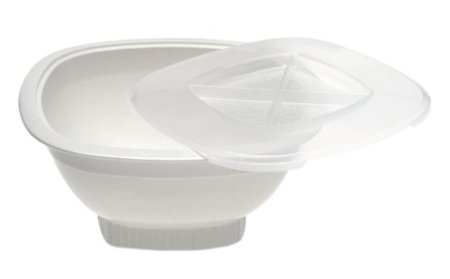 image source: Amazon
As soon as I ran across this bowl, I thought to myself: GENIUS! The difference between store bought popcorn and this baby is that you get to control what goes into your popcorn. Not a fan of ingredients you can't pronounce? Me neither! I can totally see myself throwing in a bit of coconut oil (delicious and so good for you) and popcorn and letting it pop. Then, maybe a sprinkle of kosher salt and a bit of Parmesan cheese. BAM! a healthy snack you'll actually enjoy eating.
The beauty of this bowl is that you decide the endless possibilities.
Product Info:
Made of gemstone, an unbreakable, chip-proof cookware material, the Nordic Ware corn popper efficiently transmits microwave energy directly to the popcorn kernels, popping them quickly without oil.
Product Description
Ideal for popping delicious popcorn with or without oil. Serve directly from bowl. Quick and easy popcorn, from your microwave. Dishwasher & microwave safe. Make light and fluffy popcorn in about 4 minutes. Just place 1/2-cup of popcorn kernels in the bottom bowl and cover with the lid. When the popcorn has finished popping, invert the bottom bowl and lid, and you instantly have a container for your freshly popped corn. 12 cup capacity. Proudly made in the USA by Nordic Ware.
Bonus: MADE IN THE USA! Mrs. Tucker likey!
Totally buying one and I can't wait to use it. If you want one too, click on the link: Nordic Ware 60120 Microwave Popcorn Popper 12 Cup
I sense a Christmas tree popcorn garland-making marathon in Sweet E's future!