After a long day at the hospital, texting, calling and emailing with my phone, I was left without power. Folks thought I had dropped off the face of the earth, as they looked for updates. Oy. I felt so bad the next day when I saw everyone I had missed.
I had a car charger….in the car. I also had a wall charger…in the car. Husband's phone made it through the day, but barely. It was obvious we would need to recharge that night.
At Boy's house, we each took a separate wall outlet since our chargers were odd shaped. It made me wonder what we would have done had there only been one outlet from which to charge.Obviously, we would have had to take turns.
As I rooted around the Internet for something totally unrelated, I came across this ingenious invention: A surge-protecting power strip that adjusts to all sizes.
Lookie (this pic is the small strip with only 4 slots):
(photo credit: quirky)
Here's a better pic (large, with six slots):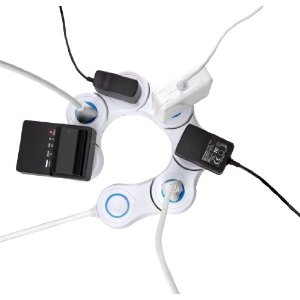 (photo credit: quirky)
YES!
I not only need one of these for my office for all my plug-in needs (shredder, phone charger, copier, blue-tooth charger, small heater), but it's a brilliant road trip accessory, especially if you come from a mixed family like ours (iPhone and Androids) with different shaped plugs.
That day, so many of us in the hospital needed a charge. This would have been a useful and fun solution. Plug it in and let everyone have a hit!
Want one of your own?
~ A gentle reminder: OMT! uses Amazon referral links. When you do your shopping through the Amazon links on this page, you support the blog at no cost to yourself. It's much appreciated!~
Order HERE.
Have y'all found a good solution for lots of charging needs while traveling that you'd like to share?