I rarely watch televised news (get my info online), but as luck would have it, I caught an interesting tidbit about a widely-used chemical that made me plunge into research. Have you heard about cocamide diethanolamine (cocamide DEA)? No? Don't feel bad, not too many have.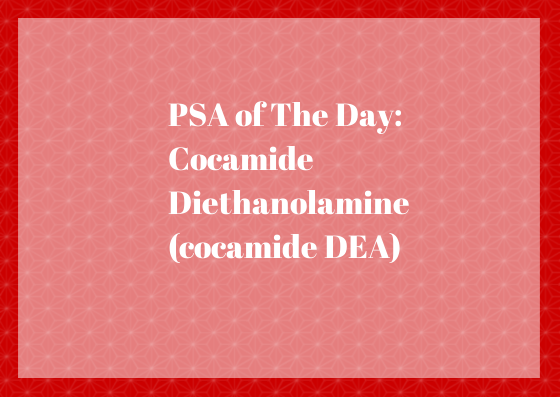 Controversy in a nutshell: The Center For Environmental Health (CEH) conducted independent testing and found products that are in violation of California law and their findings have lead to a lawsuit. California considers cocamide DEA a cancer-causing chemical; the FDA does not.
With so much info floating around the Internet about potentially harmful this and potentially harmful that, sometimes it's difficult to get worked up about these reports. So what made me stop and listen? The words products marketed for children were used in conjunction with the words cancer-causing chemicals. Yep. That will do it.
The article in part:
"Testing finds dozens of shampoos, soaps, bubble baths, and other products sold by Walmart, Target, Babies R Us and other national retailers in violation of California law
Oakland, CA-Today, the Center for Environmental Health revealed independent testing finding a cancer-causing chemical in 98 shampoos, soaps, and other personal care products sold by major national retailers. The chemical, cocamide diethanolamine (cocamide DEA), a chemically-modified form of coconut oil used as a thickener or foaming agent in many products, was listed by California as a known carcinogen last year. Products tested with high levels of cocamide DEA include shampoos made by Colgate Palmolive, Colomer, Paul Mitchell, and many others. In addition, products marketed for children and a product falsely labeled as organic were found with the chemical, in violation of California law."
If you click on the above link, then scroll down, you will find a list of products that have the offending ingredient. The highlighted green companies indicate their willingness to reformulate their products containing cocamide DEA.
I was left with this question: If the FDA doesn't think there's a problem, but California does, who's right? This is what I found:
~ Amended Final Report on the Safety Assessment of Cocamide DEA
Cliff Notes: "On the basis of the animal and clinical data presented in the present report, the Expert Panel concluded that Cocamide DEA is safe as used in rinse-off products and safe at concentrations 10% in leave-on cosmetic products."
~ DETAILED Amended Final Report on the Safety Assessment of Cocamide DEA
Cliff Notes: This detailed analysis included the animal studies. It's a hairier read with the same conclusion. Even knowing the conclusion, I read this and came out on the side of skepticism towards the FDA. See what you think.
EWG's Skin Deep: Cosmetic Database:
Who is EWG: EWG's Skin Deep is an online safety guide for cosmetics and personal care products, launched in 2004 to help people find safer products, with fewer ingredients that are hazardous or that haven't been thoroughly tested. Skin Deep combines product ingredient lists with information in more than 50 standard toxicity and regulatory databases. The database provides easy-to-navigate safety ratings for tens of thousands of personal care products.
Cliff Notes: EWG gives cocomide DEA an overall grade of 7 out of 10, putting the compoound in the high risk group. If you click their link they outline the reasons why, as well as list their data sources.
This post is far from comprehensive, but the info gave me enough pause that I looked through the products we use in our home, searching for the chemical.
As I stated in the beginning, the FDA has not banned this substance and it considers it safe. Does that mean we place our faith in the FDA or are we more comfortable avoiding the chemical until more is known?
It's a decision each one of us has to make, but now you have some basic info to back you up, either way.
Knowledge is power, mah babies.
Research on!