When Boy was growing up, we were probably the greenest family I knew. We were green before it was even a thang, y'all!
No paper towels. Paper bags reused for pooper-scooping. No dyes in our cheeses. Mulching leaves and grass clippings. You know, that kinda thing.
Wouldn't you know it, Boy married a gal that is also on the reuse and recycle bandwagon.
During my visit last week, I noticed that Girl used a reusable fabric bag to stow an apple in while we ran errands. I noted the bag, meant to ask her about it, then promptly forgot. Who could blame me with Sweet E an arms-length away?
NO ONE!
As I rooted around the Internets, shopping FOR YOU!, I came across the bags again. This time, I paid attention….and talked to Girl about hers. She loves it. She uses it. Pretty good recommendation. (those of us who have tried green alternatives know that some products fall flat)
~ A gentle reminder: OMT! uses Amazon referral links. When you do your shopping through the Amazon links on this page, you support the blog at no cost to yourself. It's much appreciated!~
Here a visual of what I'm talking about: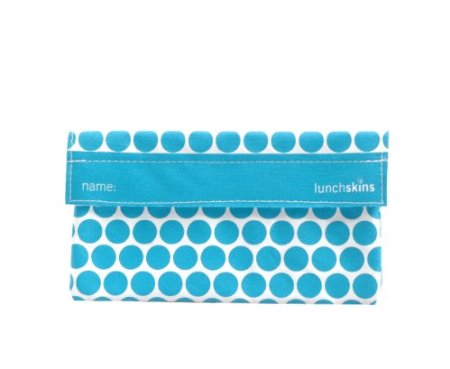 image source: Amazon
If you're not fond of blue, the bag comes in many fashiony colors and designs.
Product info: You'll never need -or want- to use a Ziplock bag again! LunchSkins Reusable Snack Bags are a colorful, high-quality alternative to plastic snack baggies. Made from the same food-safe materials used in high-end bakeries and patisseries, not only will they store your food, they'll keep in moisture and save thousands of plastic baggies at the same time. Perfect size for sandwiches; Quick-drying and greaseproof; Dishwasher safe; High-quality cotton with food-safe coating.
The reviews are good and the bags durable. It's a simple step to go a bit greener, isn't it? Not to mention saving you some dough in the long run. More to spend on the kiddies!
Need it? Want it? Gotta have it? CLICK HERE TO ORDER
Let me know what you think.