Last weekend. while visiting Boy and Mrs. Boy, and of course FB*, the subject of spreadable butter came up while we were devouring our Birthday Cake Pancakes. People of the Internet: If you were on the fence about these pancakes, I'm here to witness that they are worth the effort.
TESTIFY! Regular butter, straight from the fridge is a nightmare on pancakes. You have to slice each pat ohso thin and then wait for them to start melting before spreading or risk mutilating your food. Butter spreads are fine, if you like that sort of thing, but I just can't bring myself to use them. Any extra ingredients that may be filler or an additive makes me squinch my nose in disapproval.
Yes, I realize I am spreading it on the ridiculousness that is Birthday Pancakes, but I just want real butter….is that so wrong?! Enter making your very own, inexpensive, spreadable butter. How wonderful it was that I came across this post on the very subject, over at Family Home and Life: HERE
I am planning on making a batch this week and will let you know how it turns out.
~ A gentle reminder: OMT! uses Amazon referral links. When you do your shopping through the Amazon links on this page, you support the blog at no cost to yourself. It's much appreciated!~
Or, if you hate the idea of added anything to your butter, you can always use a butter crock :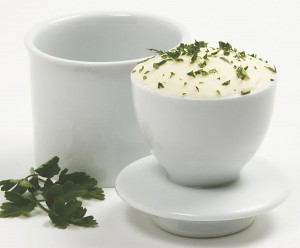 [source: Amazon]
Either way: spreadable butter! Have you ever made spreadable butter? If so, what did you think?