Listen, I think we know each other well enough now that I can confess I love technology in a bad way. And if said technology lets me connect with my child or grandchild in any way, I'm in. All that being confessed, you should know that I'm considering welcoming this bit o'technology into my family: Canon VIXIA Mini Camcorder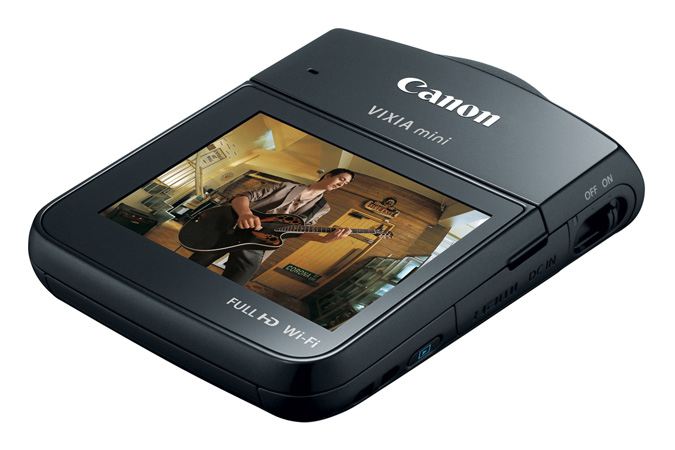 image source: Amazon
This camcorder is a thang of beauty, y'all.
Product Info:
An innovative and compact 12.8 MP personal camcorder providing the flexibility to shoot hands-free and the excitement of sharing your hobbies/interests with ease
Canon f/2.8 fisheye lens (160 movies/170 photos) offers a unique and creative perspective so you can show off your talents or capture moments in a whole new way
Perfect for bloggers (emphasis mine…of course!)
A built-in adjustable stand and tripod socket allow flexible positioning so it's easy to shoot any scene hands-free including scenes where you're the star
Smart AUTO helps make shooting great videos simple by intelligently selecting the best settings from 23 predefined situations
Availability Caveat: Due to high demand we anticipate being unable to fulfill all customer orders with our first allocation. Product supply from Canon is very limited. Your place in line will be maintained, and we will not charge your credit card until we ship the product.
You read that right, people want this badboy and the lines forms NOW.
And why not? It's fantastical.
While I don't tote my camera around with me because it's bulky and heavy, I can definitely see this in my bag. It shoots HD video. It's lightweight. Weighs less than half a pound…hell, my snacks weigh more than that! Can fit in a pocket. It has a flip-up screen which allows you to see what you're recording or get weirdo artistic angles (my canon camera has this feature and I use the dog out of it). You can share immediately to the web, via Wi-Fi, and get this: you can use remotely (with an app).
I think my heart rate just quickened. So in love.
Now to figure out how to get Santa to deliver this for St. Nicks (December 6th) in order to have it for Christmas morn.
~twirling perimenopausal mustache~
~ A gentle reminder: OMT! uses Amazon referral links. When you do your shopping through the Amazon links on this page, you support the blog at no cost to yourself. It's much appreciated!~
If you want a more in-depth post of the camera, you can click here.