CHRISTMAS IS COMING! CHRISTMAS IS COMING!
You know, just in case you didn't know.
Photography has always been a topic of discussion in my family. Either, I was teaching myself to shoot on an old-fashioned, non-digital, film-using SLR, or Boy was honing his talents with a fancy-schmancy digital, after igniting his affections with a pin-hole camera at age eight. Either way, the love of photography is something we've shared for almost his entire life.
If you have a kiddo that is fascinated by all things photography, or if you're looking to expand their sciencey horizons, you might want to consider putting this under a tree (with a couple of frames):
* A gentle reminder: OMT! uses Amazon referral links. When you do your shopping through the Amazon links on this page, you support the blog at no cost to yourself. Just click on the Amazon link, then shop as usual. It's much appreciated!
Tedco 8″ X 10″ Sun Art Paper 15 Sheets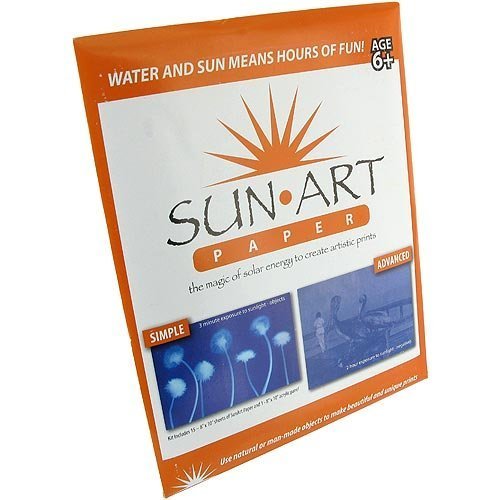 Product info:
All you need is sunshine, water and your creativity to make unique and beautiful sun art prints! Place natural objects like flowers, leaves, shells or even man-made objects on the sun-sensitive paper. Set outside on a sunny or overcast day or even indoors in a sunny window. Sit back and watch as the sun turns the paper a beautiful blue! Includes 15 sheets of paper and a clear acrylic sheet to hold your art in place. Perfect for school art project, science fair or for home schooled creative fun!
SunArt Paper has the smallest carbon footprint of any blueline craft paper on the market today. Packaged in a recycled paper envelope and printed with biodegradable inks. The acrylic sheet is cut from scraps from a local plastic company.
Made In USA!
For ages 6+.
You know, this doesn't have to be a gift just to give to the kids. Do you have creative kiddos looking to make their own Christmas gifts? BOOM! Problem solved.
Fun + Science + History (Sun prints are also called shadow prints or "Rayographs" after the artist Man Ray) = Best Kiddo Gift, evah!
Seriously. I'd love a personalized gift like this from any pumpkin I know.
They also sell an assortment pack that I'm assuming you could create cards and thank-you notes from, as well (I'm assuming because I am the least crafty gal I know, and I'm, well, assuming…).
Happy Shopping, St. Nick!