No, not me as the techie…I give full credit where credit is due: this is Boy's get.
~ A gentle reminder: OMT! uses Amazon referral links. When you do your shopping through the Amazon links on this page, you support the blog at no cost to yourself. It's much appreciated!~
Behold the Chromecast dongle.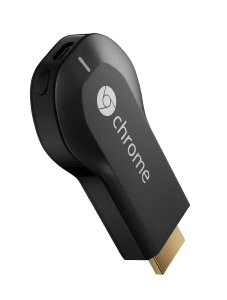 image source: Amazon
NO! I'm totally not messing with you; it's referred to as a dongle. Say it with me: Dongle…DONGLEDONGLEDONGLE! So fun.
What is this thang?!
It's called the Chromecast from Google.
What does it do?!
So glad you asked…
Product Info:
*Stream online video, music and more to your TV using your smartphone, tablet, or laptop
*Supports Netflix, YouTube, Google Play, as well as anything on the web through Chrome browser
*Works with Android, iOS, Chrome for Mac, and Chrome for Windows
*Easy setup: Plug into any HDTV and connect to your home WiFi network
Oh. My Word.
In a nutshell: stream content wirelessly from your internet-connected gadgets to your HDTV.
What it means for me (and you): no more squinting when Husband insists I watch a youtube video on his phone or laptop (this happens waaaay more than you'd think), because he can send it to the TV.
Still unsure? Check out this comprehensive review, from The Verge (another one of Boy's gets).
I know you know a techie that would love one of these, or you are the techie, either way, impress all the young punks in your life by owning or gifting one of these badboys.
Amazon is selling the Chromecast for $35 bucks.
If it shows as sold out, check back, as this little item is the new must have for those who feel the need, the need to stream!
Thanks for the head's up, Boy!