When one of my godson's contacted me about a grassroots fundraiser for a company he co-founded, Tenativ, I knew this was something you guys might like to be a part of, because, HELLO!, you are givers for a great cause. Yeah, you are. (I am NOT be compensated for this post, merely wanting to share an opportunity)
What is Tenativ?
Creating Opportunity For All
Nearly 100,000 individuals are chronically homeless within the United States. Our goal is to provide sustainable solutions to this issue. We know this won't be easy. We know we can't do this alone. We are passionate about the aid we hope to offer but are wary of reinforcing systemic problems, and so we are humbly looking to partner with the best agencies already working in this field in order to guarantee that we are helping, not hurting.
Oh, hai. OMT likey!
Here's part of their mission statement:
Mission:
Our purpose is to create sustainable goods and initiatives providing shelter, protection, and access for humanity. Our steadfast commitment is to engage everyday consumers as well as the socially conscious consumer with exciting goods that are highly functional, beautiful in design, and work as a part of a greater mission: to restore wholeness to impoverished citizens around the globe.
Again, nice!
So what is the fundraiser?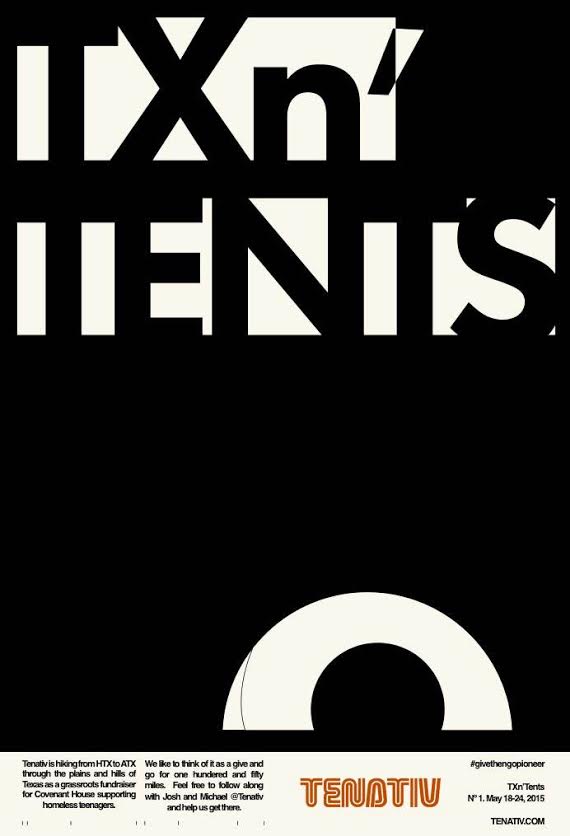 150 Miles – 7 Days
From May 18 – May 24, Tenativ will be hiking from Houston, TX to Austin, TX for what will be the first of many TXnTENTS fundraisers. During the 7-day TXnTents journey, Tenativ will traverse 150 miles across Texas in a grassroots fundraising effort for Covenant House in support of homeless teens.

About Tenativ:
Tenativ is a Houston-based company. We believe generosity will be the determining value behind our success.

We have purposed a company that will provide shelter, protection and access to those that need help. As one company, Tenativ cannot do everything, so in partnering with Covenant House we are able to see our efforts spread to the lives' of teenagers living on the streets in some incredible ways!
The TXnTents fundraiser is how Tenativ begins doing its part. One for which we are so passionate about we couldn't think of any better action to take than to put one foot in front of the other – for 150 miles.
Did I mention my godson is a co-founder of this amazeballs company? BOOM! (not that I had anything to do with his amazingness…)
Convinced? GREAT! Click HERE to donate.
Follow their journey on FACEBOOK, INSTAGRAM or TWITTER.
Thank you, mah babies. It's always a good day when we can help the less fortunate among us.
~smooches~