Do you foam roll? Do you roll the foam? Do you have any idea what I'm talking about?!
No? OK, don't be embarrassed. Let's break it down.
A foam roller is essential for anyone with muscle pains, aches, and injuries. It's also essential to prevent injuries (OMT likes this one!).
BONUS: It's easy! You basically get down on the floor and roll the area that needs attention.
Like this:
NOTE: I never use my roller on a mat; I just throw it on the carpet and roll. If you have wood/tile floors, you may or may not want to use a mat. Dealer's choice.
For those of you who have never used a foam-roller, I'll start by laying down some truth: AIN'T NOTHING FOAMY ABOUT IT! The name is a complete misnomer. A proper foam roller has little give, and that is what you want. It is gonna hurt like hell the first couple of times you use it, but the more you use it, the less pain you feel.
You will want to buy a quality dense foam roller. There are many on the market that just don't hold up. I've had mine for a few years now and use it on average three times a week. Husband, who is heavier than I, uses it as well. My point is this roller has held its shape throughout our abuse. Well done, roller!
~ A gentle reminder: OMT! uses Amazon referral links. When you do your shopping through the Amazon links on this page, you support the blog at no cost to yourself. It's much appreciated!~
This is my roller: OPTP Foam Roller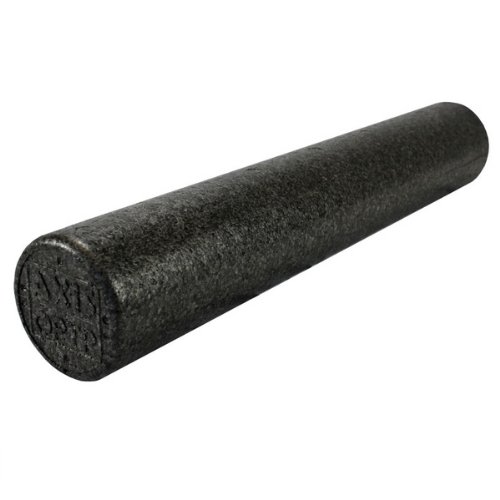 PRODUCT DEETS:
Designed for high use

Ideal for athletes and trainers

Ideal for those wanting an intense myofacsial release
Yes, that last bullet point. What the heck does that mean?!
Myofacsial release is the magic you're seeking when foam rolling. Basically, think of it as ironing out all your muscular knots so you can perform with better flexibility and function. If your muscles are tight it can hinder form, hindered form can lead to overcompensating, which can lead to injury.
What are the benefits of myofascial release?
• Corrects muscle imbalances
• Improves joint range of motion
• Relieves muscle soreness and joint stress
• Decreases neuromuscular hypertonicity
• Increases extensibility of musculotendinous junction
• Improves neuromuscular efficiency
• Maintains normal functional muscular length
This is not mumbo-jumbo, this is fact, Jack!
It's not just the pro athletes using foam rollers, it's folks like you and me. You DO NOT have to be an athlete to benefit from adding a foam rolling routine to your activities.
As an older runner, my foam rolling routine has helped relieve old nagging aches and pains and has helped to prevent new injuries. I can tell a huge difference in my performance when I slack from rolling.
Yep, sometimes I slack, because, well, the areas that need work are tender and the last thing I want to do is roll them over a hard surface. Then I gut-up and do it anyway, knowing I'll feel better for it.
I hope this clears up some of the confusion about foam rollers. I also hope you start using one (if you haven't started already).
Today, NOW, is the perfect time to start taking better care of the one body you've got.
Roll on, my babies!