Summertime means we do things and try stuff that's not on the menu the rest of the year.  Stuff that gets a YES! from the kids and Dad, while Mom/Grandma get points for being amazing.  I'm here to suggest your next awesome adventure: Trash Can Lid Nachos
Witness: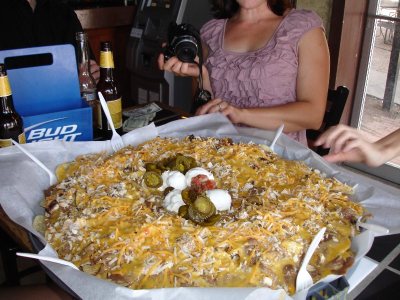 These were bought and consumed in College Station, Texas at a bar called Zapato's, but you can make them at home for a fun summer party centerpiece.
~ A gentle reminder: OMT! uses Amazon referral links. When you do your shopping through the Amazon links on this page, you support the blog at no cost to yourself. It's much appreciated!~
Here's all you gotta do:
* Wash the lid thoroughly, then wash it again. Not that the first washing wouldn't do the trick, but it just skeeves me out.
* If the lid has a fixed handle, you'll want to hammer that badboy flat, so your lid will lay securely on the table when you get ready to serve.
* Arrange nacho chips, meat, cheezez, and optional jalapenos.
* Place in oven at, oh, 300 degrees for 10-15 minutes.
* Carefully remove lid from oven and let cool for a few minutes.
* Garnish with sour cream, chopped tomatoes and possibly more optional jalapenos.
* Place in middle of picnic table, with plenty of ice-cold adult beverages and juice boxes.
* Let the good times roll.
Only bringing you the best, mah babies!
Happy Eating!