I live in Texas. Texas gets big storms. We have the potential for tornadoes, hurricanes, blizzards, ice, and all around high winds. Big storms means we need to be prepared in case the power go out.
~ A gentle reminder: OMT! uses Amazon referral links. When you do your shopping through the Amazon links on this page, you support the blog at no cost to yourself. It's much appreciated!~
Last year I wrote about our Durabeam flashlights that act as torches when placed on their base and reflected off a white ceiling. They have the ability to light up an entire room. We have one in every room, so they're easy to access when needed. It's astonishing how much light they put out and I love them for that.
Their only drawback is they rely on batteries to operate. They can run up to 34 hours on a new set, but there have been plenty of times when power outages lasted longer than that.
The Waka Waka Solar Lamp is the perfect emergency-accompaniment to our flashlights.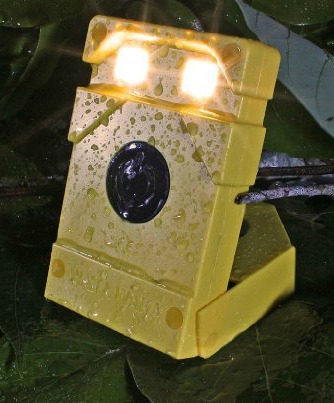 (source: Amazon)
[Tweet "This solar lamp is serious bizness, y'all."]
Product Deets:
Product Description:
The cool, personal solar lamp designed to survive the extremes of Africa. The patented innovative solar power management technology provides for superior charging capabilities results in no less than 16 hours reading light on less than a full day of sunlight. In suboptimal conditions WakaWaka performs up to 200% better than any other solar lamp. WakaWaka ensures you will always have light. Perfect for hiking, disaster preparation, camping, or in-home reading light. No need to connect to USB port or plug into wall. Solar replenished, long lasting rechargeable batteries are included. Simply allow access to light, and the patented technology will deliver powerful LED lighting, anywhere for years.
The WakaWaka light features patented solar-management technology that delivers 16 hours of safe, powerful light on a full charge. In addition to being exceptionally efficient, its water-resistant construction is designed to withstand the most extreme environments.
On a Full Battery (less than 1 day charge) WakaWaka Provides:
This solar lamp is serious bizness, y'all. Go ahead and click over. You can read the reviews and check out the going price.
I imagine ours will sit in my office, where the blinds are open all day. That way, it's ready to light our way no matter when we need it.
If you have campers or backpackers in your mix, I love how this photo depicts how to carry it, so it's ready to use once the sun sets.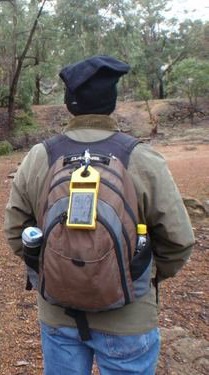 Seriously cool emergency kit tool. Seriously cool light source. Seriously cool there are no batteries to buy and change.
If you know someone who is putting off building their emergency kit or just loves to hike or camp, these would make an ideal gift.
Look away, Boy. Or at the very least, act surprised when it shows up at your house!
Happy preparing for any circumstance, y'all!