How many of you gals/guys read Esquire? Yes, the dude's magazine. Anyone? They had a great article on the Waterpik Showerpik and I was more than intrigued.
~ A gentle reminder: OMT! uses Amazon referral links. When you do your shopping through the Amazon links on this page, you support the blog at no cost to yourself. It's much appreciated!~
In the teeniest of nutshells, instead of the Waterpik taking up your bathroom counter space and mocking you for not using it daily, you install the messy, crazy water-blowing-all-over-your-face, but fabulous for your gum-health contraption…wait for it….IN THE SHOWER!
Genius!
I did a double-take when I read about the shower installation, but doesn't it make all kinds of sense? No more teeth-cleaning tsunamis on your counter-tops, mirror and floors. Keep that H2O where it belongs: behind the curtain!
Here's a shot of what it looks like (showerhead not included):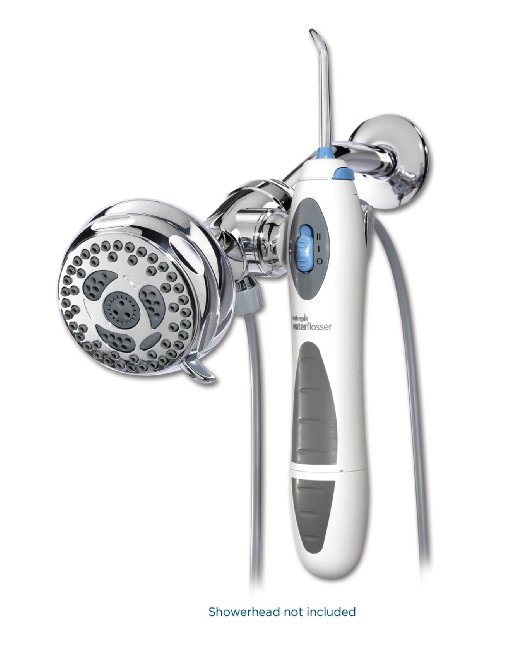 image source: Amazon
Product Description (from Amazon): The Waterpik Water Flosser is the easy and more effective way to floss. And with the Waterpik Showerpik Water Flosser (WP-480) you can get all the benefits of Water Flossing while you shower! Waterpik Shower Pik provides a uniquely engineered combination of water pressure and pulsation to massage and stimulate gums, and remove plaque and bacteria deep between teeth and below the gumline where traditional brushing and flossing can't reach. Waterpik Water Flossers remove up to 99.9% of plaque from treated areas with a 3-second application and are clinically proven up to 50% more effective than traditional dental floss and up to 80% more effective than Sonicare Air Floss for improving gum health. The Showerpik Water Flosser easily attaches to existing fixed mount or hand held showerheads with a stylish 2-way chrome diverter that allows for shower only or shower plus Water Flosser water flow. It includes a convenient rechargeable battery pack, two Classic Jet Tips and a hygienic tip cover, and because it's attached to the shower, Showerpik provides an unlimited source of water, eliminating the need to refill a water reservoir. (Showerhead not included).
Curious to know what dentists think of Waterpiks? Me too, so I asked a dentisty friend to weigh in.
Alex B. Manrique, DDS: With the proper technique, flossing is considered the gold standard for cleaning tight spaces. Flossing helps to scrape off around the sides of each tooth. Oral irrigators are meant to be used alongside flossing, but are not a true replacement for floss. Although, studies show that a Waterpik is more effective in cleaning when patients are in braces or if there is pocketing from gum disease. Also, using a Waterpik is more helpful than not using anything at all.
I honestly thought that using a Waterpik was more effective than flossing. WHO KNEW?! (Alex…that's who) Never too old to learn, right?
I do love-love-love the idea of the simple switch from counter to shower, though. Anything that helps with our all important oral hygiene, I'm willing to try.
With Christmas only 5 MONTHS AWAY! (ducking), I'll keep this in my pocket for those on my list who are tired of everything and the bathroom sink getting soaked from their counter Waterpik.
Want to take a better look? CLICK HERE.