OMT! was born to a few things, one of which is writing.  Writing is as innate to me as running or cake eatin'. Rarely does a day go by that I haven't put something to paper or computer file.
As The German once said to me: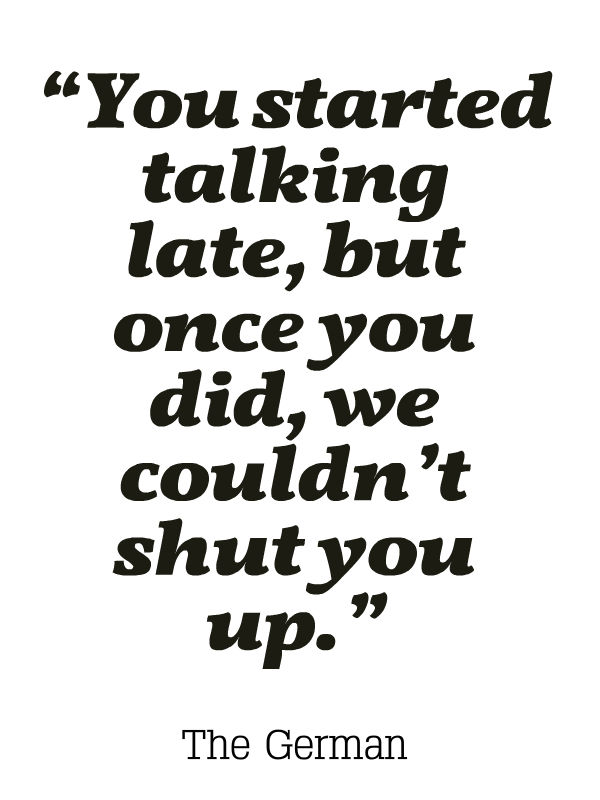 Apparently, I gots lots to say, people.
Probably doesn't help that I come from a line of writers with lots of things to say of their own. Being born into a family of communicators means you learn to translate your sense of the world, your wonder, into something creative. My siblings are testament to that, although I am the only one who prefers to use words when creating my vision to share.
Given that this gift flows freely and swiftly, you wouldn't think I'd have to fight it, but I do. I struggle every day I write. Is this what I wanted to say? Did I use the right words to convey exactly what I meant? Did I tell the truth (little known writery fact: sometimes the truth is the hardest thing to put into words)? Will it make anyone other than me laugh? Or cry? Or stand up and cheer?
In other words, while my life entertains me immensely, and I happily document my silly/sad/happy/horrifying life experiences for primarily myself, my deeper desire is to show the connection we share through our need for validation and love as individuals.  Despite the enormous chaos shaking the world, we aren't all that different regardless of how we look on the outside, regardless of our differing political/religious views, regardless of our preference for cats or dogs, mayo or Miracle Whip, Smart Cars or SUVs; essentially we are the same.
We need each other, mah babies. We do.
If I can hold up my life's moments for you, no matter what light it puts me in, and you're able to recognize some part of yourself in my stories and feel relief that you aren't alone in your craziness, then this part of my life, the fighting with my words part, is worth the struggle.
Although, some days I think it would be easier to do anything other than write.  Nevertheless, I'll keep writing in the hopes that what I feel is my calling, my never-ending spillage of words since I began to speak, will work for a larger glory than myself.
Please Share on Your Favorite Social Media! ~ OMT thanks you! ~