I love a good book. If that book also offers sound advice while dealing with a medical crisis, I'll not only be grateful, but will pass it along to you guys. This is that book.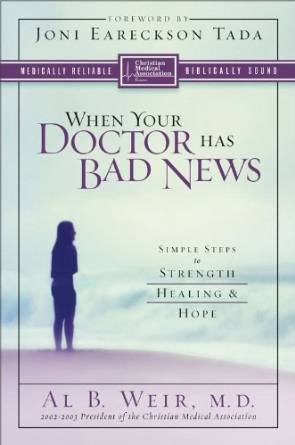 When the diagnosis is serious, what makes the difference between hope and despair?
As a practicing oncologist, Dr. Al Weir works daily with patients who receive bad news. A medical doctor with a pastor's heart, Dr. Weir knows from experience that it's the patient's focus, not the diagnosis, that indicates whether one will slip into despair and hopelessness or have the courage to live each day fully. Resilience of spirit can powerfully influence recovery and healing, and within our crisis, the choices we make are important.
When Your Doctor Has Bad News offers no easy answers, no quick outs. But it does equip you to weather the storm you are facing and emerge whole again. Practical tips provide questions for you to ask your doctor and choices you can make to achieve your best chances for healing. Real-life stories show how others have coped with life-threatening illness, walked with God, and won.
You can deepen communion with God in the midst of medical crisis. When Your Doctor Has Bad News gives you proven principles that will enable you to choose a life worth living, no matter what news the doctor has given you.
My SIL sent me this book, along with a handful of others when she found out I was diagnosed. I added it to the growing pile of books others had sent, reading each throughout the weeks.
This particular book has resonated deeply with me, mostly because of my faith. I'm the gal that turns over life events and tries to #1: strengthen my faith with each obstacle faced and #2: find peace in the chaos. This book is a booster shot for each of these points.
It's not sappy or filled with wishful/willful thinking; it's a book based on the principles of Christian faith and allows one to examine their fears and anger about their current situation truthfully. It helps that the author is a doctor as well. He understands the limits of good science and is straightforward about value of faith and hope.
The best recommendation I can give is that I too will be gifting this book to others when faced with a medical crisis.
I hope you never need his wisdom-filled book, but if you do, it's nice to know it's available.