♫ Baby, it's cold outside ♫
It's that time of year when we slow down and take stock of ourselves and the year past.
Needed items for introspection:
Roaring fire. √
Adult drink. √
Toasty blankie. √
What more does one need?
~ A gentle reminder: OMT! uses Amazon referral links. When you do your shopping through the Amazon links on this page, you support the blog at no cost to yourself. It's much appreciated!~
How about some Jack Daniel's Whiskey Praline Pecans?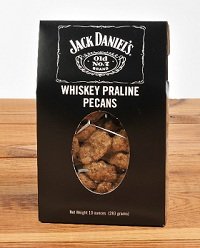 [source: Amazon]
Checkitty-check-check.
These grown-up treats are made at the Indianola Pecan House (the guys responsible for the original praline pecan), so you know they're done right. Big pecans, sugar, cream, and a splash of the Irish (these are not an alcoholic product)!
What?! You need something more to convince you? Fine…
Get the lights. We gots us a bonus moving picture show!
FUN FACT: Southerners giggle a little inside when you call a pecan a Pee-Can. We love ya anyways!
As you look back over what you've accomplished last year and where it is you'd still like to go, you deserve to do it in style.
Some days, being a grown-up is the best gig in town.
Happy New Year!