OMT! is a lifelong runner (and talker in third personer – is that even a word?!) and as a runner I need protection from dogs and nefarious folks who don't realize I'm loaded for bear with a very strong pepper spray.
In the name of self-preservation, I carry this powerful Sabre Pepper Spray everywhere I go.
~ A gentle reminder: OMT! uses Amazon referral links. When you do your shopping through the Amazon links on this page, you support the blog at no cost to yourself. It's much appreciated!~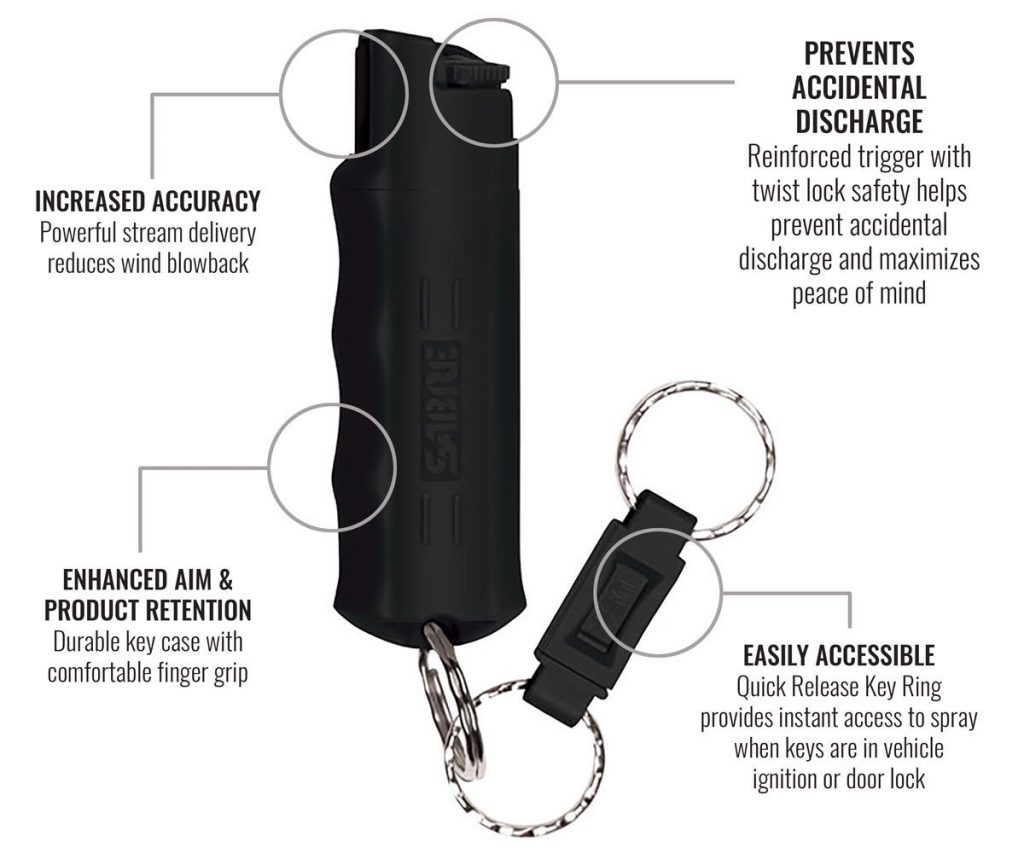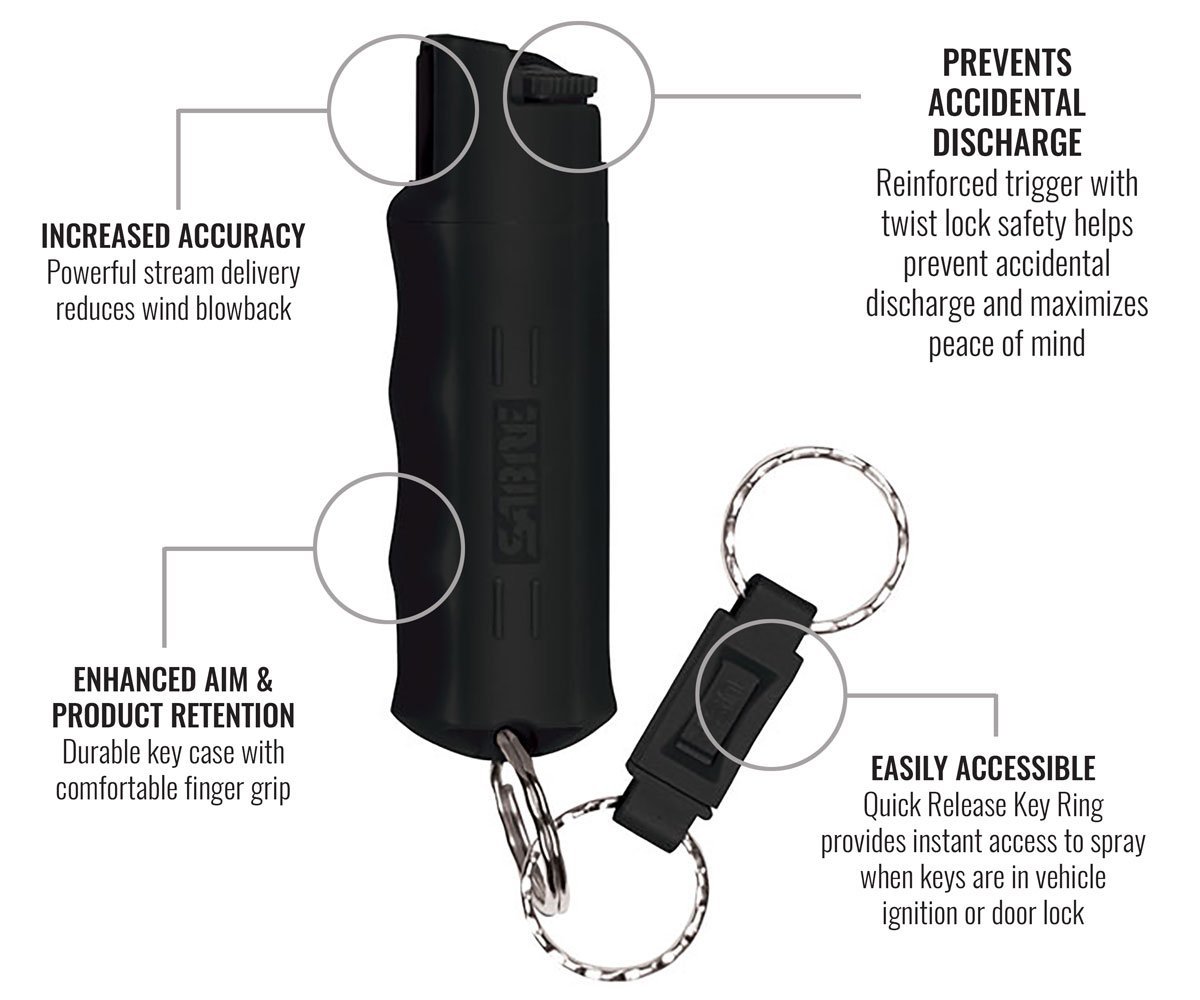 (source: AMAZON)
What's so special about Sabre?
Glad you asked.
~ MAXIMUM STOPPING POWER – maximum strength formula is backed by our in-house high performance liquid chromatography laboratory which guarantees maximum stopping power, eliminating the 30% failure rate experienced with other brands (University of Utah study); plus UV marking dye aids in suspect identification.
~ #1 BRAND TRUSTED BY POLICE AND CONSUMERS WORLDWIDE – including New York, Chicago PD, Los Angeles County Sheriff's & U.S. Marshals; made in the U.S.A. and ISO 9001:2008 certified with a 4-year shelf life from the date of manufacture.
~ PROTECTION AT A SAFE DISTANCE AGAINST MULTIPLE THREATS – impressive 10-foot (3M) range; 25 bursts (up to 5x other brands) in a powerful stream delivery to reduce wind blowback.
~ EASILY ACCESSIBLE – Quick Release Key Ring provides access to spray when keys are in ignition or lock while the locking top safety helps prevent accidental discharge; finger grip enhances aim and product retention.
~ FREE TRAINING – packaging includes link to free training video in addition to publicly available safety tips on our blog.
"Making Grown Men Cry Since 1975!"
Security Equipment Corporation is proud to manufacture the world's number one selling pepper sprays: SABRE & SABRE Red. The brand chosen by both law enforcement agencies and consumers, SABRE backs the most effective pepper spray with education and training to maximize personal safety.
This compact, easy to use SABRE Red pepper spray key chain is the number one selling pepper spray sold worldwide. Equipped with a quick release key ring, this key case pepper spray is immediately accessible by allowing you to separate your spray from your keys to increase your safety while unlocking doors.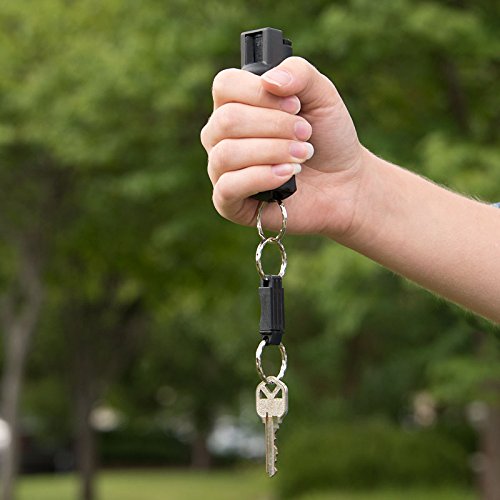 Have I ever had to use my pepper spray?
Yes, yes I have.
There was a large dog on the prowl and he thought I'd make a good chew toy.
WRONGO!
I had no joy in spraying him, but if it's between spraying or getting bit – I think you'd choose the same.
I have also taken it out of my pocket on many occasions when I have felt threatened by dudes in my path.
While I never employed the spray in those situations, I was damned glad to have it in my arsenal.
I picked the bigger spray mostly because I run on neighborhood streets, which at times can be isolated. One can never be too careful.
This Sabre Pepper Spray comes with a quick release key chain (I simply took all that off, so I can slip it into my runner short's pocket) and you can choose from a few colors, if that's your thang.
Times are weird. You'd be smart to carry something.
Stay safe out there!