If you are on the hunt for a fine quality pencil – look no further than Ticonderoga pencils.
Hi, I'm OMT! and I'm an office supply junkie. Just walking into an office supply store gives me shivers of happiness.
Pens, pencils, and paper, oh my!
WHAT?
You TOO?!
Thank goodness, I'm not alone.
Whew…
OMT FUN FACT: I wrote two full length novels in pencil.
In. Pencil.
Some of those pencils vexed me.
They were always breaking, hard to sharpen, and maybe worst of all, the erasers smudged every correction made.
BOOOOOOO!
I wish I had known about Ticonderoga pencils back in the day, but I didn't.
~ A gentle reminder: OMT! uses Amazon referral links at no cost to yourself. ~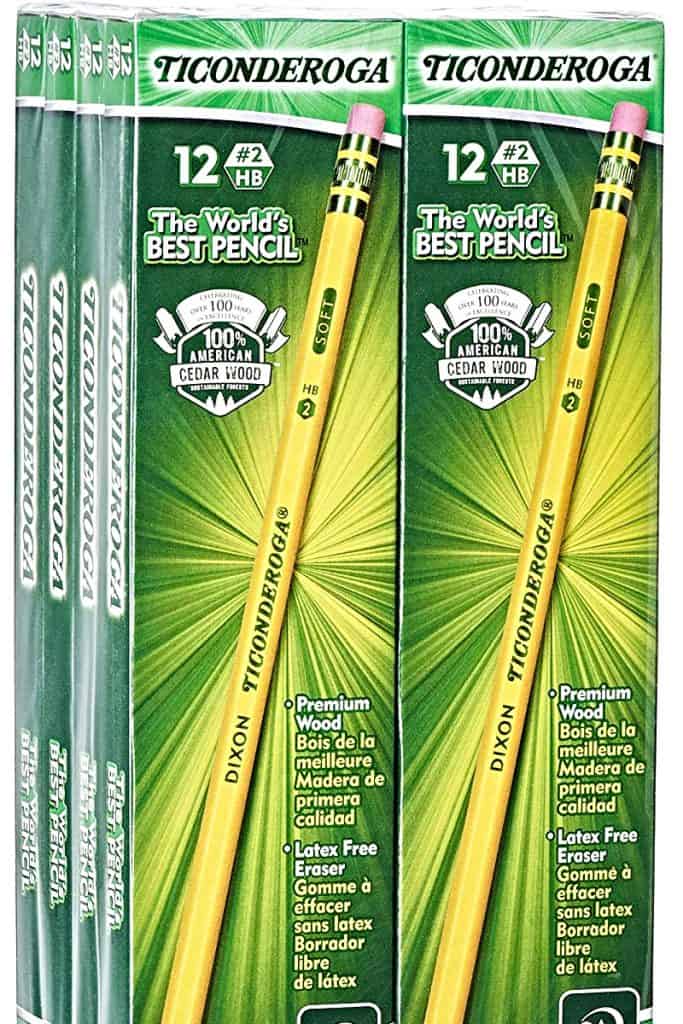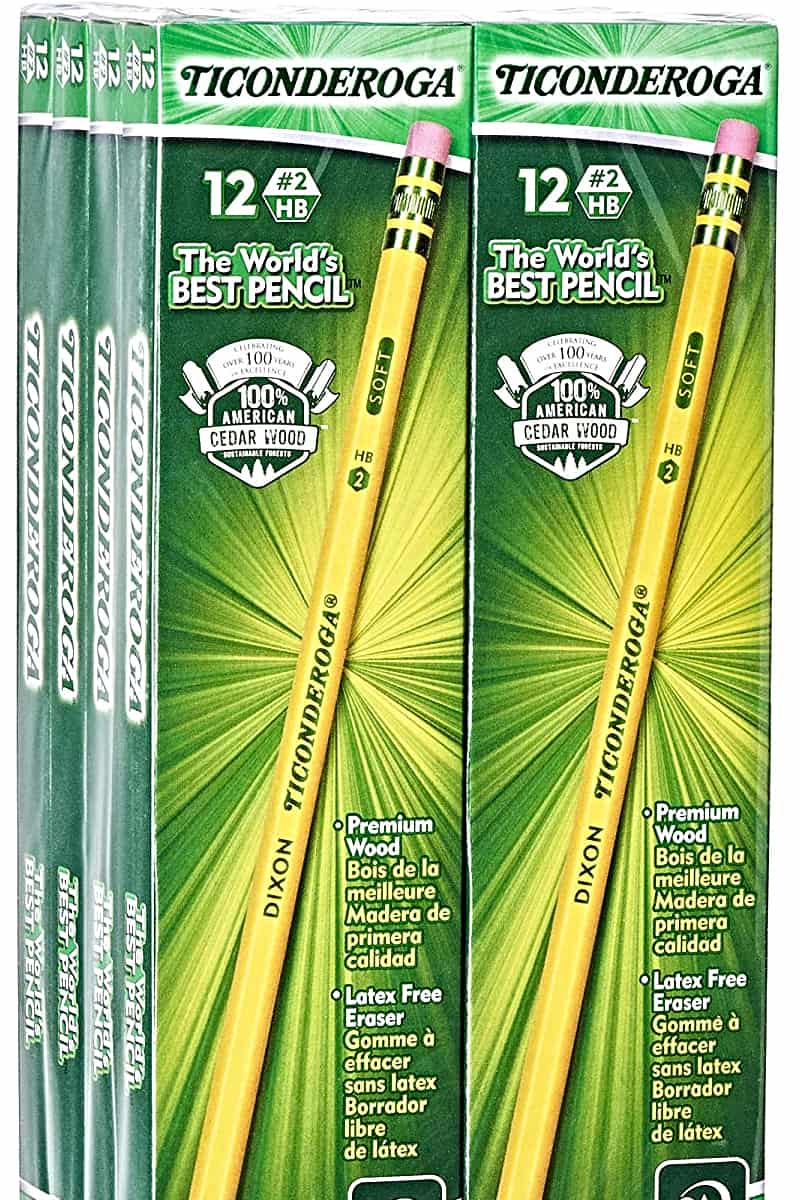 (source: Amazon)
Ticonderoga's are the smoothest, finest, quality pencils I've ever had the joy of using.
Yes.
J-O-Y.
That's how us office supply junkies roll: we get a deep and abiding joy from the supplies that work for us.
Is Ticonderoga the best pencil for writing?
Let's peek at the product info –
~ Exclusive #2 graphite formula provides extra smooth performance
~ Top quality, latex-free eraser provides easy, clean corrections
~ Made with premium wood from responsibly managed forests
~ Satin smooth finish enhances writing comfort, PMA certified non-toxic
~ Includes 96 pencils comprised of 8 boxes of 12 pencils each
Product Description:
Ticonderoga has a tradition of fine quality writing instruments in the us for over 100 years.
The exclusive graphite core features a proprietary formula focusing on graphite mined from carefully controlled sources to deliver extra smooth performance.
Top-quality latex-free erasers remove marks completely without smudging.
Premium wood harvested from responsibly managed sources provides smooth, even sharpening With minimal breakage.
Teachers prefer Ticonderoga for its dependability and craftsmanship.
When only the best will do, choose Ticonderoga brand pencils.
With a satin-smooth finish for enhanced comfort, the Dixon Ticonderoga Woodcase Yellow Barrel #2 Pencil features an exclusive graphite core formula for smooth writing performance.
Every pencil in this pack of 96 is crafted from reforested quality cedar wood for easy sharpening, and comes topped with a high quality latex-free eraser for clean, easy corrections.
Safe for classroom use, these pencils are PMA certified non-toxic.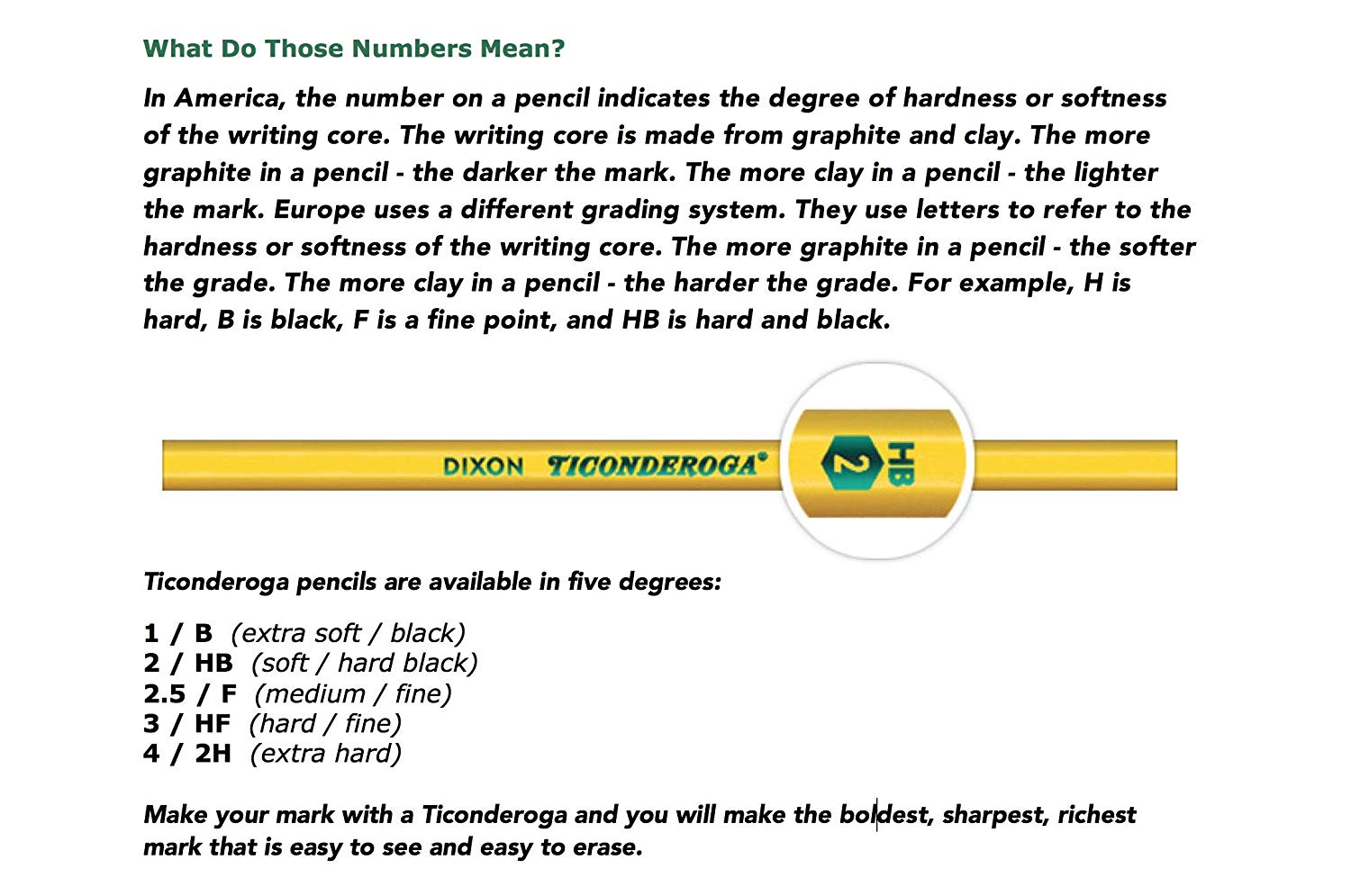 (source: AMAZON)
Fun Fact: did you know that the HB marking on pencils designate Hardness and Blackness?
Pick a pencil that gives you the hardness and darkness you require.
I love a pencil that helps me to effortlessly write all the thoughts.
[Tweet "This is how office supply junkies roll: we get a deep and abiding joy from the supplies that work for us. #ticonderoga #officesupplies "]
When you're using an inferior pencil it's like writing in mud with a stick…a weak, breakable, horrible, no good stick.
BOOOOOOOO!
Did you know that pencils come in different shapes as well?
Of course you do. You're no pencil dummy.
The most typical is the hexagon shaped pencil.
It's a comfortable fit for fingers and one of the most commonly used.
Round pencils are commonly used as well.
They are smooth and easily gripped. Lots of beginner users can handle a round pencil.
Flat pencils – or carpenter's pencils – are fun and flat.
Why flat? So they don't roll off surfaces that carpenters are working on – SMART!
That takes care of the pencils themselves, but what about erasers?
When you use a pencil with a horrible no good eraser, you're just stirring the mud around.
The words never disappear, they just get reorganized as a stain on your paper, mocking you and you're wishful thinking ways.
Nope.
Not gonna have it.
Ticonderoga understands this issue and doesn't disappoint.
When I bought these pencils, I tested each and ever pencil in my pencil skull (yes, a skull, not a cup. imma weirdo and you like that about me….YES, YOU DO!).
If it didn't glide across my paper – in the trash it went.
If it dared to smudge my thoughts into a dirty stain of annoyance – in the trash it went.
After the Great Pencil Purge of 2019, I filled my skull (not MY skull! the one that sits on my desk. GOSH!) with a sharpened handful of Ticonderoga's and life as my hand knows it, has never been better.
Life is too short to hate the pencils you're writing with, or at least as a writer, that's my story and I'm sticking to it.
Do you have a favorite pencil?
Tell us!
If not, if you're looking to be matched with a smooth glider, may I suggest giving these a spin.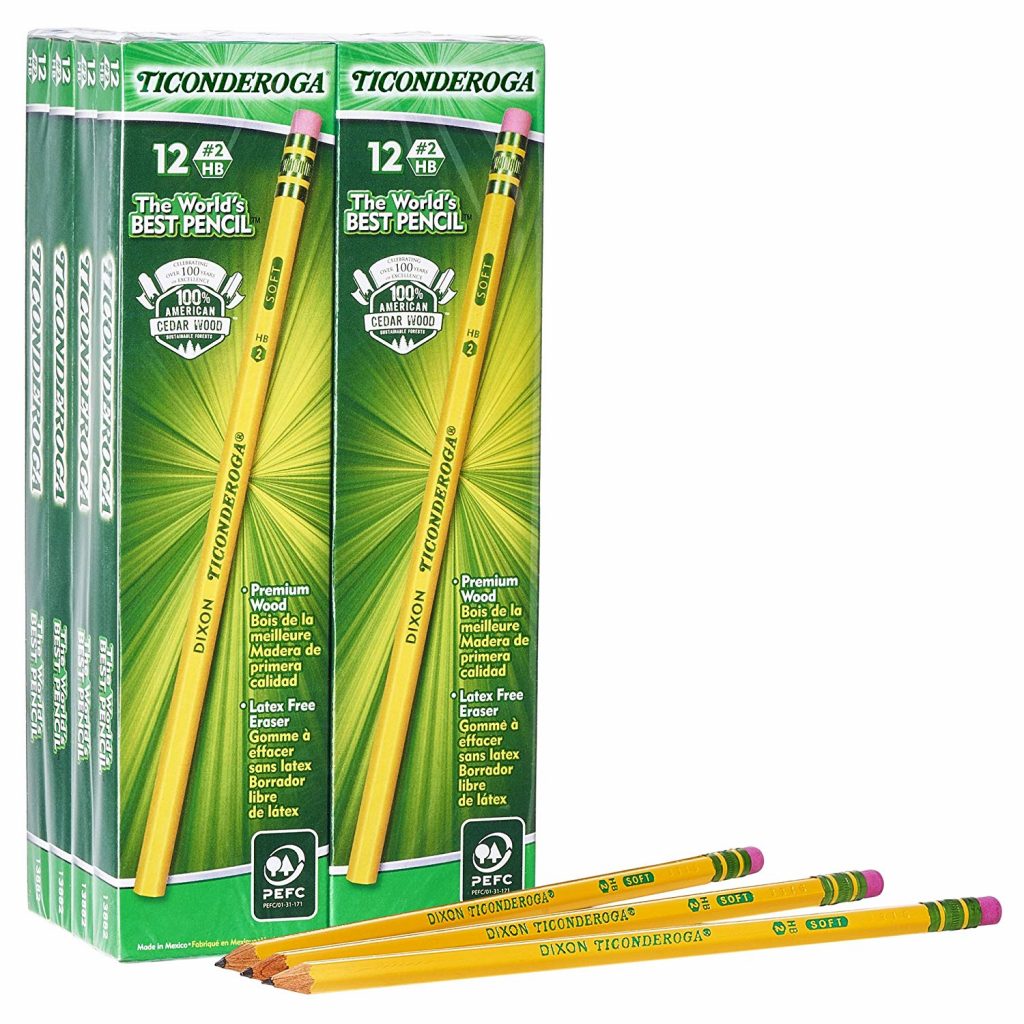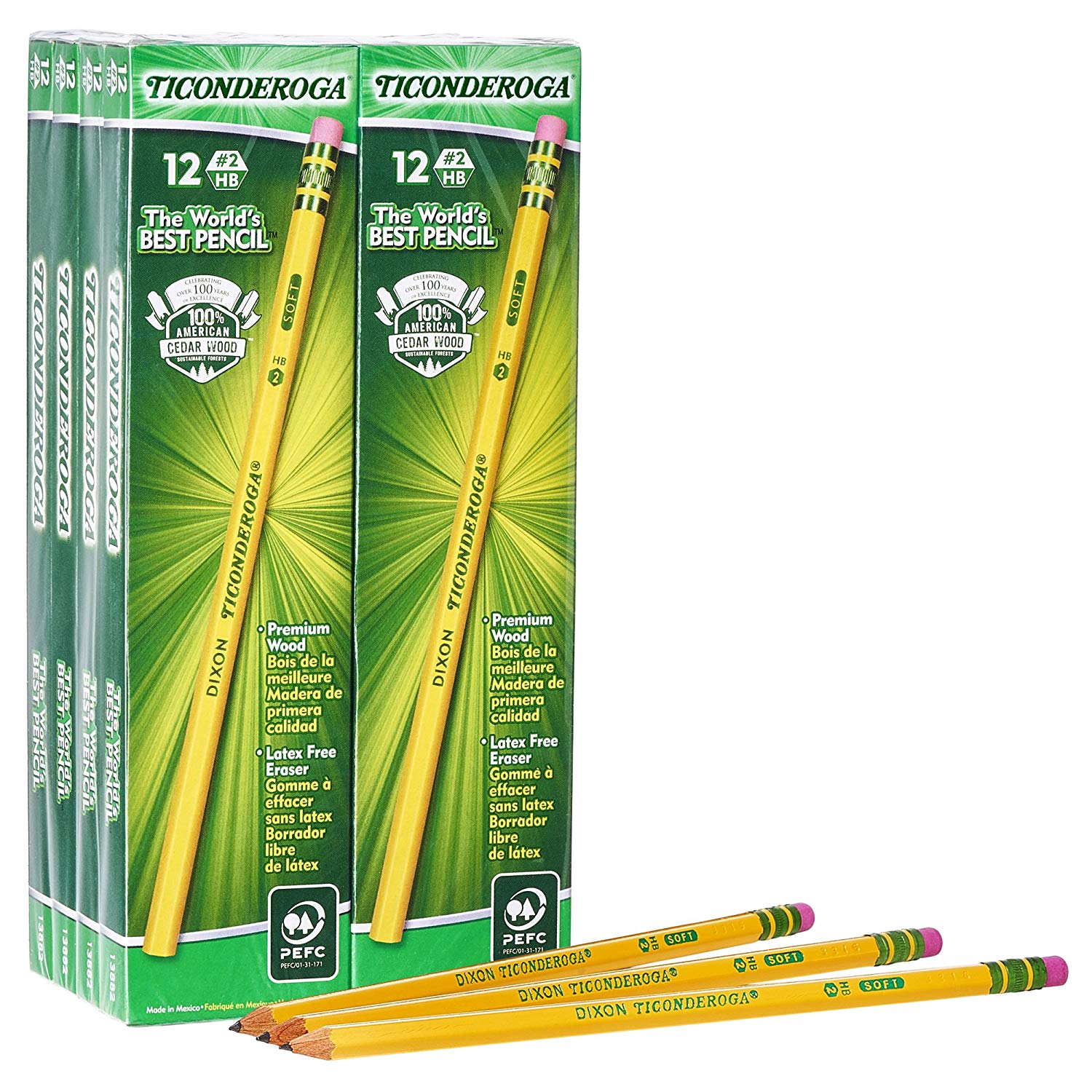 (source: AMAZON)
In Conclusion:

1. I love office supplies and that means I will try my best to find the best of the best…for you!
2. You want the best office supplies available without having to search the Internets…that's why you come here!
3. I found an amazing pencil in Ticonderoga – so if you need a fine quality pencil, it can't be beat.
4. Every pencil offers top-quality latex-free erasers that are as high quality as the smooth writing graphite.
5. They are comfortable to use.
6. The premium wood harvested from responsibly managed resources (reforested quality cedar wood), means you are not killing trees that are not being replaced, by choosing to use a Ticonderoga.
7. They will bring your pencil-loving heart J-O-Y.
WAIT- DON'T GO YET! There's more office sturf just below!

For those of you who confessed to being an office supply junkie in the opening, what follows are more products I love and use (gotta get that GIANT calendar!).
Tul is one of my absolute fav products to have handy (you can get them online or at your local Office Max), so you'll notice a few listed.
If you haven't tried the disk system, you haven't lived.
Add the pencils to the mix – LAWSY, I'm in heaven.
I'll add to the list as the days go by.
If you see something that you gotta have, simply click the continue reading button, and um, continue reading!
If you have an office supply fav – share it with us!
Who know, it may make it on to my updated list and then we can be twinning!
Happy Shopping, Y'all!
If You Love Office Supplies Like I Do
Office products I love and use.