So much sensitivity in the world!
We're like one collective walking, talking, projecting nerve.
With all the sensitivity surrounding us, all the ding-dang time, wouldn't it be great if just one thing, let's say YOUR TEETH!, didn't have to join the club and be just as sensitive?
Wouldn't it?!
Well, for me it is.
~ A gentle reminder: OMT! uses Amazon referral links.~
Upon the recommendation of my dentist at my last check-up, I've started using Sensodyne True White toothpaste.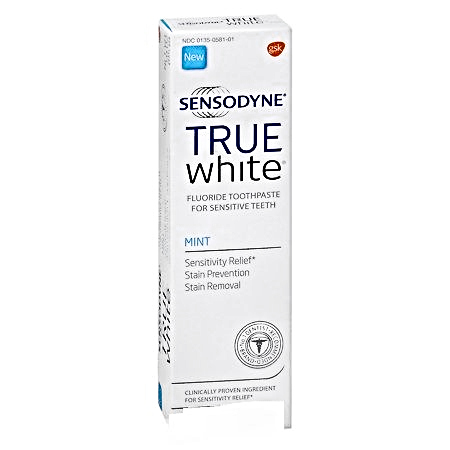 (source: AMAZON)
As a result, my teeth are no longer like penguins! (our family joke, as it refers to a Lyle Lovett song)
I can have my hot chili followed by ice cold ice cream and not squinch my face in discomfort once!
Product Deets:
~ Toothpaste for sensitive teeth and cavity protection
~ Sensitivity relief
~ Stain prevention
~ Stain removal – #1 dentist recommended brand
~ Clinically proven ingredient for sensitivity relief
Product Description:
Brushing with abrasive toothpaste wears the sensitive areas of your teeth.
Sensodyne True WhiteToothpaste has the lowest abrasion formulation ever in a Sensodyne toothpaste.
With twice daily brushing, it is proven to relieve sensitivity pain, help gently whiten your teeth, leave a protective shield to help prevent new stains from forming, freshen breath, fight cavities and help keep gums healthy.
OMT! Facts:
~ I H-A-T-E paste in a toothpaste (which this one is); I prefer gel, as I have a weirdo texture thingy. Aren't I adorable?!
~ The only time my teefs scream at me is when I'm throwing ice cream down my piehole. CAN'T HAVE THAT! (< slows me down, doncha know)
~ I really really REALLY hate paste. And mint. So much ~blech~.
Knowing my proclivity to hate all things mint and pasty, I humored my dental hygenist and took the tiny tube of Sensodyne and fully intended to chuck in the trash when I got the chance.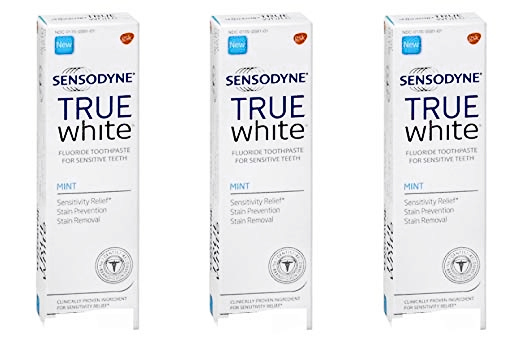 (source: AMAZON)
For some reason I didn't.
And then, for some explainable reason I decided to try it.
I used it and didn't puke (not even close to an exaggeration of what I expected).
The paste wasn't too pasty and the mint was just hinty.
I used it again and decided it might work.
I made Garry try it.
He liked it.
Huh. My world, my toothpaste world, was turnt (hahahahahahahahahaha, nothing funnier than the old swiping from the young)
I have used it every day since and my sensitive teeth thank me.
Doesn't hurt that it brightens and whitens, too.
The other bonus is that it's a cavity fighter as well.
WHAT MORE DO YOU NEED?!
Go on. Don't let one more spoonful of hot 'picy chili pass you by. Don't say NO! to that bowl of ice cream cause it's gonna make you cry out in pain.
Let the madness stop.
I mean, the least you can do is try it and see if it works for you like it worked for me.
Sensodyne for sensitive teeth. Who knew?
(my hygienist and dentist – that's who)