Unique stocking stuffers for gals are easy-peasy. For the boys? It's a little harder to find stuff they'll actually use or be happy to receive.
Let Mrs. Tucker help you out of that headlock, baby.
~ A gentle reminder: OMT! uses Amazon referral links. When you do your shopping through the Amazon links on this page, you support the blog at no cost to yourself. It's much appreciated!~
Luchador Bottle Openers to the rescue!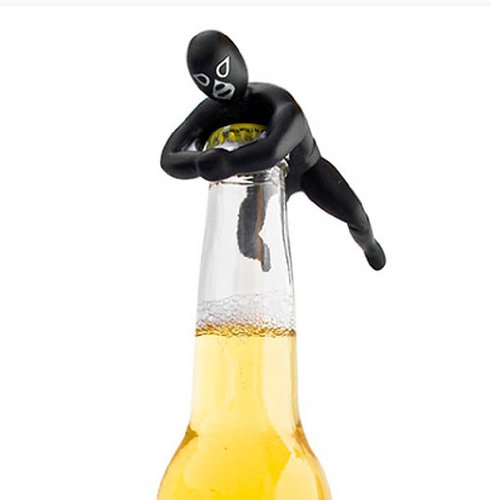 image source: Amazon
Who could forget Jack Black's Nacho Libre immortalizing the art of Mexican wrestling? You can continue the luchador fun with these themed stocking-stuffers!
Bet you didn't think you'd get a wee bit of knowledge handed down to you today via a fun-time can opener, did ya?
Not thrilled with the headlock? Too, badass? (as if)
The collection also offers the Sleeper Hold (opens from the side) and the Leg Lock opener.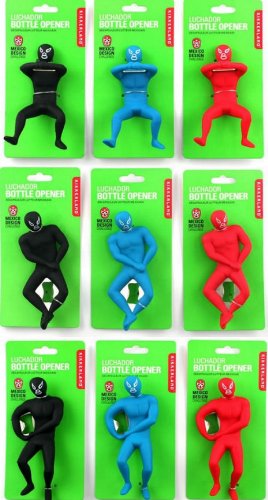 image source: Amazon
MANUFACTURER DEETS:
Form, function and Mexican wrestling. Each Luchador Bottle Opener is a mini wrestler applying a famous lock hold to an opponent – in this case a bottle.
Bottle opener is mini wrestler applying a lock hold to your bottle
Designed by Andres lhima as part of the Mexico design challenge
Assorted red, blue and black colors and designs (color and design is random and is chosen at the time of shipping).
Made of stainless steel and ABS with a rubberized coating
Measures approximately 2-3/4 by 6-inch
CAVEAT: As stated above, unless you order the three-pack collection, designs and colors vary and are chosen randomly at shipping.
Cost for one runs between $8-$10 and the three-pack is $21.
Have more than one guy who needs a fun bottle opener? Buy the three-pack, save some dough and come out looking like the person who knows what's what when it comes to stuffing a stocking at Christmas-time.
Happy Shopping, mis bebés!