Wanna start with the good stuff? Yes! The star of the post. The accidentally delicious oven-baked fried chicken!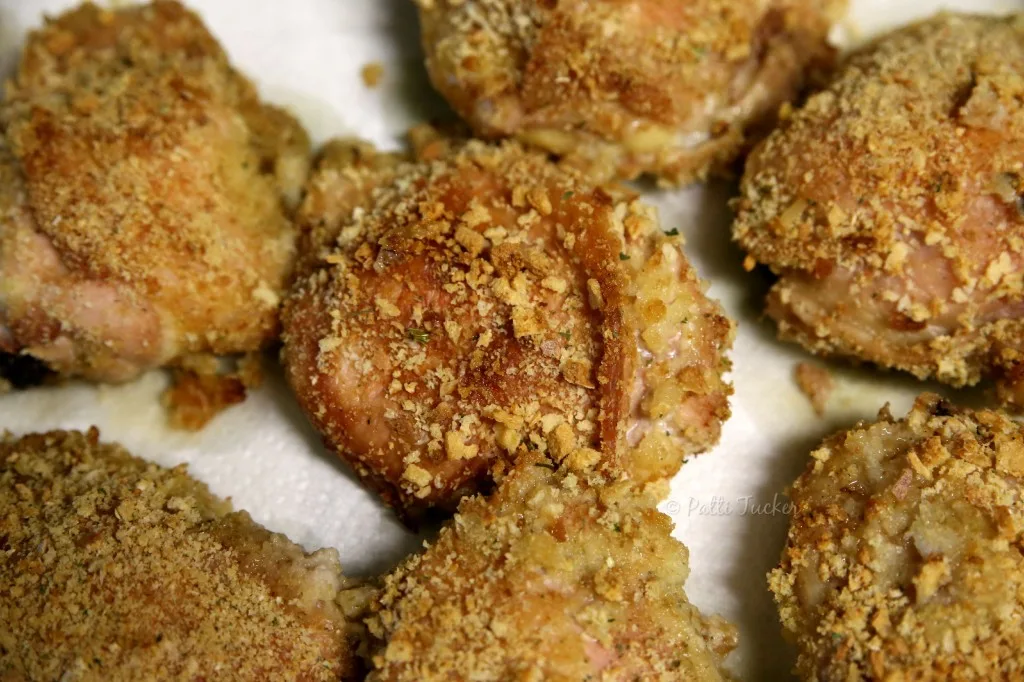 Oh, momma… Look at that crispy loveliness!
Let me ask you this, though: What do you do when you think you have an item in your pantry, a key item, only to find out after you've prepared everything else that the item is missing?
WHAT TO DO?!
[Tweet "When you've suddenly realized you're OUT of a key ingredient for oven-fried #chicken?! THIS!"]
Improvise, mah babies!
We love oven-baked fried chicken. It's easy to prepare, easy ingredients and easy to eat!
I was craving some of this super easy chicken, only to discover, after I had laid everything else out, I was missing breadcrumbs.
NOOOOOO! Can't make oven-baked fried chicken without breadcrumbs.
I immediately started tearing apart my pantry. I knew where the breadcrumbs were supposed to be…why weren't they there? WHY?! Um, because I had already used them? Yeah, probably.
Just when I thought we'd order out for pizza…that works too!…I spied cubed stuffing mix.
~envision an actual blazing light bulb over my head~
Stuffing is made from bread! Sure it's chunky pieces, but I thought after I threw some in a gallon Ziplock and took my rolling pin to it, I'd have, wait for it, breadcrumbs!
I was totally right (you know, as I often am).
Witness the finished product moments after I removed it from the oven: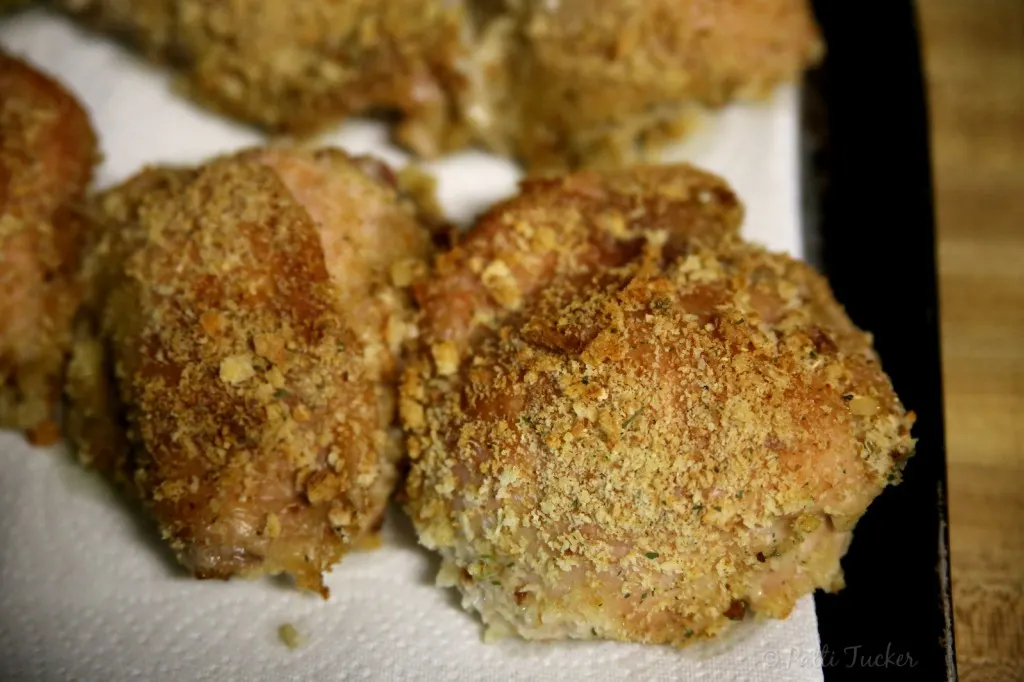 BAMMO!
Oven-baked Fried Chicken!
I don't know why I hadn't thought of that before. It was deliciously Thanksgivingy tasting and worked like it was made to coat poultry. Dee-Lish!
My basic recipe is to let the chicken soak in a bowl of milk for about 10 minutes (add whatever seasonings you like to the milk), then dredge it through the breadcrumbs and placing in a well-buttered pan with generous butter pats also on the bottom of the pan before placing chicken (it melts and helps "fry" the chicken). Bake at 325-350 until internal temp of chicken is 165° (depending on thickness of pieces used, 30-45 minutes).
Perhaps I'm not the first to have a light bulb moment with stuffing mix and chicken.
Anyone else?
Happy Eatin', Y'all!
~ A gentle reminder: OMT! uses Amazon referral links. When you do your shopping through the Amazon links on this page, you support the blog at no cost to yourself. It's much appreciated!~