Oh, how I remember my culinary flailings as a newbie cook. My biggest battle was with gravy. Somehow I could manage fluffy, to-die-for, biscuits, but I just couldn't see my way clear of gummy, lumpy, tasteless gravy.
LAWSY! Help me!
I know some of you must feel the same way, so baby, let me hold your hand through your flailings and let's master cream gravy.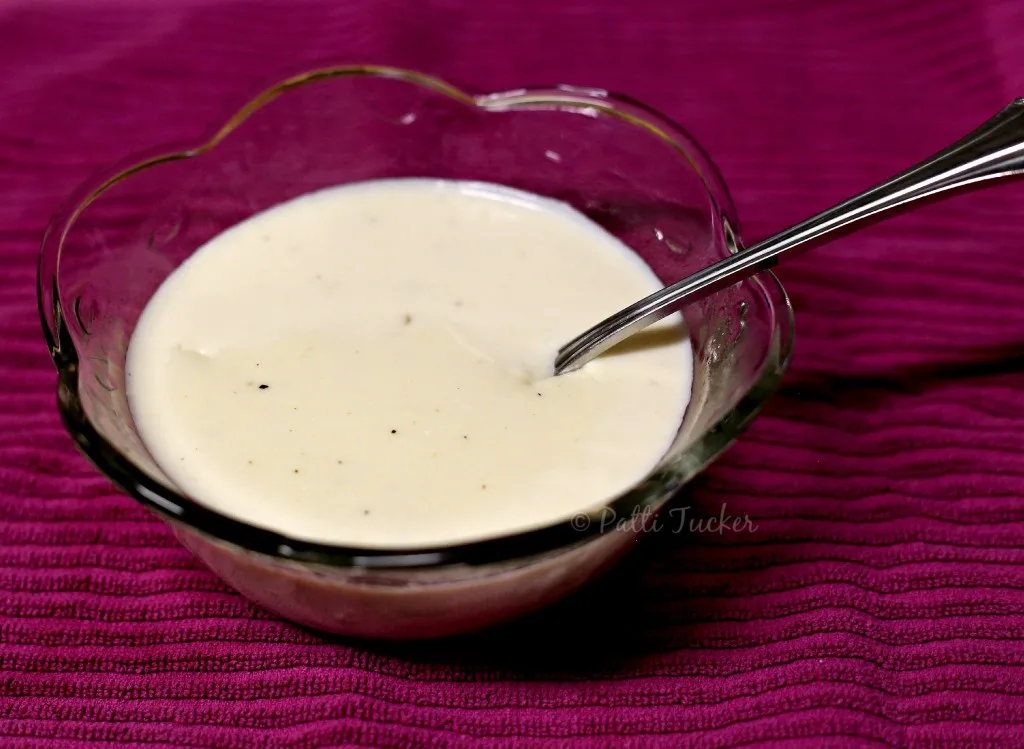 Basics of gravy makin':
1) Make a roux.
2) Mix milk with cooked roux.
3) Continue cooking/whisking over medium to low flame until gravy thickens.
4) Dip a spoon into the saucepan of nirvana just. to. make. sure.
5) Repeat step 4 several times, out of concern for those at the supper table, then serve.
Obviously, you can omit the last two steps, but why would you?
If you do any rooting around the Internets, you'll soon see that the number of tbsp of fat you use for your roux will equal the same amount of milk, just in cup measurement (three tablespoons of fat/flour = 3 cups of milk). OMT! does it a little differently. And it will ensure your success every stinkin' time.
What is roux?
A roux is fat and flour of equal measurement, browned until bubbly in a saucepan. It's the base to thicken your gravy.
The Secret to a Great Roux
The secret to a great roux is that you want to cook it until it no longer smells like fat and flour. As it browns, you'll notice that it becomes its own entity, and as such it takes on the smell of that which it has now become: a delicious aromatic roux.
As you cook a roux, you'll find that you'll need to adjust your heat (usually lower) because you don't want to burn the sucker. You want your roux to blossom with flavor and enhance your gravy. Cook it too little and it tastes like flour paste. Cook it too long and it will be singed and bitter.
Many cooks go by color to determine when a roux is done; I go by smell. The moment the smell is deep and makes you inhale with an mmmmmm slipping from your lips, THEN!, then it's done to perfection.
How to Adapt Measurements
Say you were going to make a roux using three tablespoons of butter and flour, then it would reason, under common recipes, that you would then use three cups of milk. You can definitely do that. I simply don't. It's a bit faster my way. Still delicious, yet faster. When one is making cream gravy to slather on ALL THE THINGS, faster is good.
Typically when I make cream gravy, I want leftovers. I want everything I eat coated in gravy. Biscuits. 5-grain bread. Meatloaf. Rotisserie chicken. French fries.
Because of this fact, I typically judge how much milk I want to use before proceeding in the recipe. Do I want lots or just south of lots?
Typically it's between 3-4 cups of cream gravy.
Sweet lovely cream gravy!
If I decide I want three cups of finished product, IE gravy, then I work my way backwards in the roux recipe.
Three cups of gravy = 4 tbsp of butter mixed with 4 tbsp of flour to make the roux.
If it's four cups of gravy I'm after, the it's 4 tbsp of flour and butter.
See? See what I did there? I simply determine the amount of milk I'm gonna use and then add one extra tablespoon of flour and fat to make my roux. This will work to thicken your gravy a bit faster than if the measurements were equal, as in 3 tablespoons fat and flour to 3 cups of milk.
E-A-S-Y!
Fats
My favorite fat to use to make a roux is butter.
My favorite fat to make a roux is bacon grease.
Yeah, I can't decide. Each one is delicious and layered in its own way. So, play around with it. See what makes your heart sing.
BTW: whenever I make bacon (in the oven these days), I drain off the bacon grease, or as I call it: liquid gold. I then use the bacon grease to flavor things like cream gravy or to make my french toast or eggs with. It's a habit I took with me from West Texas, and thankfully never left behind in so many years of THIS IS BAD or THAT IS BAD in the ongoing food wars.
My motto? LET THEM EAT BACON GREASE!
Here's the basic recipe:
Homemade Cream Gravy in 3 Easy Steps
Ingredients
4 tbsp butter
4 tbsp flour
3 cups of milk
salt and pepper to taste
Instructions
Melt butter in a sauce pan over medium heat.
Once melted, whisk in flour.
A thick paste will form.
Keep whisking until bubbly and lightly browned, about 3-5 minutes.
Slowly pour in milk, whisking as you do.
Continue cooking until the gravy thickens.
Season to taste.
https://ohmrstucker.com/homemade-cream-gravy-in-3-easy-steps/
The great thing about knowing how to make a roux is that now you can make gravy at Thanksgiving, with turkey drippings! Or use a roux to thicken stew. Or, most importantly, make cream gravy any danged time you get a hankerin'.
Hope this helped to demystify cream gravy.
Happy Gravy Makin'!