Spaghetti squash – it's what's for dinner – are y'all ready to learn how to make this simple dish?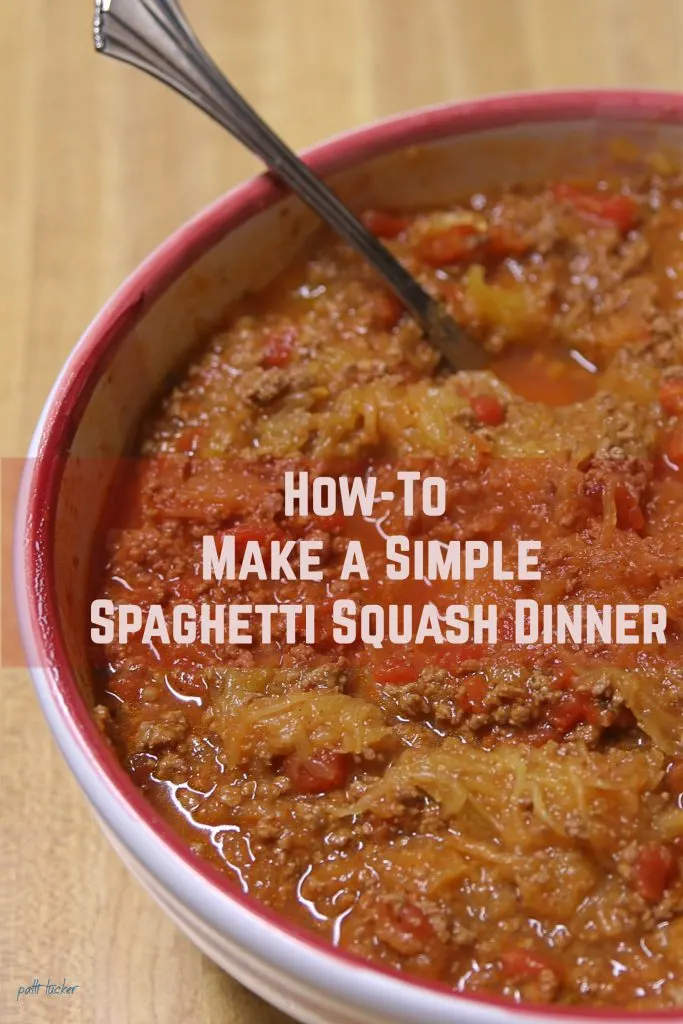 Up until this year, I had eaten spaghetti squash, but had never made it. Not once.
Me, the gal who loves veggies and fruits – never made it.
Hell, I hadn't even bothered to pick one up, poke it, smell it, or contemplate buying one while grocery shopping.
Not once in all my years.
Now?
Now, it's a staple in the supper rotation around here.
The best part is that it was Garry's idea (he's the reason I never considered making it – he HATES squash).
WHAT WHAT?!
My carnivore of carnivores asked for spaghetti squash for a meal?
Yep – weird, but true.
The backstory to this shift in perspective is this:
We were at a friend's house and they served a buttered and peppered spaghetti squash with dinner.
Garry, ever the polite guest, had a bite and was sold.
After we got home, he asked if I would be opposed to trying it for dinner.
Um, no.
LET'S EAT!
I tend to buy a squash on the bigger size, which will work for a family meal – so about a 6 pound squash is what the following pics depict.
There is no thumping, no smelling, no squeezing of the squash; simply buy one that is uniform in color and has no outward damage.
Wash it and cut it in half.
PRO TIP: You can poke a few holes in it and microwave for a minute or so to soften before cutting.
After cutting in half, you scoop the seeds out, much like a pumpkin at Halloween.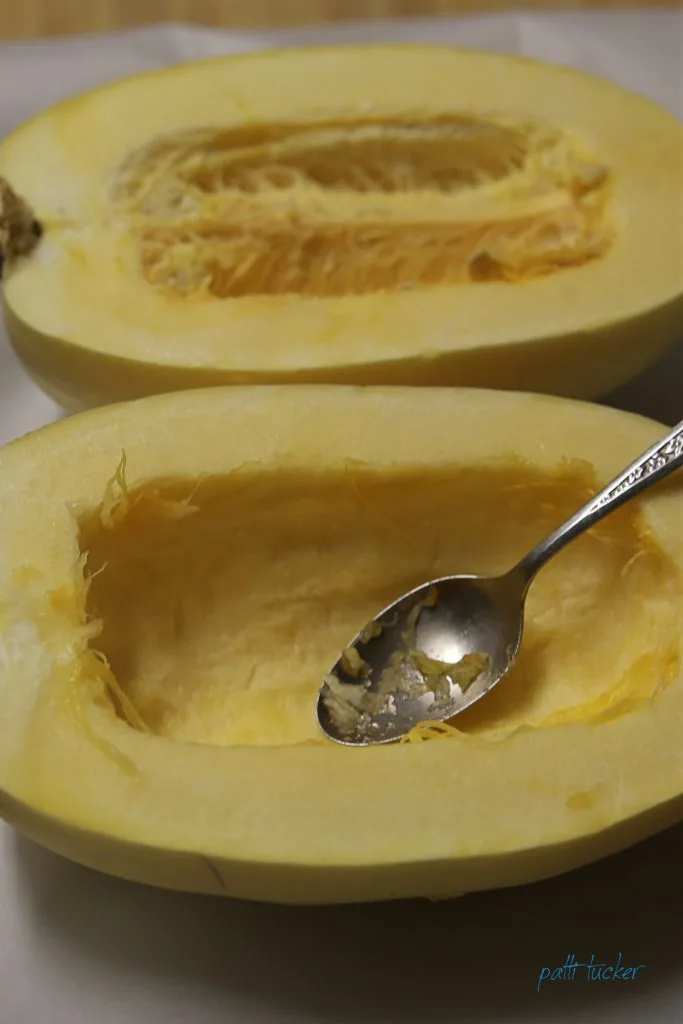 Use a bit of olive oil to coat and season.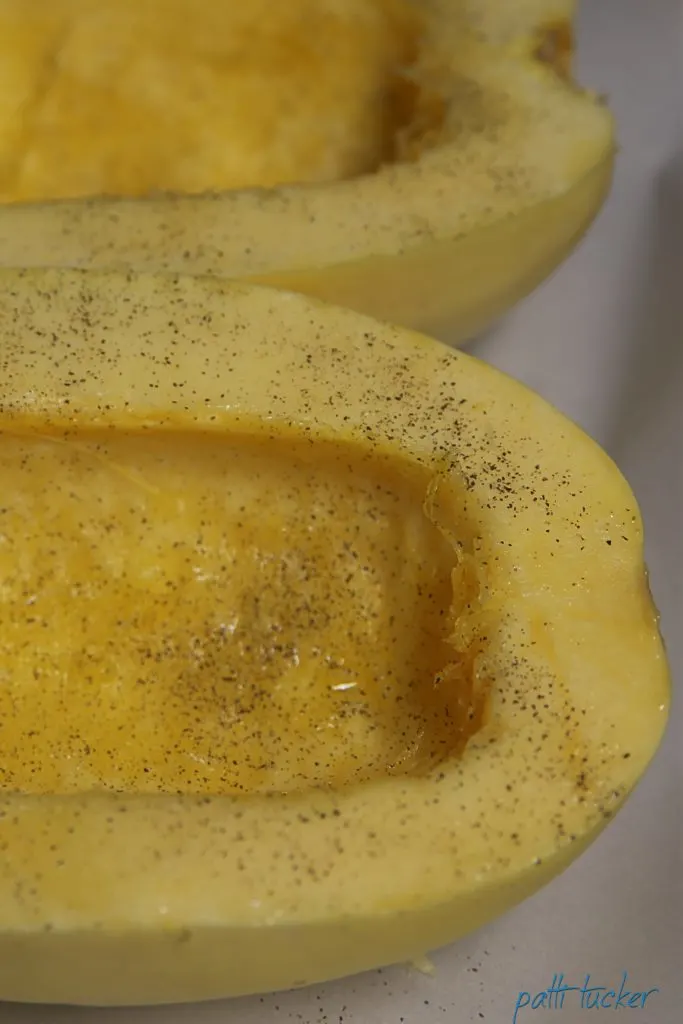 I usually line a cookie sheet with parchment paper before laying the squash cut side down.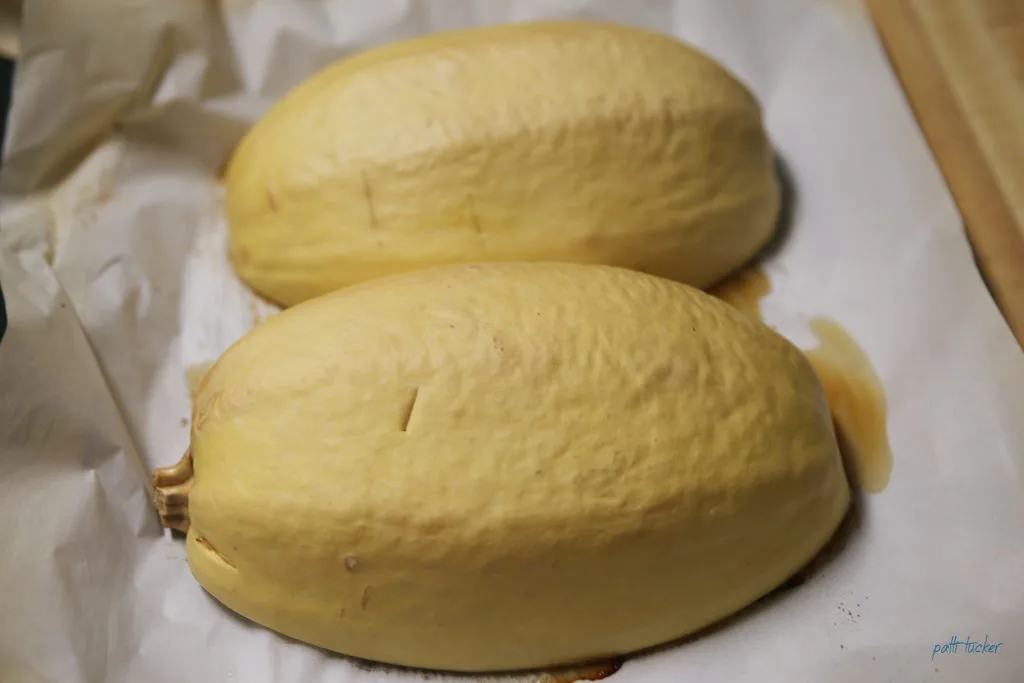 Once fully cooked, it's time for the fun!
Use a potholder (Garry's showing ya how!) and take a big fork to scoop out the cooked squash, which at this point will come out resembling spaghetti.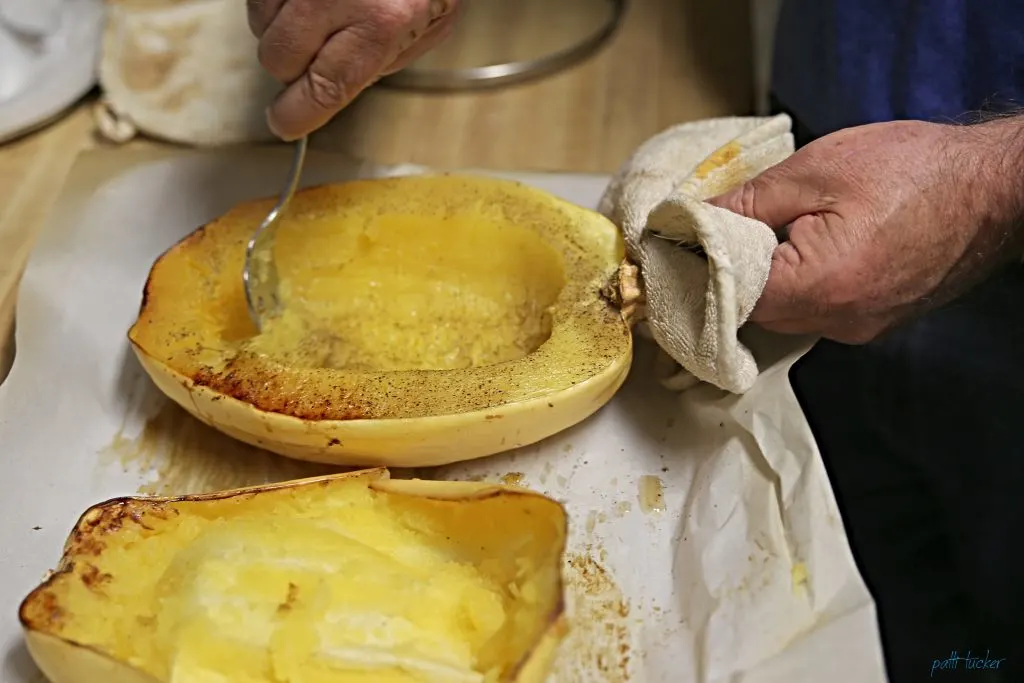 Keep scooping until all the squash is out.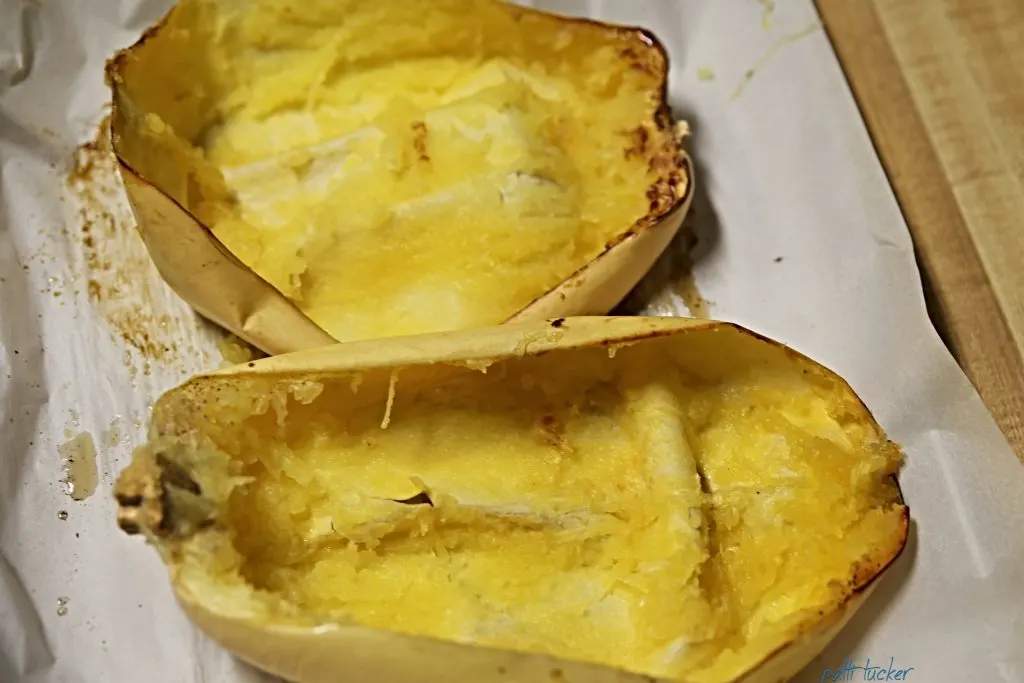 A 6-pounder will yield enough for 6-8 hearty meals (supplemented with a salad and bread).
Once fully scooped, you can either drain or retain the liquid yumminess.
I typically don't drain, but experiment to your tastes.
We like the juicy goodness the squash offers, coupled with the meat sauce.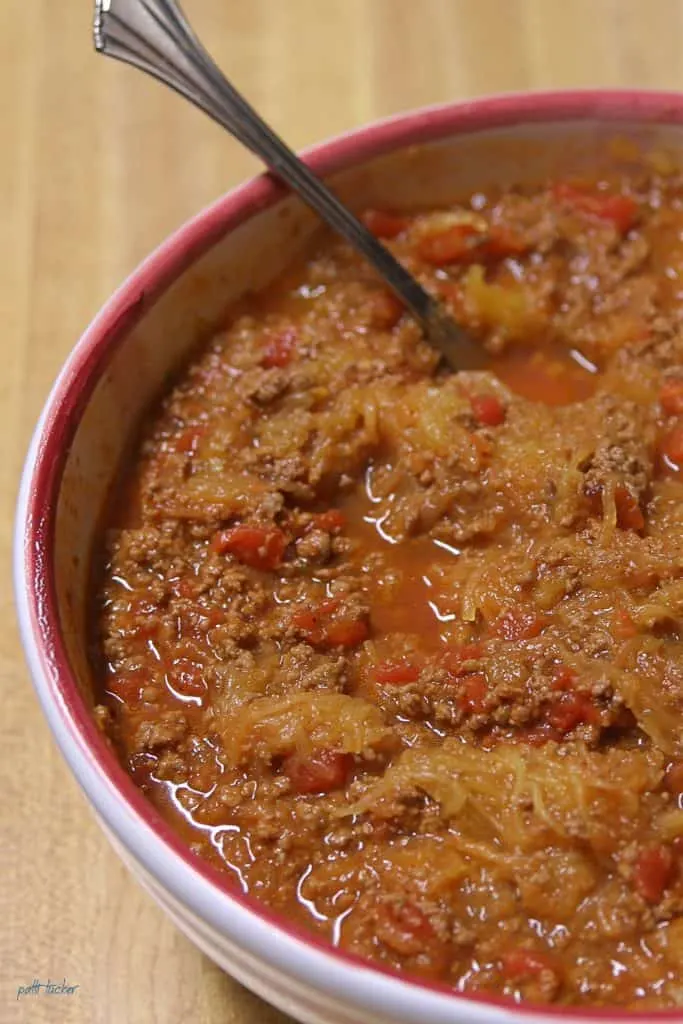 I made a simple and delicious meat sauce while the squash was baking, then dinner was served.
If you'd prefer a vegetarian version, simply omit the meat and add a few sweet pepper to your sauce for bulk.
BAMMO! A beyond healthy choice.
FAQ:
Q: Does it taste like squash when cooked?
A: Not really. The caveat is this: If you are expecting a pasta-like taste, you're not gonna get that. This is a baked veggie, that when cooked properly has strings resembling spaghetti.
The great part is it stands up like spaghetti and has a very mild taste, so once the sauce is on, you hardly notice.
If a squash-hater like Garry is sold, well…
Q: Does it hold up for leftovers?
A: Garry will happily eat it as leftovers, so I'm considering that a huge win.
Q: Do you have to buy a big squash?
A: Nope. This recipe works for all sizes. Just adjust cooking time.
Q: Will you feel smuggy smug eating all those veggies for dinner.
A: Um, yeah. GET IN MY BODY AND WERK YER NUTRITIONAL MAGIC!
If you haven't yet taken the plunge and baked a spaghetti squash yet, I hope this demystifies things for you.
Print or save the simple recipe below.
And if ya make it and like it – come back and rate the recipe – that would be swell!
Happy Eating, Y'all!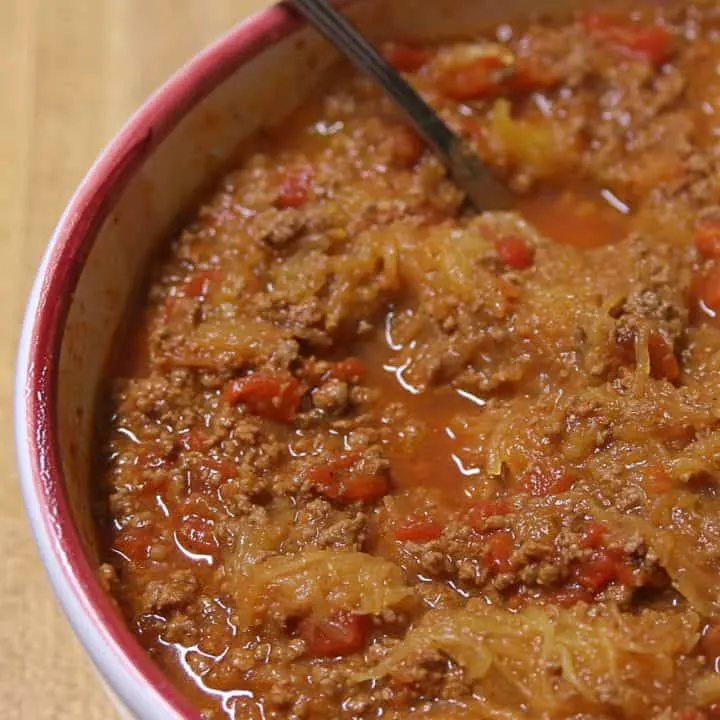 How-To Make a Simple Spaghetti Squash Dinner
Spaghetti Squash - It's What's For Dinner!
Ingredients
1 6-pound Spaghetti squash (or smaller)
1 tbsp olive oil
Salt and pepper
Instructions
Preheat oven to 400°
Line a cookie sheet with parchment paper.
Wash, then cut squash from top to bottom, using a very sharp knife.
Scoop out seeds and discard.
Drizzle olive oil on each half, then rub the insides to cover.
Salt and pepper to taste.
Lay cut side down and bake for 50 minutes (adjust time for a smaller squash).
When you can easily pierce through with a knife, they are done.
Using a fork, scoop out spaghetti-like strands.
Cover with meat sauce.
Notes
~ To make cutting squash easier, poke a few holes in it and microwave for about a minute.
~ Larger squash may take longer than 50 minutes to cook through and smaller squash, less than 50 minutes.
~ Top with favorite cheese.
~ Serve with side salad and a crusty French bread.
~ Store leftovers in an airtight container.
Recommended Products
As an Amazon Associate and member of other affiliate programs, I earn from qualifying purchases.
Nutrition Information:
Yield:

6
Serving Size:

1
Amount Per Serving:
Calories:

63 (for squash only)
Total Fat:

3g
Saturated Fat:

0g
Trans Fat:

0g
Unsaturated Fat:

2g
Cholesterol:

0mg
Sodium:

78mg
Carbohydrates:

10g
Fiber:

2g
Sugar:

4g
Protein:

1g
Rest yer weary fingers.
Except to click on the image.
You still have enough strength for that.
COME ON!
YOU CAN DO IT!