I'm not a cat person. I like cats, just other people's cats I'm pretty sure I'd like your cat. But, for me, it's dogs all the way. And ponies. And sometimes blue birds, of the happiness variety.
So how did we end up with a cat when Boy was younger?
The Universe conspired against me, that's how.
Boy, being brought up in a big dog-lover's house, begged for a cat or more precisely, a kitten, for years.
No no no. He would continue to beg; I would beg him to stop begging.
He didn't. And he used his sweet little boy eyes and his sweet little boy charms, until one day, thinking I had outwitted my adorable little boy, I told him that, "If blah, blah, and blah happens, you can have a cat." The blahs were all impossibilities of impossible impossibles. It was never going to happen. Momma was feelin' smug and a bit devious.
Right before Halloween that year, a friend called me. She had found a litter of abandoned kittens and would we take one. Ha! No way, Jose.
Boy was close by when the call came in and had heard the conversation and pointed out to me that the stars had aligned all the impossible impossibles. He knew that our promise was our word; he would have his kitten.
~shaking my fist at the Universe~
We relented, as we had promised, and took in a motherless, black fluffy hairball of energized karma, kitten: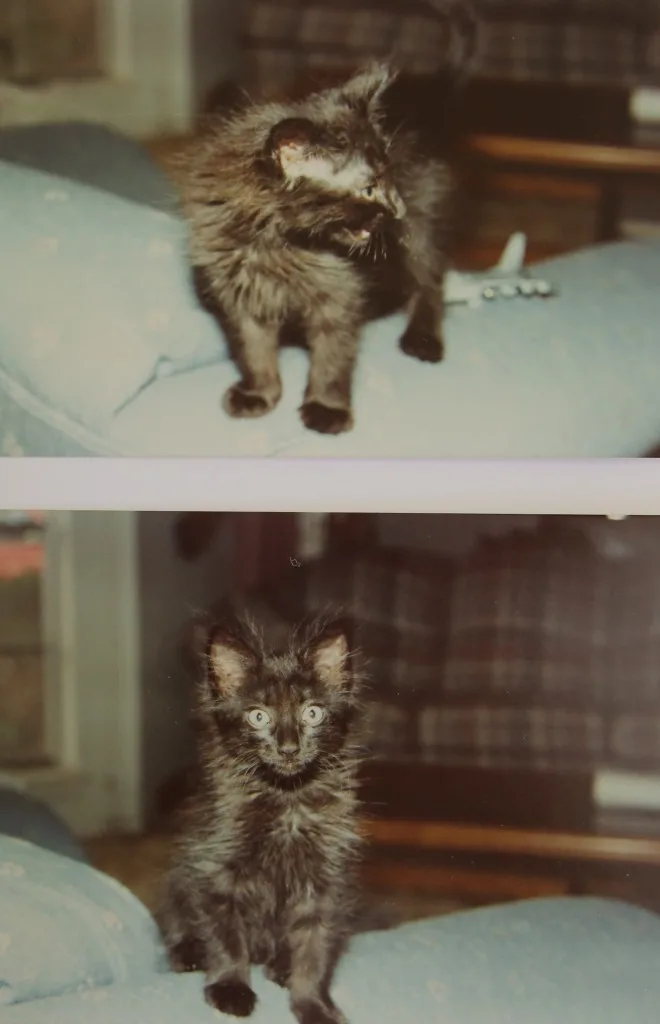 Over the years, I came to love her. She lived a very loved life here with us, even after Boy went to college and then on to his new life as a graduate.
Yet….
~ A gentle reminder: OMT! uses Amazon referral links. When you do your shopping through the Amazon links on this page, you support the blog at no cost to yourself. It's much appreciated!~
Whenever she came into mischief, I was constantly reminded of one of Boy's favorite books: Mog the Forgetful Cat
There's a line in the book, a reoccurring line, that became my battle cry as a reluctant cat owner. While Mog was a well-intention cat, she frequently found herself in situations that required a, "Drat that cat!" from Mr. and Mrs. Thomas.
I became Mrs. Thomas.
Kitty litter all over the floor: Drat that cat!
A broken knick-knack: Drat that cat!
Half-eaten flowers from the garden: Drat that cat!
A hair ball: Drat that cat!
If you have a cat, or a dog, read the book. It still makes me smile when thinking of our Mog.
If you have a cat-lover/wanter/dreamer this is the book for them. (SPOILER ALERT: Mog redeems herself) The age range is kindergarten to second grade, but even the younger kiddos love this book.
Boy has gone on to establish his own cat-lover's household. They have two well-loved cats, while we have remained faithful to our pups.
Soon, I'll read Mog, the forgetful Cat to Sweet E, but if he's anything like his daddy, he'll throw them for a loop and beg for a dog.